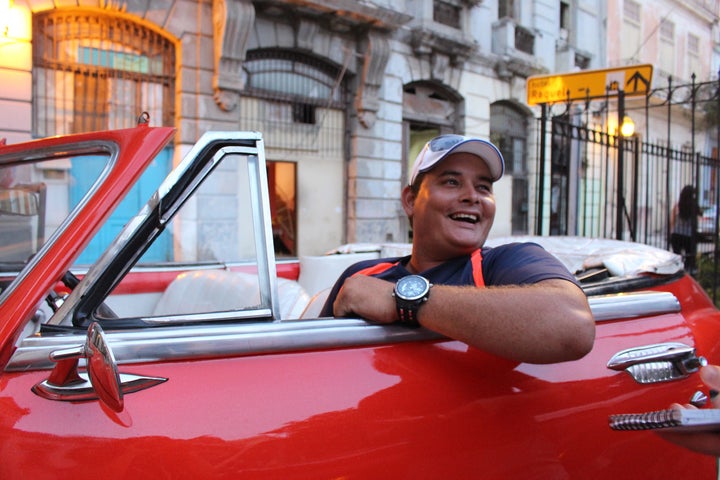 HAVANA -- The everyday people in Cuba whose lives President Barack Obama aims to help improve with a historic visit to the island on Sunday anticipated the visit with a mix of open enthusiasm, cautious optimism and, at times, a bit of resigned skepticism.
Shortly after Obama lands in Cuba's capital on Sunday afternoon, he'll drive into town, likely passing a billboard branding the U.S. trade embargo the "longest genocide in history," before taking a stroll with the first family through Old Havana.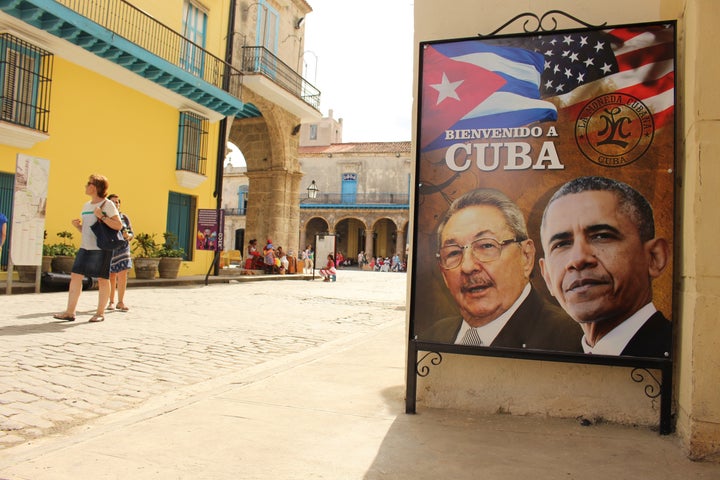 It's a site that well represents both the burdens of the island's past and the incremental changes by the Cuban and U.S. governments helping to shape the island's economic future. Dilapidated buildings that give the often false impression of being abandoned line the cobblestone roads alongside pristine boutiques and restaurants packed with international tourists.
Since announcing he'd re-establish diplomatic relations with Cuba on Dec. 17, 2014, Obama has enacted a slew of changes to chip away at the embargo as much as possible without Congress lifting the sanctions. The changes have the potential to allow U.S. companies to invest in Cuba in ways unimaginable since the U.S. slapped its first trade sanctions against Cuba under President Dwight D. Eisenhower back in 1960.  
But the bulk of the everyday people who have profited from the changes are the taxi drivers, restaurant workers and apartment renters who work directly with tourists paying in convertible pesos worth roughly 24 times the pesos paid for government salaries.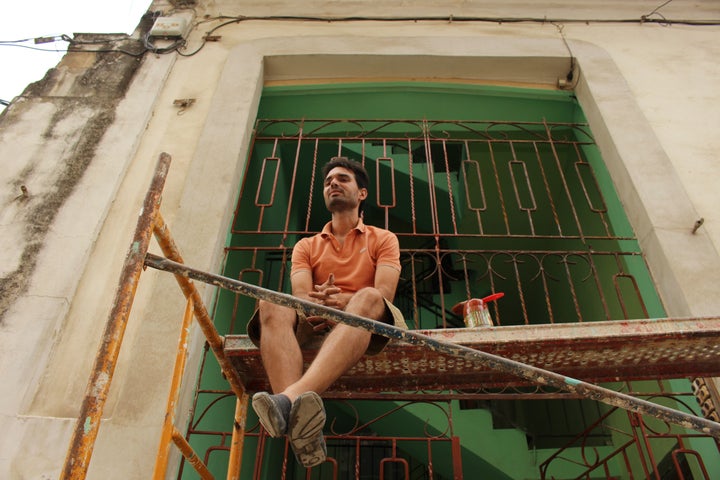 The day before Obama was to set foot in Old Havana, Yamil Ferreiro, 29, sat perched upon scaffolding, applying a fresh coat of burgundy paint to his apartment building's front gate. Ferreiro worked as a cab driver until a few months ago, when he began renting his apartment through Airbnb. That opportunity was made possible only last year, when the Obama administration exempted the U.S. company's operations from the trade embargo, contending it would benefit local entrepreneurs more than the government.
Even after taxes and licensing fees, business was humming along well enough after two months for Ferreiro and his neighbors to buy a few gallons of paint at 15 euros per gallon -- about half an average Cuban citizen's monthly salary.
"It's very, very good," Ferreiro said of Obama's visit. "This shows that the relations between our countries is on a good path. We've all got family in the United States, even if our governments haven't always seen eye to eye."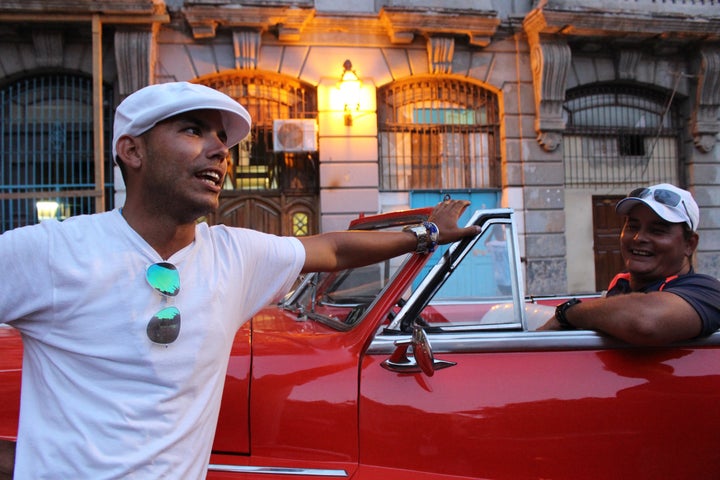 A group of cab drivers who shuttle tourists around in the classic cars that foreigners fawn over also had high hopes that Obama's visit would bring more American tourists and more money.
Their fleet of three refurbished 1950s Chevies belonged to the budding crop of independent businesses in Cuba, started a few years back as the tourism industry was taking off. The engines had been wrenched from all three of the brightly painted red cars and replaced with ones stripped from newer Hyundais. José Valderrama, 27, pulled his car's steering wheel from an old Lada, the Russian cars widely imported into Cuba back when the island was backed by the Soviet Union.  
"What I know for sure is that these relations are going to boost our country's economy," Valderrama told The WorldPost. "Americans like Cuba."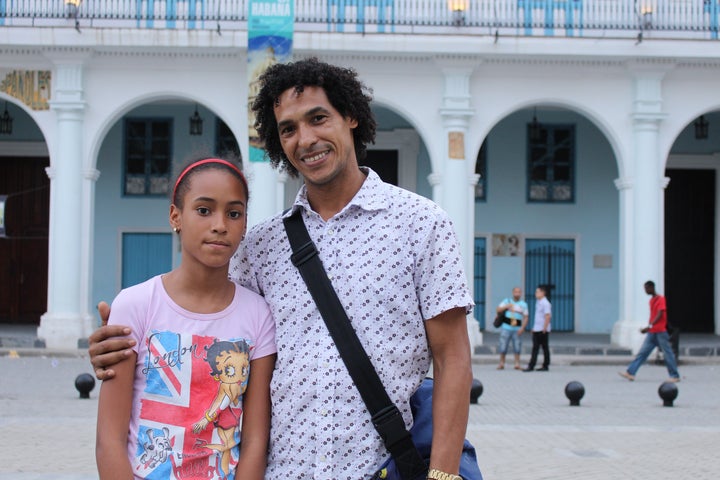 Others had more tempered reactions. Local artist Eliazar Jiménez Luztonó had once been a Communist Party militant, but became disillusioned with what he viewed as an inflexible mindset that he says continues to stand in the way of change. "The word 'revolution' for me is something more," he said. "It's about wanting to do those things you have to do to reach new levels."
He welcomed Obama's relaxing of the embargo, but said it would do little unless the Cuban government ratcheted up the pace of reforms. "It's not a bad thing," Jiménez said of the visit. "Everything in this world has a motive and I suppose that in this case it's for the best. I'm more fearful of my own country than the United States. We've become accustomed to always be on the defensive."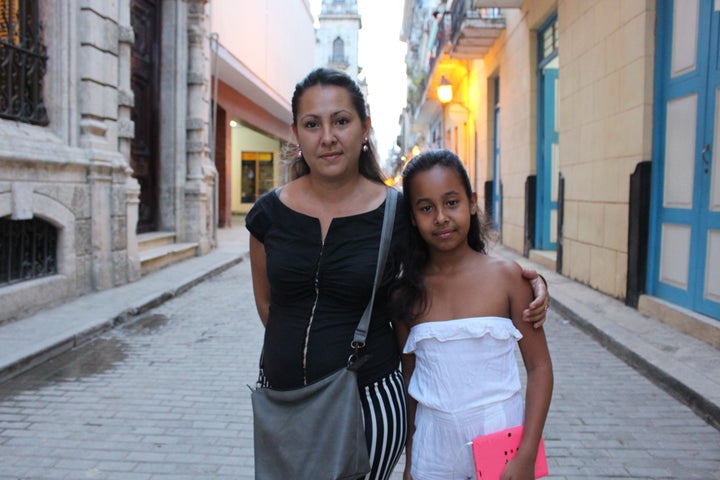 Yohandra Alonso, 32, viewed Obama's visit as positive, but doubted that his policy changes would give her daughter the chance to earn a middle-class salary and travel like the 3 million international tourists who visited the island last year.
"It's good," Alonso told WorldPost. "Let's see if the economy of this country changes. Cubans can't get by on 10 [convertible] pesos a month, which is the basic salary in this country."
Read more: 
Calling all HuffPost superfans!
Sign up for membership to become a founding member and help shape HuffPost's next chapter
BEFORE YOU GO
PHOTO GALLERY
Everyday Life In Cuba