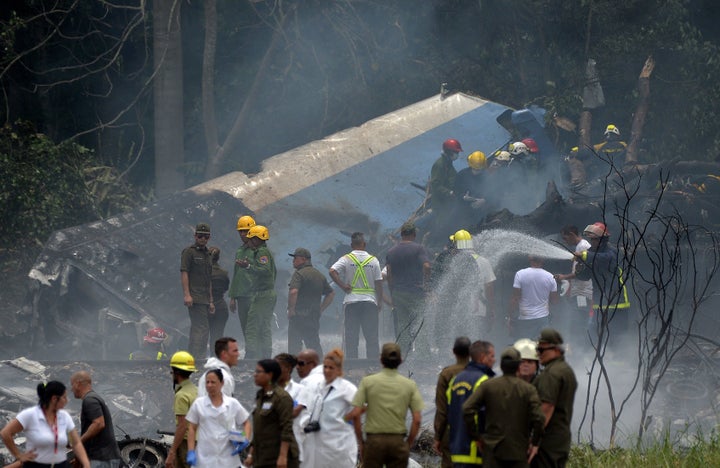 A Boeing 737 airliner crashed shortly after taking off from Havana's Jose Marti International Airport on Friday, killing more than 100 people, according to Cuban state media.
Officials said 104 passengers were on board, Agence France Presse reported. Cuban media reported that the crew of the flight was foreign, but gave no information on the nationalities of the passengers. 
The cause of the crash was not immediately apparent. 
Photos from the scene show crowds of people gathered around pieces of the plane as smoke rises from the wreckage. Rescuers and emergency services rushed to the area, and video showed at least one person being taken away on a stretcher. The nation's media reported that three people survived the crash.
An official from Havana's Calixto Garcia hospital told Reuters that the three survivors, all women, were in serious condition. One person from the flight died in the hospital following the crash.
Cuban President Manuel Diaz-Canel also traveled to the site, where he addressed national media.
"There has been an unfortunate aviation accident. The news is not very promising, it seems that there is a high number of victims," said Diaz-Canel, who became president in April.
Local media reported that the plane was en route to the city of Holguin, which is on the eastern part of the island. It crashed in the area around the small town of Santiago de Las Vegas, just south of the airport.
Cuba has a history of air disasters, including a crash in 2010 that killed all 68 people aboard. A military plane crashed into a hillside last month, killing eight people.
This is a developing story. Please check back for updates.
Calling all HuffPost superfans!
Sign up for membership to become a founding member and help shape HuffPost's next chapter