Most Americans, including Hispanics, think the U.S. should re-establish diplomatic and trade relations with Cuba, according to a poll conducted by The New York Times.
The survey, conducted in October, found that 56 percent of Americans favored re-establishing ties with Cuba, while 29 percent oppose doing so. After American Alan Gross was released from a Cuban prison Wednesday, President Barack Obama announced that the U.S. would start the process to normalize relations with Cuba. He also said the U.S. will ease its embargo on Cuba and called for debate to consider lifting it.
Americans' overall views of Cuba in the October poll were lukewarm, with 39 percent rating the country favorably, 34 percent rating it unfavorably, and another 26 percent undecided. While Republicans were more likely than Democrats to hold a negative opinion, there was little difference between Hispanic Americans and Americans as a whole, the survey found.
A third of Americans said they would be somewhat or very interested in visiting Cuba, and a quarter said what happens in Cuba is very important to the interests of the United States.
A YouGov/Economist survey conducted earlier this year -- as well as four polls in April 2009, after President Barack Obama expressed openness to a thaw in relations with Cuba -- also found majority support for reopening diplomatic relationships.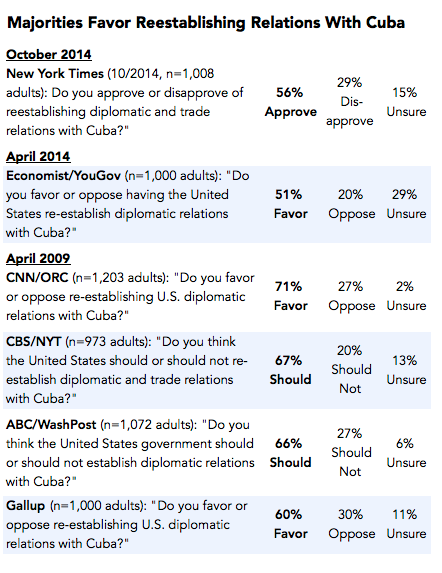 Americans have long supported warmer relations with Cuba. While a 1998 CBS poll, taken just after Pope John Paul II visited Cuba and called for reform, found a split on the idea of re-establishing ties, two surveys taken in 1977 and 1978 found most Americans in favor. Gallup polling since 1974 also shows largely consistent support for the U.S. to re-establish diplomatic relations with Cuba and to end its trade embargo against the country.
As FiveThirtyEight notes, the issue of the embargo is more fraught among Cuban Americans. Cuban Americans in South Florida, 87 percent of whom favored the embargo in 1991, have since soured somewhat on it, with just 48 percent supporting it this year, according to surveys conducted by Florida International University's Cuban Research Institute.
In FIU's most recent survey, while a majority of Miami-area Cuban Americans said Cuba should continue to be designated as a "state sponsor of terrorism," 71 percent said the embargo wasn't working very well or at all, and most favored re-establishing diplomatic ties and lifting travel restrictions.
"We are witnessing a clear demographic shift with younger and more recently arrived Cubans favoring a change in policy toward the island," professor Guillermo J. Grenier, one of the pollsters, told FIU.
Mark Blumenthal contributed reporting.
REAL LIFE. REAL NEWS. REAL VOICES.
Help us tell more of the stories that matter from voices that too often remain unheard.
BEFORE YOU GO
PHOTO GALLERY
Obama's Handshakes Around The World