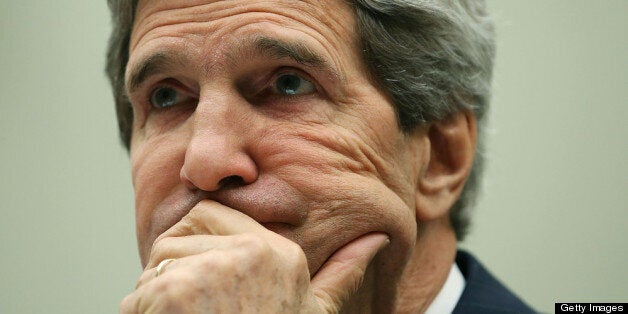 Every year, by April 30, the secretary of state presents to Congress the annual Country Reports on Terrorism.
A central component of this report is the list of countries designated as State Sponsors of Terrorism -- the countries that pose the greatest threats.
Currently, there are four countries on the list: Cuba, Iran, Sudan, and Syria.
Next week, John Kerry will present his first Country Reports on Terrorism as Secretary of State. Will Cuba be on the list?
The answer depends on which John Kerry will sign the report.
Will it be the one who argued, in a 2009 Tampa Bay Times op-ed, "While our Cuba policy has largely stood still, reality has changed dramatically"? That John Kerry said that
the Cuban 'threat' is a faint shadow, change is afoot in the Cuban leadership, and -- importantly -- Cuban-Americans increasingly seek broad, far-reaching interaction across the Florida Straits. We need a Cuba policy that looks forward, brings our strengths to bear, and builds on what works to help the Cuban people shape their country's future.
Or will it be the John Kerry whose spokesperson, Victoria Nuland, said in February,
This department has no current plans to remove Cuba from the state sponsor of terrorism list. We review this every year, and at the current moment we -- when the last review was done in 2012 -- didn't see cause to remove them. We'll obviously look at it again this year, but as I said, we don't have any plans at the moment.
The first State Sponsors of Terrorism List was issued in 1979, and Cuba was added in 1982 due to its support of terrorist groups like the FARC and ETA. But, according to last year's report, although current and former members of ETA reside in Cuba, "Reports suggested that the Cuban government was trying to distance itself from ETA members living on the island by employing tactics such as not providing services including travel documents to some of them." Further, "There was no indication that the Cuban government provided weapons or paramilitary training for either ETA or the FARC."
The report also attested: "The Cuban government continued to permit fugitives wanted in the United States to reside in Cuba and also provided support such as housing, food ration books, and medical care for these individuals."
But Cuba has been increasingly cooperative with the United States. See, for example, the Florida couple who, after losing custody, kidnapped their children and fled to Cuba just two weeks ago: Cuba refused to shelter these criminals, and Cuban authorities cooperated swiftly and eagerly with U.S. officials in order to return them to the United States for trial.
And just last week, after the Boston Marathon bombing, Cuban Foreign Ministry official Josefina Vidal expressed "the most heartfelt condolences of the people and government of Cuba to the people and government of the United States, particularly those directly affected by this tragedy."
Vidal said Cuba "rejects and condemns unequivocally all acts of terrorism, in any place, under any circumstance, and with whatever motivation."
What's more, Fidel Castro himself recently issued a public condemnation and warning to Kim Jong Un and North Korea, warning Kim not to take any actions against the United States. Castro's been there, done that, and learned from the experience.
But Cuba is listed as a State Sponsor of Terrorism, while North Korea is not on the list at all.
Kerry ended his 2009 op-ed with a call to action: "Today, we have a choice: seek solace in old rhetoric, ignore change and resist it, or mold it and channel it into a new policy to help achieve our goals."
On April 30, John Kerry will have the chance to stand up for these beliefs.
Calling all HuffPost superfans!
Sign up for membership to become a founding member and help shape HuffPost's next chapter