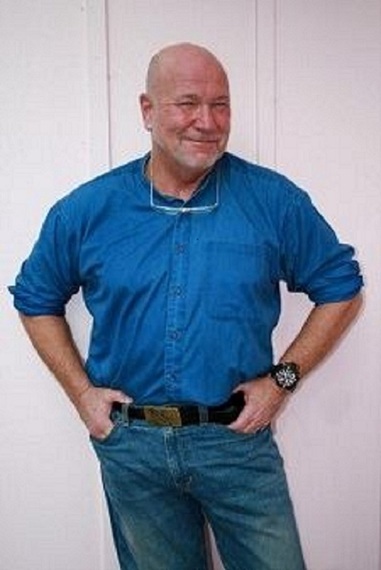 Randy Wayne White is a New York Times bestselling author well known for his twenty-one previous Doc Ford novels; the Hannah Smith series; and four collections of non-fiction. His other interests include exploring Florida's flora and fauna, the environment, baseball, literature, windsurfing, and hanging out at his Doc Ford's Rum Bar & Grille. After leaving home at sixteen, Randy has led what seems like a fictional life, but it's all true. (See my previous talk with Randy in The Huffington Post, dated August 8, 2014).
Cuba Straits is Randy's twenty-second Doc Ford novel. Marion "Doc" Ford meets an old friend, General Juan Simon Rivera, a revolutionary from a small Caribbean country who now makes a fortune smuggling Cuban baseball players into the United States. Rivera asks Doc to help find a runaway baseball player who's absconded with a briefcase filled with letters written between 1960 and 1962 by Fidel and Raul Castro. He also wants Ford to help find three classic Harleys buried in the Cuban countryside. To complicate matters, Doc has his own history with Cuba. If he's caught on the island, he could face a firing squad. When he begins investigating, Ford is certain those Castro letters contain a secret a powerful agency cannot allow to go public.
In Cuba Straits, your extensive knowledge of Cuba is evident. Tell us a bit about your Cuban adventures.
My first trip to Cuba was in 1977. President Carter had relaxed the embargo. I went diving in Cuba using Soviet equipment. The water and marine life were magnificent.
I returned in 1980, during the Mariel boatlift. It was a very powerful experience. I spent more than a week in Mariel. I returned on a fifty-five foot boat loaded with one hundred forty-seven refugees. When we reached the U.S., they all began chanting, 'Libertad, libertad.' It was an amazing thing. Even though these people made a trip over what seems like a small distance--ninety miles--it was a lifetime for them. Over the years, I've maintained relationships with people in Cuba. I've returned there with some frequency, and have been involved in various causes: we've donated money to hospitals; purchased air conditioners; and helped kids get baseball equipment.
Cuba Straits brims with Cuban culture, the language, and even slang. Do you speak Spanish? And, how did you learn about the Cuban beliefs and superstitions so beautifully described in the novel?
My Cuban friends say I do not speak Spanish (Laughter). I manage to get by with the language. Keep in mind, I played baseball there many times, and a number of my Cuban friends are ball players. Most people who play baseball are quite superstitious. The superstitions referenced in the book are very accurate. The shortstop is called a torpedoer. I'm guessing it's a combination of "torpedo" and "matador." An outfielder is known as a jardiniero, which translates to "gardener." A relief pitcher is an apagafuegos or "fire quencher." These Cuban colloquialisms are pretty cool. There's a park in Havana, the Parc de Revolucion, where each day between thirty and forty men argue about baseball. Cubans are so passionate about the game, sometimes it seems fights will break out. The place is known as esquina caliente, which means "the hot corner."
"Write what you know" is a time-honored adage. Cuba Straits involves Cuba, baseball, boats, motorcycles, guns, cars, and evasion tactics. Is your knowledge from personal experience or research?
Everything except the stuff about motorcycles comes from my having been a fishing guide for many years. For my birthday last June, I took a course dealing with various aspects of guns, surveillance and evasion tactics. So, I have some knowledge of these things. It's really a combination of personal experiences and research, all coming down a final common pathway in a novel.
How has Marion "Doc" Ford evolved over 22 novels?
Both Doc Ford and his alter ego, Tomlinson, have evolved over the years. When I wrote the first few novels, I virtually wrote autobiographical sketches of these characters. At the beginning of the series, the men were complete opposites. Marion Ford was non-intuitive, while Tomlinson was pure instinct and emotion. That has changed gradually. Each man has begun moving toward the other. The series started out a bit darker than it is now, and has become lighter, not in substance, but in the overall attitude each has toward the other. It's a result of this curious thing we experience: life.
To my surprise, I found the writing style very different in the Doc Ford and Hannah Smith novels. Tell us about that.
The early Doc Ford novels were written in the third person. By about book ten, I began experimenting with writing in the first person and third person in the same book. My editor warned me this is taboo. I didn't know that. Not a single reader said a word about it. To keep the editor happy, I wrote some books in the first person; but now, I'm back to writing in the third person. I've come full circle.
I found Cuba Straits to be written with an edgier style than Haunted, from the Hannah Smith series. Is that a fair assessment?
Yes. Hannah Smith is a lovely and very different character. Doc Ford has an edgier tone. I also think Cuba Straits is the funniest book I've ever written. Some of the characters just cracked me up as I was writing them. Again, I played a lot of baseball in Cuba, and had wonderfully hilarious times with some of the people down there. Baseball's a funny game and baseball players are funny people.
Any thoughts about closer ties between Cuba and the U.S.?
I was there when the White House announced the intention of normalizing relations. The Cuban people are wildly hopeful, but very quietly hopeful. I've got to be careful and not quote some of my friends who live there because it's a police state. The police can come to your door, day or night, and take you away to prison. No explanation is required or offered. There's no presumption of innocence. Even the attorneys in Cuba are afraid of the State. So, the people are hopeful things will change, but the government is the most frightening, strangling thing in their lives.
Randy, what would you be doing if you weren't writing?
I'd probably still be a fishing guide. I'd be much more physically fit; but by now, I'd very likely have skin cancer from the sun. (Laughter). My dad was a state trooper, so I might have gone into law enforcement. I never saw myself going to college. I went to high school in Iowa, where I got all the education I would ever need.
Did you ever take creative writing courses, or attend workshops?
No. I've avoided them like the plague. I write intuitively and instinctively. It was a very slow learning curve for me, but that's the way I've done it.
Congratulations on penning Cuba Straits, a suspense-filled Doc Ford thriller that kept me wondering what on earth would happen next.
Mark Rubinstein
Author of Mad Dog House and Mad Dog Justice
Related
Popular in the Community