WASHINGTON -- President Barack Obama notified Congress on Tuesday that he intends to remove Cuba from the list of state sponsors of terrorism.
Obama submitted a statutorily required report to Congress on Tuesday saying that he intends to rescind Cuba's designation. Obama was required to submit the report to Congress 45 days before the designation is officially rescinded, White House Press Secretary Josh Earnest said in a statement on Tuesday.
In the report, Obama said that Cuba had met certain criteria to be removed from the list. Those conditions were that Cuba had not sponsored terrorism in any of the last six months and that the country's government guarantee that it would not support international terrorism in the future.
Cuba has been designated a state sponsor of terrorism since 1982.
Obama's decision to remove Cuba from the list is part of an effort, announced in December, to normalize relations between the United States and Cuba. After a review, the State Department recommended last week that Obama remove Cuba from the list. Cuban officials said that the country's continued presence on the list made financial institutions hesitant to do business in the country.
"As the President has said, we will continue to have differences with the Cuban government, but our concerns over a wide range of Cuba's policies and actions fall outside the criteria that is relevant to whether to rescind Cuba's designation as a State Sponsor of Terrorism," Earnest said in the statement.
In a statement on Tuesday afternoon, House Speaker John Boehner (R-Ohio) criticized Obama's decision to remove Cuba from the list.
"I am disappointed that the White House seems determined to reward the Castro regime, which has a clear record of repression at home and exporting violence throughout the region. Not even a week has passed since the brutal attacks on Cuban democracy protestors in Panama City during the Summit for the Americas," Boehner said. "Those attacks – and the Castros' long history of human rights violations -- demonstrate the folly of revisiting diplomatic relations with this communist dictatorship and removing it from the State Department's list of state sponsors of terror."
This story has been updated to include a statement from House Speaker John Boehner.
Before You Go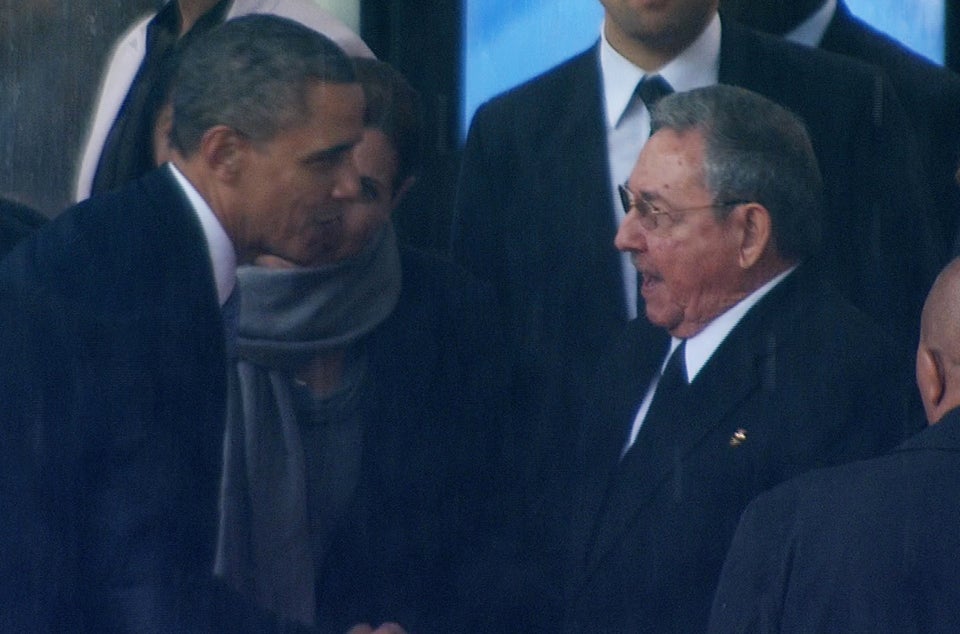 Obama's Handshakes Around The World
Popular in the Community