With diplomatic talks between the United States and Cuba scheduled to resume later this month, one important way to help empower Cuban citizens is to advocate for independent media on the island.
Cuban officials closely monitor the Internet, and oftentimes, independent journalists who have criticized government policies or otherwise report stories that don't appear in state-controlled media are persecuted and sent to jail. Even foreign journalists are restricted as few of them are able to obtain accreditation and once they do, they risk being expelled for reporting stories deemed as negative by the government.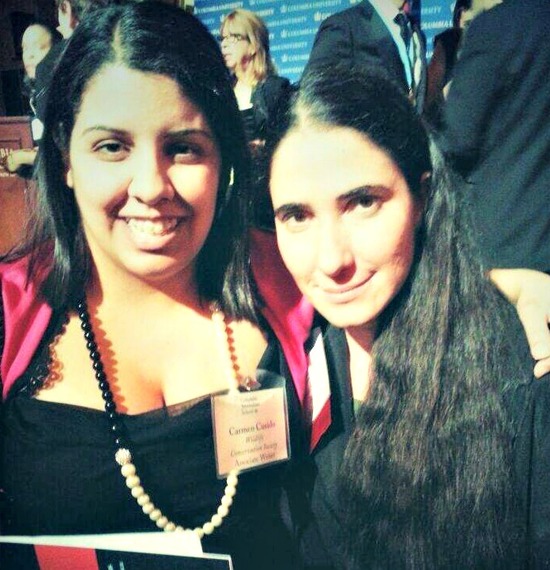 Posing for a picture with Yoani Sánchez at Columbia University in October 2013. Sánchez, a Cuban blogger, has received several international awards for her portrayal of life on the island under the current regime. Sánchez was awarded the Maria Moors Cabot Prize, administered by Columbia University's Graduate School of Journalism. Photo courtesy of Carmen Cusido
The France-based international non-profit Reporters Without Borders called for Cuba to improve its relations with its own independent journalists a day after President Barack Obama's historic announcement last December calling for the restoration of diplomatic relations with Cuba after more than five decades. "A thaw in relations also needs an end to threats and intimidation, and the possibility for news providers to carry out their activities freely and without being subjected to harassment. More than ever before, Cubans need pluralist, independent and diversified information," said Claire San Filippo, the head of the Reporters Without Borders Americas desk.
As an American-born daughter of Cuban exiles who left their beloved country in the 1960s, one of the reasons I studied journalism was so I could report the facts, ensure government officials were forthcoming with their constituents and give a forum to people from different backgrounds espousing different points of view. I wanted to compensate for the fact that my parents' homeland lacks these freedoms.
Indeed, some of the Cuban citizens I met on the island during my week-long visit in November 2013 expressed a desire to have a free and democratic press. One of the most meaningful conversations I had was with a journalism student from the University of Havana. The 22-year-old woman told me she "didn't want to become a mouthpiece for the government." The student, who asked that her name not be printed for fear of potential backlash from criticizing the Cuban regime, said media professionals are too afraid or apathetic to report controversial issues like the downturn of the economy. "The fact that we have economic problems is known, even if the news doesn't appear in Cuban media. ... The work of the Revolution is more than ever in the hands of the younger generation, who can tout its achievements but also its failures."
The regime's failures are certainly under greater scrutiny now, with international media closely watching and reporting free speech and human rights violations. More than a dozen prominent artists from around the world recently condemned the detention of Tania Bruguera, a Cuban performance artist and activist. Bruguera invited fellow artists and members to a free speech performance in Revolution Plaza in late December but was instead arrested and her passport was confiscated. According to reports, Bruguera remains in Havana and is "hoping to resolve her legal situation.
During her testimony before the U.S. Senate Foreign Relations Committee on Feb. 3, Roberta Jacobson, the Assistant Secretary of State for Western Hemisphere Affairs, mentioned Bruguera and the many artists who publicly supported her effort though they had not made a political statement before. She called it an example of expanding people's engagement in civil society. Jacobson said she also raised concerns about the Cuban government's "harassment, use of violence, and arbitrary detention of Cuban citizens peacefully expressing their views."
Until Cuba begins to embrace basic tenants of democracy, including a free and independent news media, they will continue to not be taken seriously on the world stage. A democratic media will help pave the way for long-overdue political reforms on the island. My hope is that Cuba's 11 million citizens will be given an opportunity to freely express themselves without fear of being punished by the restrictive Cuban regime.
Calling all HuffPost superfans!
Sign up for membership to become a founding member and help shape HuffPost's next chapter