 There will be metal detectors and strict security measures all around Antonio Maceo Revolution Square in Santiago de Cuba for the open-air mass that Pope Benedict XVI will hold there on March 26th. Although there are no real concerns for his personal safety, the last thing the National Conference of Cuban bishops and the Cuban government wish the Holy Father to find is a cazuela beneath the altar.
No. Not a steaming pot of traditional Cuban ajiaco stew, but a more vexing omen.
You see, as successor to St. Peter -- the Guardian of the Keys of Heaven -- the pope is also a representative of Oggún for the Regla de osha and of Zarabanda for the Palo mayombe Santería religions. Both are deities of Work and Strength. The syncretic altarpiece would contain various untoward items such as bloodstained rocks, carved wooden canes, and human remains. If it was meant for good deeds, it would need holy water.
A papal anointed nganga -- as the creation is also known -- could do a lot of good indeed.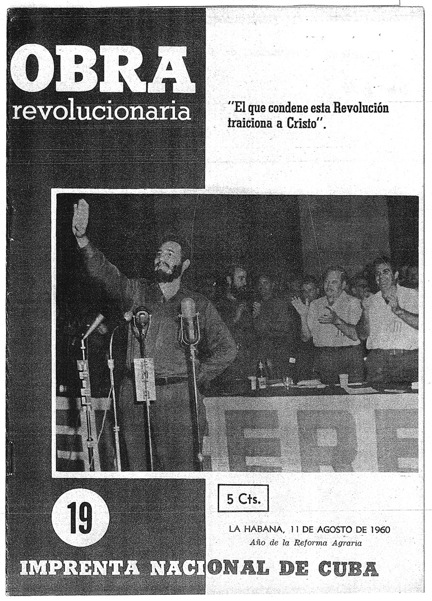 Obra Revolucionaria No. 19, August 11, 1960. Havana, Cuba.
Although 85% of the population assert that they believe in the divine, official Catholic Church figures indicate that only 5% of Cubans attend mass regularly. Besides an almost negligible Judaic and Protestant worship, the large discrepancy in figures may reflect the importance in Cuba of pantheistic religions. For these cults, the 400th anniversary of the discovery of a statue of the Virgin of Charity is also a celebration for the arrival of Ochún and Chola nengue to Cuba. Considering that it was Benedict XV, in 1916, that declared the Virgin of Charity to be the Patroness of Cuba, in santero eyes Benedict XVI is in essence, their pope as well.
And yet, there are no plans for him to meet with Santería leaders.
The official reason is that Santería is not an organized religion with institutional leadership. Furthermore, is has been made clear that the pontiff does not have time in his schedule for private meetings. The pope, as head of the Vatican is, after all, on a State Visit.
This political stance comes as no surprise since Benedict XVI's predecessor, the much loved and respected John Paul II, also refrained from conferring with Santería as well as government opposition leaders during his visit in 1998 for the same reasons.
Santería and dissidence share the same fate in Cuba. They are both tolerated but not allowed official recognition. A large majority of Cubans privately participate in them, but do not profess their beliefs in public.
For its part, the Vatican favors collaboration and governmental dialogue in its relation with Cuba, and has for many years avoided controversy on domestic political issues. Nevertheless, the Church believes that they are central to the intellectual awakening of the Cuban people. They dismiss early opposition to religion in general -- and the Catholic Church in particular -- as an expected natural reaction during the revolutionary period. Catholics are, if anything, patient.
Interestingly, one of the most peculiar gains made by the Church after John Paul II's visit has been in higher education. Not spreading the word, but tabulating numbers.
Yesterday, just two days before arriving in Cuba, Benedict XVI said that Marxism did not work and that it had essentially failed in Cuba. Though most news outlets seemed surprised, it must be pointed out that the Catholic Church is the only entity currently delivering an MBA degree in Cuba, through the St. Anthony Catholic University of Murcia. This program is aimed at the newly created class of small business owners by Raul Castro's government. Therefore, the official Cuban response to the aforementioned statement of "we will listen with all respect to his Holiness" should be understood to mean that both newly elected leaders are working together in ways mysterious and concrete. If John Paul II helped to bring the Wall down, Benedict XVI may be assisting in the construction of post-Communist Cuba. Transformation from within rather than transition form outside.
Oriente is the name of the eastern-most region of Cuba and was, until 1976, its largest administrative area. It has since been divided into six smaller provinces: Santiago de Cuba, Guantanamo, Granma, Holguín and Las Tunas. Famous for its Afro-Cuban culture, its baseball and its long tradition of military insurrections, Oriente is also known for the other Guantanamo. The one-that-shall-not-be-named. And though apparently, Pope Benedict XVI can speak out against the U.S. embargo and against Marxist ideology, the goings on at U.S. Naval Station Guantanamo Bay are not on his agenda.
Religious freedom is on. Religion inclusion is not. Free enterprise is good. Communism is not. Human rights, quite simply, are off the table.
And thus, God returns to Cuba for an all-inclusive, three-day/two-night, sight-seeing tour. More a weekend getaway than a state visit.
Calling all HuffPost superfans!
Sign up for membership to become a founding member and help shape HuffPost's next chapter