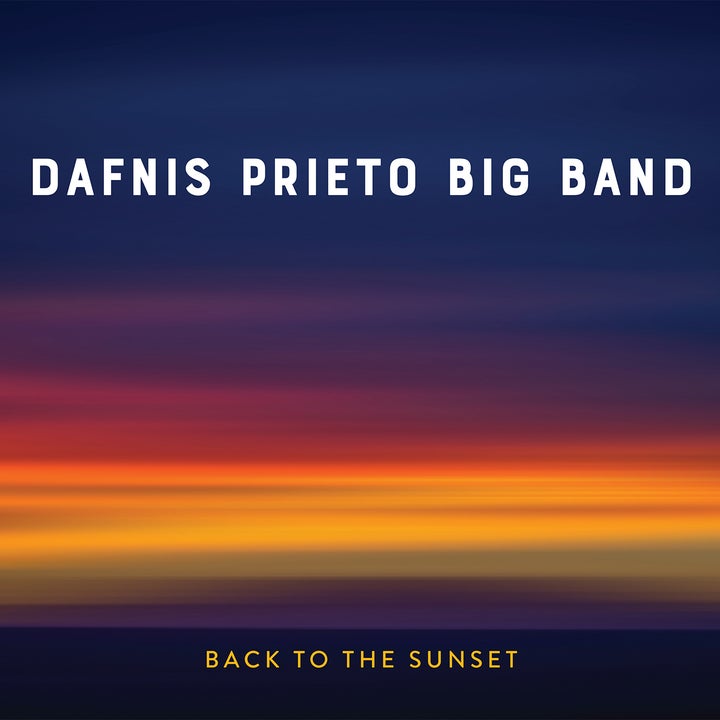 Dafnis Prieto Big Band Back to the Sunset
There is something very stirring about a big band playing Afro-Cuban jazz. The music has a rhythmic core that is the armature upon which the horn and reed arrangements just swirl. Cuban born drummer Dafnis Prieto has been on his own personal musical adventure, utilizing his formidable rhythmic skills to create a unique vision for his Afro-Cuban inspired jazz. Since arriving from Cuba back in 1999, Prieto has brought an energy and flare to the music that is all his own. In 2011 his gift for being able to incorporate multi-rhythmic variations into his music was recognized by his receipt of the prestigious MacArthur 'genius" grant. The drummer has taken his music a step further, writing and arranging a suite of big band charts that both pays homage to those who have inspired him while also blazing a trail forward into explosive new ground. The sound he creates is both imaginative and a primer of what we can expect further from this percussive hurricane.
Set to be released the first week of April ,Back to the Sunset is the culmination of his most recent energies. It features a suite of nine compositions played by the Dafnis Prieto Big Band and featuring some special guest soloists. Anchored and directed by a distinctly Latin rhythm section, the band includes Prieto on drums, fellow Cuban pianist extraordinaire Manuel Valera, the Puerto Rican bassist Rickey Rodríguez and the Venezuelan percussionist Robert Quintero on congas and percussion. There is an all American trombone section of Tim Albright, Alan Ferber, Jacob Garchik and Jeff Nelson; a trumpet section of Americans Michael Rodríguez, Nathan Eklund and Josh Deutsch and Russian born Alex Sipiagin and a reed section containing fellow Cuban Román Filíu, and Americans Michael Thomas, Peter Apfelbaum, Joel Frahm and Chris Cheek. This is one talented group and under Prieto's direction and drive they make magic.
The album's lead off is "Una Vez Más," a song dedicated to Latin giants of jazz Eddie Palmieri and Tito Puente along with the Latin influenced trumpeter Brian Lynch. Lynch is featured on some shimmering, high register trumpet work here. The brass and reeds all work in sync with the infectious clave rhythm to transport you to the sunny realm of the southern hemisphere. Valera's takes a solo that dances over Quintero and Prieto's percussive explosion.
"The Sooner the Better" is a song dedicated to the Fort Apache bandleader Jerry González and Brazilian composer Edgberto Gismondi, and is a dense composition. The song begins with a pedal point by Valera and some fleet fingered bass work by Rodriguez. The fluttering woodwinds come dancing in as the brass bellow beneath. The repeating melody line is joined in rotation by each section until they merge in resplendent unison. Prieto has an ear for drama, building tension with soaring solos and releasing it masterfully, engaging the listener all the while keeping a tempestuous storm of rhythm roiling beneath. There are layers of color and texture here that paint a complex and masterful aural picture. Fluttering flute lines, boisterous baritone bleats lead up to a stirring and powerful tenor solo by Peter Apfelbaum. Alex Sipiagin introduces a fluid flugelhorn solo that hangs in the air like a bilious cloud. Altoist Filiu blasts out one last solo that filigrees around the repeating melody line to the coda.
"Out of the Bone," a song dedicated to pianist Michel Camilo and altoist and M base founder Steve Coleman, starts with a brooding baritone solo from Chris Cheek before the group goes into the Latin vibe. Prieto's masterful drum rolls and syncopated lines along with Quintero's active congas boil below the surface giving the band a base upon which to form layers of sound. A bass trombone solo by Jeff Nelson roars as the trumpet section squeals in the background. A trombone duel between Garchik and Ferber is another highlight. There is a celebratory, festive Mexican hat dance feel to this one at the end that keeps you on your toes.
The iconoclastic alto saxophonist/composer Henry Threadgill is another of Prieto's influences and here the drummer dedicates this lushly arranged composition "Back to the Sunset" to both Threadgill and to the pianist Andrew Hill. Hearing Threadgill's probing, raspy alto in counterpoint to Prieto's lyrical arrangement is quite a juxtaposition. The altoist's jagged bursts of sound at first pierce Prieto's lush arrangement like an intruding knife cutting through a delicate silk tapestry. But Threadgill's alto finds a seam in the music, a line of raw beauty to explore, a vein that he discovers running through. To his credit he mines it playing poignantly and with great feeling. The result is remarkable.
Perhaps one the most interesting arrangements on the album is entitled "Danzonish Potporrui,"dedicated to the pianist Bebo Valdes, the iconic jazz drummer Art Blakey and the Latin inspired Canadian soprano saxophonist Jane Bunnett. Prieto starts off with a flurry of percussive inventiveness before the band settles into a Latin driven vamp. Prieto is a master of changing rhythmic time between sections. He skillfully plays the brass off against the woodwinds in a display of arranging prowess. He introduces a beautifully Iberian sounding trumpet solo by Josh Deutsch and after a throbbing bass solo by Rodriguez, the band increases the tempo again; this time featuring a lilting soprano voice (presumably a nod to Bunnett) by Michael Thomas. An uplifting Valera piano interlude (presumably in deference to Valdes) is surrounded by fluttering flutes and brass. Prieto keeps an array of impeccable time changes that would put a smile on Blakey's face. The finale has the band building an ever increasing tension as a bandoneon sounding, melodica solo by Peter Apfelbaum, lends a Tango-like feel to the mood of the closing section of this complex piece.
"Song for Chico" is a dedication to bandleaders Chico O'Farrill, his son Arturo O'Farrill and Mario Bauzá and has a big band sound that resonates with its Afro-Cuban drive. The powerful band plays the lines with unusual force and drive. The saxophonist Steve Coleman's alto is the featured soloist on this one and his penetrating tone lends a distinctively modern, non-Latin element to the piece. The band alternates lines with Coleman in a dramatic call and response. He is followed by an edgy trumpet solo by Nathan Eklund that pierces the envelope. Prieto and Quintero trade percussive barbs in a wild syncopated interlude as the band raise their voices individually in sequence to lead into another Coleman alto saxophone solo at the coda.
"Prelude Para Rosa" features Valera at his most creative and independent. The band pulses behind building up to an apex of interest with dancing piccolo, blaring trombones and burnished brass before they settle into a breezy sway and offer the piquant melody. A piccolo solo by Michael Thomas floats above the music like a hummingbird in flight. A lilting soprano solo by Joel Frahm has a similarly weightless feel. Listen to the pulsing drive that Prieto writes for the different sections; all separate tasks but interwoven in a unified tapestry of sound.
"Two for One" is dedicated to the drum master Buddy Rich, the pianist Chucho Valdes and the percussionist Hermeto Pascal. The song features Quintero's driving congas, Chris Cheek's boisterous baritone and Nathan Eklund's trumpet. The band pulses like a throbbing heart with Prieto pumping just the right amount of percussive adrenaline to keep it up to the task. A sinewy alto saxophone solo by Thomas is followed by an inventive piano solo by Valera. Toward the end Prieto demonstrates some of his polyrhythmic skills in the manner of a Buddy Rich-like solo that would have made the master proud..
"The Triumphant Journey" is dedicated two contemporaries that brought Afro-Cuban Music into this country, trumpeter Dizzy Gillespie and the percussionist/singer/composer Chano Poza. A soaring trumpet solo by Mike Rodriguez and a tenor solo by Frahm with references to Gillespie's " A Night In Tunisa" are followed by a trombone solo by Tim Albright. Forceful arrangement of the
band over Filiu's alto solo and roiling drums by the master Prieto concludes this adventurous album.
Related
Popular in the Community