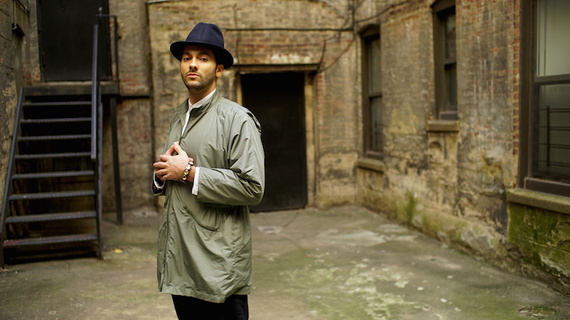 By Dan Ouellette, ZEALnyc Senior Editor ZEALnyc, January 4, 2017
Each year as Winter Jazzfest expands, you can expect new twists in the mix. One of the most prominent this season is the one-night record imprint showcase of Germany-based ECM Records (Saturday, January 7), presenting nine vital artists who record for the label that is celebrating its 48th birthday this year--with the grand No. 50 just around the bend. The Jazzfest shows (listed below) will take place at The New School's Tishman Auditorium (63 Fifth Avenue). (Note: Last year's ECM showcase within the fest took place over two days.)
What's remarkable about ECM is that in the midst of major labels crashing and burning their jazz divisions along with the rise of independent record labels taking a DIY approach, it's still standing tall, as recognized in jazz magazine polls and in this year's just announced NPR top jazz releases for 2016, as voted on by 137 international jazz journalists. In the top 10, three ECM recordings were heralded: Jack DeJohnette / Matt Garrison / Ravi Coltrane, In Movement (No. 3); Michael Formanek / Ensemble Kolossus, The Distance (No. 5); Vijay Iyer / Wadada Leo Smith, A Cosmic Rhythm With Each Stroke (No. 6). Not a shabby showing at all.
During this ongoing sober upheaval in the jazz marketplace with disparaging questions abounding (what is jazz; how can we keep jazz alive; should jazz be watered down for mass consumption), there has been one constant of creative music commitment: ECM. Founded and piloted by producer Manfred Eicher, its credo is summed up quite succinctly in the label's Catalogue 2009-10: "ECM has maintained the most old-fashioned of business practices while staying in tune with what is newest and most alive in music." He added, "You can never go merely for the routine. It never should be routine. Otherwise, it will sound routine."
Espousing that "music is the art that speaks directly to the soul," Eicher said, "Music is my driving force. I'm longing to listen to music that I have not heard yet. Music has no location and no nationality. In the early days of ECM, we recorded mostly American artists...[Today] I go anywhere I have to go to find music that interests me."
Launched in November 1969 with pianist Mal Waldron's Free At Last, ECM boasts more than 1700 titles in its "genre-resistant" catalog, with a steady flow of 30 to 40 new releases each year, featuring border-crossing jazz, improvisational music, transcultural collaborations and classical (specifically in the ECM New Series begun in 1984 to record the music of Arvo Pärt). With a track record of scoring million-selling hits such as Keith Jarrett's Köhn Concert and Jan Garbarek and the Hilliard Ensemble's Officium, ECM became the home for dozens of improvisers, including Jarrett, Chick Corea, Paul Bley, Paul Motian, Dave Holland, Pat Metheny and Charlie Haden--among many others.
"We just started to grow organically," Eicher said. "I've always looked to America, especially New York. I [like] to listen to music and discover musicians and music that I had never heard before."
With Eicher's aesthetic providing the guiding light of ECM, the label continues to forge ahead as the prime purveyor of the luminous fine art of jazz. In recent years, he's given recording opportunities for the crème de la crème of the new generation of jazz artists, including Vijay Iyer, Chris Potter, Mark Turner, Craig Taborn, David Virelles and Theo Bleckmann. "I'm happy to see" their growth as artists, Eicher said
In a conversation I had with Eicher on the occasion of the label's 40th anniversary, he talked about the bottom line of running a label that releases so many albums a year: "There's a lot still to do to fulfill the plan we have to record improvised music that is art, especially today with bringing together different cultures, which fits with the influences of our time. I continue to make records out of musical instinct and drive even though you can never foresee how many copies a record will sell. So, as far as reaching the bottom line, we have never reached a panic yet. We go on as long as we can. Even though it's more difficult to sell music today because there are fewer outlets (other than Amazon), I feel there's an enormous interest in music. There is a need to record music. I've been inspired this year by how much good music we have recorded. My instinct tells me to continue to do what I've been doing and do more."
Nearly a decade later that has proven to be the creative m.o. of ECM.
Of particular note this year at Winter Jazzfest's spotlight on ECM is the appearance of Cuba-born, Brooklyn-based pianist David Virelles in two settings. He's a remarkable talent who celebrates finesse on the piano married to the drums and percussion of his homeland. He's lyrical, off-kilter, mysterious, earthy, measured and spirited in his playing. Unlike fellow countrymen who bring their voices into the piano tradition, Virelles seems to belong to his own universe of influences dominated by the percussive heartbeat of Afro-Cuban tradition. His 2014 ECM debut, Mboko, was an ear-opener of sacred music that teemed with pockets of slow-pulse quiet and fractured chordal pounces, single-note meanderings and rushing tumbles. It was a critics favorite. Recently Virelles released the vinyl/digital EP, Antenna, a vital electro-acoustic fantasia of keyboard art steeped in Cuban rhythms, street poetry and synthesized textures. He said regarding the new project: "I wanted the music to have the sound and feel of traditional Afro-Cuban rhythms, but generated and deconstructed electronically, so that I could make new, very different music out of those elements."
Virelles appears as a sideman in trumpeter Tomasz Stanko's NY Quartet (playing music from his 2013 album Wislawa as well as new music from an upcoming release) and stars in a duet set with saxophonist Ravi Coltrane that will result in an album recorded later in 2017.
Here's the ECM lineup for Saturday, January 7 of what promises to be an exciting evening of prime improvisational music at Jazzfest:
6:00 -- Tomasz Stanko NY Quartet (w/David Virelles, Thomas Morgan, Gerald Cleaver)
7:20 -- Jakob Bro/Thomas Morgan/Joey Baron (playing from the recent trio recording, Streams)
8:40 -- Ravi Coltrane/David Virelles duo
10:00 -- Bill Frisell/Thomas Morgan duo (playing music from their forthcoming release scheduled for June)
11:20 -- Nik Bärtsch Mobile (playing pieces from its 2016 album Continuum)
Cover: David Virelles; photo: Vincent Oshin
_____________________________
For all the news on New York City arts and culture, visit ZEALnyc Front Page.
Calling all HuffPost superfans!
Sign up for membership to become a founding member and help shape HuffPost's next chapter