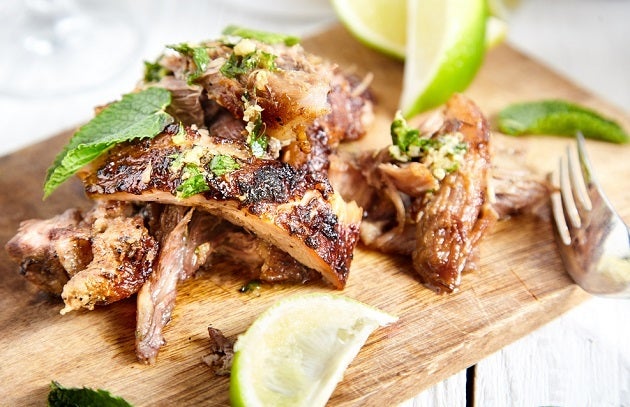 On December 24, the air in Miami will be fragrant with the scent of roast pork as Cubans prepare for La Noche Buena—Christmas Eve.
From Coconut Grove to Hialeah, intoxicating cooking smoke will waft from countless backyard barbecue grills, cinder block pits, and charcoal-fired pig roasters called Chinese boxes.
It is the most important holiday on the Cuban calendar, a celebration of food, family, and faith that was outlawed by Castro's regime from 1969 to 1997. The socializing, eating, drinking, and dancing traditionally begin in the early evening and end with midnight Mass (for those folks who are sober enough to be trusted with candles) or the opening of gifts.
Earnest preparations will get underway on December 23 when the pork—a suckling pig, whole hog, fresh uncured ham, or pork shoulder, depending on the number of guests expected—begins its long soak in a tangy citrus-garlic marinade called adobo.
In their native Cuba, first generation immigrants to Florida recall digging pits on that day to roast the lechón asado—imagine adding that task to your holiday chores!—but South Florida's coral bedrock and meager blanket of topsoil discourage that practice.
I call for a whole fresh bone-in ham, easier to acquire and roast than a porker that weighs 60 pounds or more. But you'll also find directions for pork shoulder and loin. (Buy the former skin-on, if you can find it. They're common in Miami, but could be a special order in your area.)
The adobo marinade and mojo sauce are both simple to make. They contain scandalous amounts of fresh garlic, but don't be tempted to scrimp. Sour orange juice, from naranga agria oranges, can be approximated using fresh lime juice cut with regular orange juice.
Like Thanksgiving, La Noche Buena has a roster of must-have side dishes, including white rice, soupy black beans, yucca, plantains, a green salad, and an array of sweets like deep-fried bunuelos and Spanish turrone. Beer usually accompanies the meal, but you can get the party started with a mojito or two.
Calling all HuffPost superfans!
Sign up for membership to become a founding member and help shape HuffPost's next chapter
This post was published on the now-closed HuffPost Contributor platform. Contributors control their own work and posted freely to our site. If you need to flag this entry as abusive,
send us an email
.