The Bleacher Bums got restless at Wrigley Field Wednesday. In the fifth inning, with the Phillies up 12-1 and the Cubs at bat, a fan dumped his beer on Phillies outfielder Shane Victorino as he was catching a sacrifice fly in center field.
Watch the play (see photo below):
[B]y the time they looked at the WGN-TV video and realized the taunting fan was not the beer tosser, the fan who actually threw the beer managed to get up and slip out of the ballpark.

The Cubs are working with the Chicago Police Department to try and find the fan, and plan to release the photograph on Thursday in hopes that someone will identify him.
Cubs manager Lou Piniella apologized on behalf of the team.
"That shouldn't happen," Piniella said. "It's not good sportsmanship. ... We apologize to Victorino and the Phillies for that."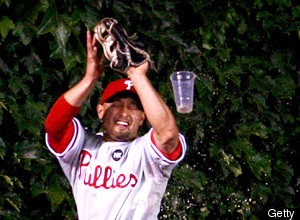 Related
Popular in the Community