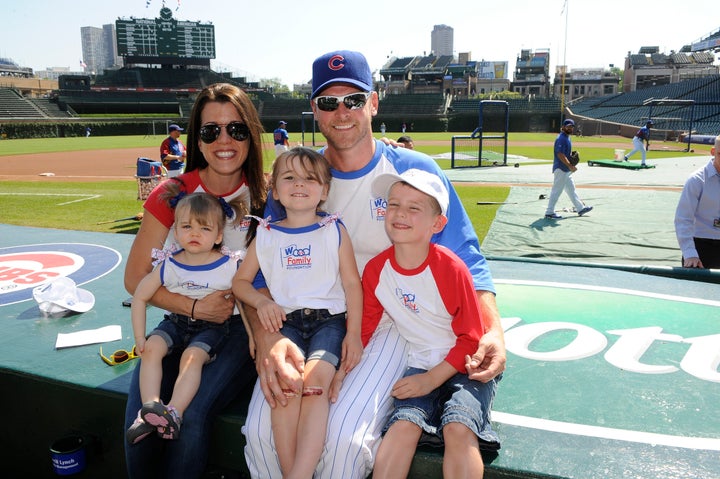 While the Cubs' may be struggling to rack up some wins, Cubs' pitcher Kerry Wood has certainly scored one for Chicagoland kids thanks to the creation of the children's charity, Wood Family Foundation that he and his wife Sarah launched on June 30.
Kerry and Sarah have always focused their philanthropic efforts on raising money for children's charities. In the last 10 years, they have raised more than $2 million for Children's Memorial Hospital, former Cubs' team member Derrek Lee's charity Project 3,000 and the Organic School Project, where children were taught organic gardening, nutrition and wellness and were fed healthy school lunches. Now that Wood and his wife have three of their own children, Justin, 5; Katie, 3; and Charlotte, 20 months, Kerry and Sarah wanted to establish something that can continue on as tradition in the family.
"We don't really have a family business to pass on to the kids, and I think my wife and I decided that this is something we want to have something there for them," Wood said. "My son is already involved and I know my daughters are going to get involved as they get older. This is something that we can leave to them and continue to help people."
If it's any indication of just how dedicated Wood is to children, last month, he was just named "Father of the Year" by the Illinois Fatherhood Initiative, an honor he shares with Mayor Rahm Emanuel, stand-up comedian Tom Dreesen and former Chicago Bears defensive end Richard Dent. Wood joked that he keeps the trophy on the mantle, so his wife can see it every morning when she wakes up.
Two of the foundation's initial efforts will involve funding a playroom for children receiving treatment for cancer at Ann & Robert H. Lurie Children's Hospital that's scheduled to opens its doors in June 2012 and teaming up with the Chicago Cubs to help build a high school baseball field for students in an underserved area. Other plans on the horizon include providing school supplies, clothing and toys for children in need and holding a winter coat drive. But Wood and his wife are always on the lookout for new ways to help out kids.
"Anything to do with kids, anything we can do to help," Wood said. "My wife went to a shelter the other day and we talked about that actually three or four times since then and I'm sure we'll be doing something there for kids. Any organization in the community that needs help and wants to help out kids, we want to be involved in."
"This is where I've committed," he said." This is where I signed and this is where I'm going to finish my career."
That's good news for fans who want to support Wood and his charitable endeavors. The Woods' biggest fundraiser of the year, The Sixth Annual Kerry Wood Strike Zone Celebrity Bowling Tournament, is set for Sept. 18 at 10pin Bowling Lounge and Hotel Sax, and will be hosted by Eric & Kathy from The MIX 101.9 FM. While part of the guest list has not yet been revealed, you can bet that all of Wood's team members will be in attendance and there will no doubt be plenty of sports swag up for auction, including a few gems.
"I try to sneak one secret item in there without talking about it a whole lot. It's usually a pretty one-of-a-kind something," Wood said. "In the past, we've done urinals from the clubhouse and dugout water fountains from back in the old days, so we'll try and come up with something unique every year. Obviously, a lot of baseball stuff, a lot of Blackhawks stuff. I've got the catcher's mask, our catcher's mask, that Ozzie Guillen kicked when we played them. I think that will be a hot item."
Calling all HuffPost superfans!
Sign up for membership to become a founding member and help shape HuffPost's next chapter