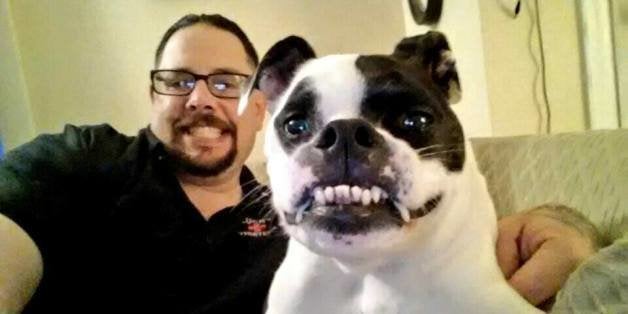 Cuda the pit bull has a short spine, an underbite, asymmetrical paws, a sloped back, a tilted chest and a number of other afflictions. She's also diabetic and burps a whole lot. Oh, and she lost the 2011 World's Ugliest Dog contest.
But she's one happy pup with a killer smile, and her owner, Julie LeRoy, hopes her story will help other homeless dogs, especially pit bulls, find families of their own.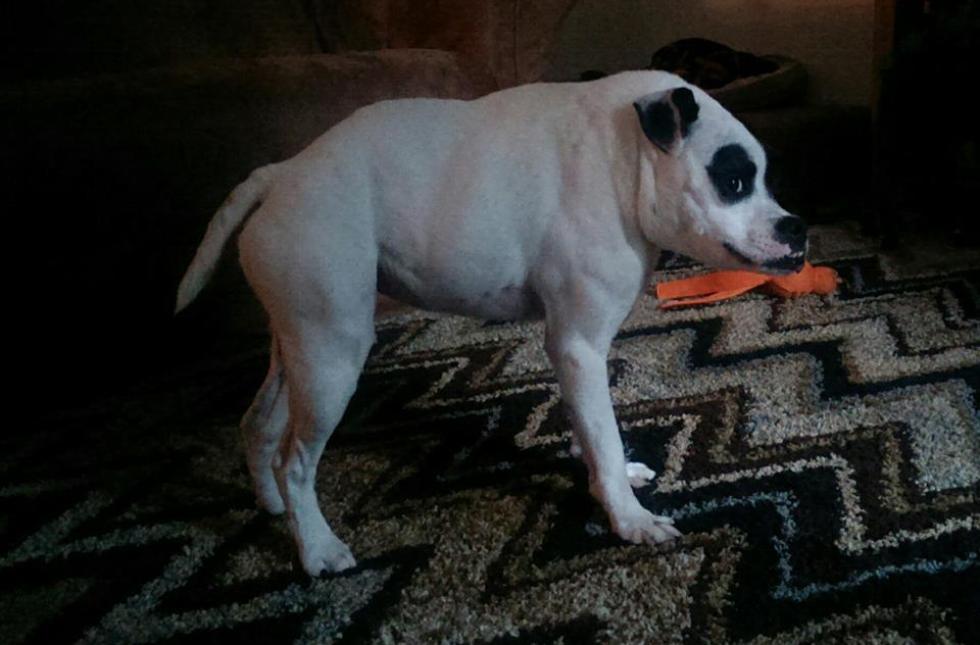 Cuda's unusual physique is due to what's called "short spine syndrome". X-rays from a vet revealed Cuda has normal-sized organs smooshed into a compact cavity.
LeRoy was working as an animal control officer in Durham, North Carolina, at the time Cuda, who has a condition known as "short spine syndrome," came into her life. It was 2010, and she'd gone out to investigate a call about a stray dog. The people who had placed the complaint told her about a puppy they were trying to offload.
"They brought out this twisted little dog on a long piece of twine as a leash. They called her Cuda because of her underbite. They said she reminded them of a barracuda," LeRoy says. "They told me they had to get out of town fast because gangs were after them. I rolled my eyes to myself and took this picture of Cuda with my phone. I texted it to my husband [Scott] with these words: 'What do you think?'"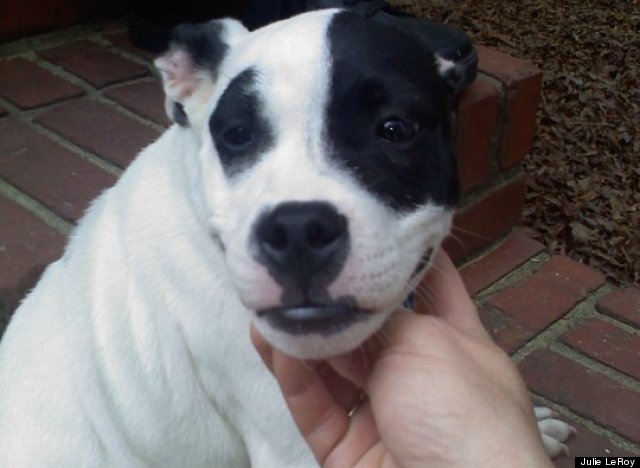 The photo that started it all.
What he thought was "no," says LeRoy. "So I texted him back a few times that he didn't understand. He kept writing back no. After a few more times he finally wrote back, 'Do what you're going to do because you're going to ... do it anyway."
She got the dog, and took little Cuda to the pet store for supplies -- and for a first taste of life in public.
"As I was looking through collars, I noticed people were stopping to stare at us. They were staring at her with disgust and they were whispering quite loudly about it. I got so choked up, I grabbed some crappy pink collar and bolted to the register," she says.
At home, Scott asked his wife to take Cuda for a checkup before he got attached to her.
"That's how I knew she was going to be my dog," says LeRoy. "I ran her to the vet who couldn't find anything causing immediate concern. I got her spayed and nothing sci-fi came out of her."
Little is known about "short spine syndrome" and how this condition will affect Cuda later in life. But it's been a few years, and still nothing otherworldly has transpired.
Indeed, most days are pretty normal in the upstate New York home where the LeRoys now live: Cuda gets up early, eats some wet food, gets nearly a dozen shots to keep her healthy, then spends the rest of the day romping and napping with her four dog and two cat siblings -- that is, when she isn't out and about being swarmed by the fans she now more regularly sees, rather than the detractors.
"When we take her places, we are celebrities. People stop us, ask us questions, take pictures. If I'm in bad mood, I can simply take her for a walk and the fanfare that comes to her makes me feel better!" says LeRoy.
"I just want her story to get out there so people who see these dogs will adopt them," Brandon McDonald, dad to a dog named Cleo, told the website. "It's a chance to help other animals that can't help themselves."
LeRoy, too, uses Cuda's Facebook page, her on-the-street magnetism and her various other platforms -- paying visits to local hospitals, appearing in the Pinups For Pitbulls calendar, and so on -- to advocate for rescue animals and pet adoption and to encourage what she calls "pit bull tolerance."
But most of all, the mysterious, unusual, adorable, loving, gassy, grinning Cuda's job is simple: It's to be Cuda, and nothing but Cuda, for as long as she can.
"She brings joy wherever she goes. People don't know if she's a pig or a gargoyle," LeRoy says. "We have no idea how long she will be on this earth so we cherish each moment with her."
Calling all HuffPost superfans!
Sign up for membership to become a founding member and help shape HuffPost's next chapter