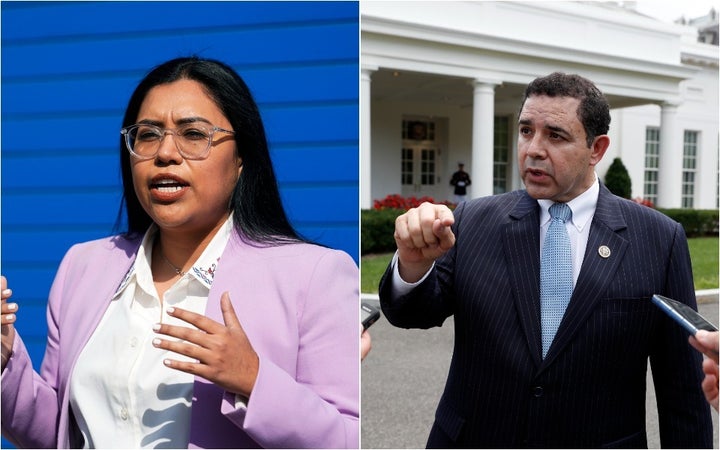 LAREDO, Texas ― The closely watched Democratic primary race in Texas' 28th Congressional District is headed for a runoff after the top two contenders — incumbent Rep. Henry Cuellar and immigration attorney Jessica Cisneros — failed to win an outright majority in the voting that concluded on Tuesday.
Cuellar was nearly 2 percentage points ahead of Cisneros with nearly all votes counted. But because of the presence of a third candidate, former community organizer and educator Tannya Benavides, none of the candidates obtained a majority.
Texas requires primary candidates who fall short of a majority to proceed to a runoff contest between the top two. Cuellar and Cisneros are now due to face off again on May 24.
Cisneros expressed satisfaction with the results at a press conference on Wednesday morning, arguing that it showed the hunger for change in South Texas.
"Over 50% of voters in our district want new leadership for Texas 28," Cisneros said.
The winner of May's runoff will face the winner of a runoff in the Republican primary between Cassy Garcia, a former aide to Sen. Ted Cruz (R-Texas), and Sandra Whitten, the previous Republican nominee in the district. Neither of the two candidates won a majority in the Republican primary, but Garcia, who is backed by Cruz, came in first by more than 5 percentage points.
Cisneros' second consecutive primary challenge against Cuellar attracted national attention and resources because it embodied the fight between the Democratic Party's progressive and centrist wings. Interest in the race grew greater still when the FBI raided Cuellar's home in late January as part of a probe into his ties to business and government officials in Azerbaijan.
Given the stakes of the contest, national interest in the race is unlikely to abate in the coming months, predicted James Henson, director of the Texas Politics Project at the University of Texas, Austin.
"In a runoff, you will see a lot more money pouring into this race and a sharpening of the lines of conflict that we've already seen," he said. "It's only going to increase the attention to this race as a bellwether for a fight between the two extreme ends of the Democratic Party."
Benavides' role in the outcome of the race is likely to receive additional scrutiny. She ran on a similarly progressive platform to Cisneros, suggesting that she ate into Cisneros' share of the vote.
Horacio Lopez, an accountant in Laredo who voted for Cisneros in 2020, cast his ballot this time for Benavides, who had less institutional support than Cisneros.
Lopez had grown wary of Cisneros' left-wing views, including her proximity to socialism, in the past two years. Benavides is "a little bit more middle ground," he said.
While there is no evidence that Benavides was recruited specifically to undermine Cisneros, a Cuellar aide did speak encouragingly about her bid. Cisneros' team also sought unsuccessfully to have Benavides disqualified for submitting her ballot petitions incorrectly.
"It's only going to increase the attention to this race as a bellwether for a fight between the two extreme ends of the Democratic Party."
Cisneros declined to say whether she would seek Benavides' endorsement.
"I'm ready to work with whomever wants to work with this campaign for new leadership in South Texas," she said.
Overall, Cisneros said she had no plans to change her approach to the race as she prepares for the runoff.
"We are going to keep focusing on our strategy," she said. "We have shown that it's working."
"The fact that we are having such a huge impact on our grassroots campaign budget I think is just indicative of the fact that we are surging right now in terms of momentum and Henry Cuellar is on the decline," Cisneros added.
Cuellar indeed started off with a massive fundraising advantage. But since the raid of his home in late January, Cisneros experienced a surge of donations that significantly narrowed the cash gap.
Cisneros and groups supporting her were able to leverage the influx of money on her behalf to outspend Cuellar on TV, according to television advertising data obtained by HuffPost. Even excluding outside support, Cisneros' campaign outspent Cuellar's directly in the final weeks, especially in the San Antonio media market.
Although Cisneros enjoyed significant outside spending support in 2020, Justice Democrats debuted its own independent expenditure arm in Rep. Jamaal Bowman's race months after Cisneros' first bid. This time, with financial support from the Working Families Party, Indivisible and NARAL Pro-Choice America, Justice Democrats' independent spending arm invested $275,000 in TV and digital ads, as well as nearly $150,000 in direct-mail items highlighting Cuellar's opposition to abortion rights and ethical problems.
"Establishment politicians like Henry Cuellar are always backed by millions of dollars in outside spending from corporate PAC's and big donors," said Hannah Fertig, a spokesperson for Justice Democrats' independent expenditure group. "That was a big part of the reason why his campaign eked out a narrow win in 2020. We learned from that, and organized our own air cover campaign to counter those forces early this time around. It made a huge difference, especially in the counties where Jessica ran up the score."
Cuellar, a nine-term incumbent sometimes called the "King of Laredo," is one of Congress's last remaining Democratic opponents of abortion rights and expanded union rights.
Cisneros, a proponent of Medicare for All and the Green New Deal, would, by contrast, be among the chamber's most progressive lawmakers.
After her primary loss, Cisneros stayed in Laredo, where she worked as a legal aid attorney. She also became a precinct chair for the Webb County Democratic Party, which brought her closer to many Democratic Party activists in the region.
This time around, candidates framed their bids as competing visions for the future of South Texas, and the path forward for the Democratic Party in the predominantly Latino, economically challenged region. Republicans made inroads in South Texas in the 2020 election and Democrats are eager to limit their gains.
Cuellar and his allies argued that his seat on the House Appropriations Committee ensured South Texas a much-needed supply of federal grant money. They also maintained that Cuellar's conservative social views, including support for strict border enforcement and opposition to abortion rights, are an accurate reflection of his constituents' views and a bulwark against a Republican takeover in the region.
Numerous Cuellar supporters in Laredo cited both his experience and his record on those wedge issues.
"He's helped the border issues," said Eloisa Volpe, a receptionist anxious about the ease with which she believes undocumented immigrants obtain public benefits. "He's always looking into funding for issues around the city."
"Cisneros is still too young," she added. "My opinion is you need more experience."
Cisneros, by contrast, asked voters to consider what Cuellar's seniority in the House was worth if South Texas in general, and Laredo in particular, remains mired in poverty and suffers from endemic corruption and deteriorating infrastructure. Residents of Laredo's less prosperous South side have, for example, dealt with frequent disruptions in their access to drinkable tap water.
Ysenia Hernandez, a South Laredo resident who voted for Cisneros, cited the lack of reliably safe drinking water as evidence of the need for change.
"I want something new in Laredo — new opportunity, new people," she said.
Popular in the Community