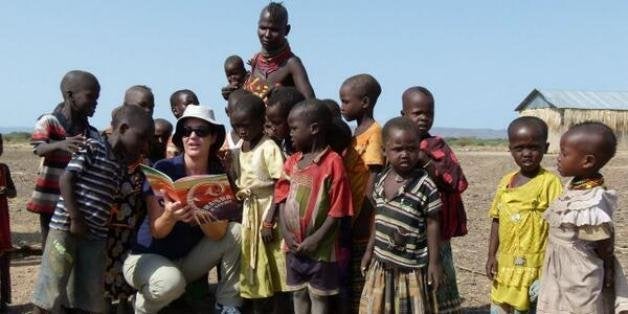 Ana Eulate was always passionate about writing. In 2010, in the midst of the toughest economic recession in Spain in decades, she left her steady and well-paid job in international organizations to make her dream come true: to create a very especial children's book publishing house.
Her vision came to life under the name of Cuento de Luz, and she now makes picture books for a better world.
Cuento de Luz was born in Ana Eulate's garage, and thanks to her persistence and international reach, the organization has already won 40 awards in the United States and have more than 350,000 followers on Facebook . Their books are published in English and Spanish and are available (in paperback and ebook) on their website and in select bookstores.
Books with a universal message of hope
The key to Cuento de Luz's success is the kind of stories they publish.
"The idea was to deliver messages with universal values that worked in all cultures, regardless of race, ideology and place of origin," Ana tells VOXXI.
These books are not made for children (and adults) to fall asleep with, but to awaken something in us all. "We want to build a bridge between creative imagination and reflection," says Ana, "by raising awareness about the diversity of our world, education for peace and caring for our planet." In short, they create stories that inspire, serve, educate and bring a positive change.
Supporting stories that fund schools
Ana is not only Cuento de Luz's head and heart, but also the author of some of the stories. Her tales are designed to bring hope to children living in areas of conflict or famine, far from the comforts and abundance of the First World. Every year, Cuento de Luz helps fund two charitable projects through books written by Ana, who gives proceeds to small foundations run by women entrepreneurs who invest money in education and nutrition projects, like Fundacion Cometa (Afghanistan) and Fundacion Vipeika (Kenya).
To the first organization, Ana gave the rights to the book The sky of Afghanistan, that was translated into Dari (one of their two official languages). It was then distributed in schools and universities in Kabul. The profits from the sales are intended to help fund the construction of a school for girls.
In Kenya, she gave the book Life is Beautiful, translated into Swahili. The publishing house also created Cuento de Luz School, which is actively providing education and nutrition for 300 local children.
Among their recent titles of inspirational stories, we can find Walking Eagle, the Comanche Child. This book is about to be edited and released in English in the United States. Written by Ana and illustrated by Nívola Uya , the author describes it as "a magical tale that sings to nature and harmony between the different nations of the world." The profits will go to the Aquila Foundation, which protects endangered species of animals internationally.
A successful, rewarding team effort
The harmony amongst the team members of Cuento de Luz is admirable. This combines with the high quality of the books and Ana's spirit to deliver an incredible experience to readers around the world. The company is committed to only working with illustrators who use traditional techniques, such as pens, watercolor or acrylic, adding only some finishing touches with computers, and the approved themes are ones that give enormous personal satisfaction to Ana, meeting the company's mission.
This brave and generous woman has just been named one of the Top 100 women leaders in Spain in 2013. Her next challenge is to consolidate Cuento de Luz in the United States and Latin America, and begin publishing in Asian countries like Taiwan or China.
Passionate about her work, Ana´s goal is to continue providing light and hope through words and illustrations to children all around the world. The books released by Cuento de Luz are truly beautiful and are a positive international project to which you can contribute by buying any of their spectacular books.
REAL LIFE. REAL NEWS. REAL VOICES.
Help us tell more of the stories that matter from voices that too often remain unheard.
BEFORE YOU GO
PHOTO GALLERY
Best New Books Out This Week