As if Indian cuisine weren't rich and varied enough, some Southeast Asian chefs are eager to take their food to the next level: melding its flavors with those of other cultures.
Indian fusion was on display at last night's second annual Varli Food Festival in New York City. The event, hosted by "Top Chef"'s Padma Lakshmi, featured several dozen Indian restaurants, a cadre of Indian celebrity chefs, and food- and beverage-and-spirits-related exhibitors.
"Even since last year, the popularity of Indian food has greatly increased," says Varli Singh, creator of the sold-out event, and the publisher and editor of Varli Magazine which focuses on Indian-dining venues in the northeast U.S. "Indian food-reality shows and Indian fusion food have piqued public interest in the cuisine and made it more appealing, and that includes second-generation Indians who want to explore foods from their families' regions. Tonight's event is three times the size of last year's."
The fusion elements were evident in savory, dessert and spirit offerings.
Sahil Zafar, chef at Chand Palace, in Parsippany, New Jersey, specializing in the vegetarian cuisine of South India, served up an Italian-leaning tikka dish that, in addition to ginger, garlic and turmeric, included oregano and basil. A companion dish included tomato sauce.
Aarti Mahtani Raman, owner of AMR catering and a pastry chef whose calling card is Indian-American desserts, also put her spin on fusion-fare.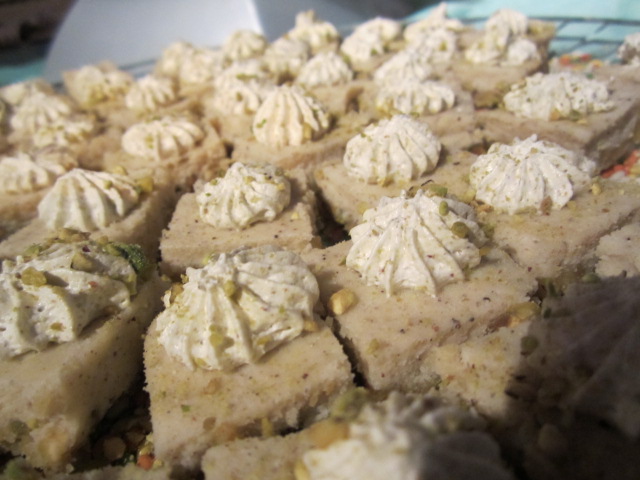 Image courtesy of Coeli Carr
"Indian sweets tend to be dense, nut-based and perfumed with spices," says Raman, 28, who served up a pistachio-crusted cheesecake infused with cardamom. Another popular treat in her catering repertoire is a bread pudding that uses coconut milk, coconut and ginger.
Cocktails became fusion-focused too.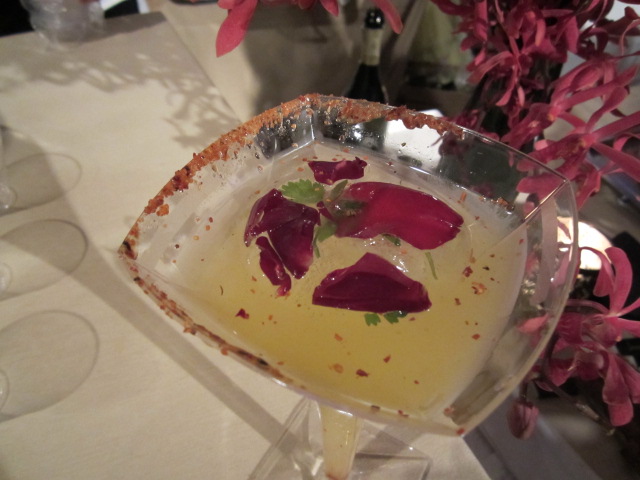 Image courtesy of Coeli Carr
The VarliTini, created by Prasad Chirnomulla, the chef at Thali, a small chain of Indian restaurants in Connecticut, featured Polish vodka and St. Germain elderflower liqueur, along with a nice smattering of turmeric, and a floating frozen demi-circle of ice embedded with rose petals -- Indians love their flowers -- and micro-cilantro, another popular Indian accent flavor.
One chef, however, had little use for the fusion concept. "Would you like Italian food with a tinge of something else?" asks Vandana Sheth, the owner of Copper Chimney and Pongal in Manhattan who hosted at her restaurants' station last night. "I don't go low on my spice levels. People who want to try Indian food need to jump in. There are no short cuts."
Calling all HuffPost superfans!
Sign up for membership to become a founding member and help shape HuffPost's next chapter