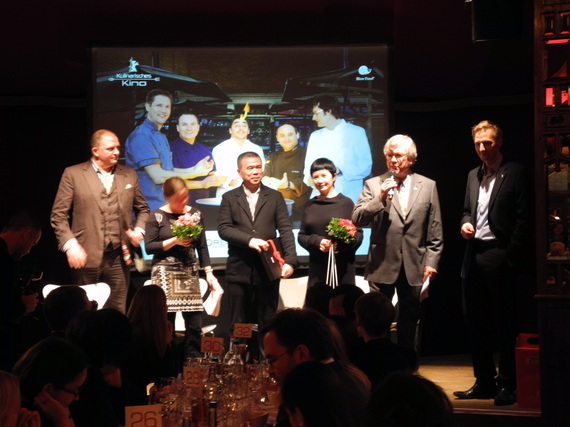 Thomas Struck (second from right) at dinner talk following the premiere of Zone Pro Site, with Writer/Director CHEN Yu-Hsun (third from left.)
Macaroni and movies, together? It's the new sensation.
For those with an appetite for stimulating their wits and their senses, film and food make a perfect pairing: they feed both the body and the brain. Attendees of Culinary Cinema at the Berlinale (Berlin's annual film festival) are treated to a week's immersion in films about food and food with their films. They don't go away hungry.
Spearheaded by Thomas Struck, Culinary Cinema is in its eighth year and going strong. Struck developed the program to address the gap between food and culture, a connection he says has been lost in northern Europe and North America. Through our own doing, food has been high jacked, turned into a consumer crop: grown by big agriculture, processed through corporate giants, and delivered on the conveyor belt of fast food and packaged products. A yawning gulf has opened between us and what we eat, with few people left who pull their own carrots. Struck says, "We have industrialized our food, and now our food has industrialized us."
To bridge this gap, Struck curates a program that includes some thirteen films in their world premieres and five evening meals inspired by them. He casts a wide net in his programming, which includes fictional films whose stories revolve around food, like last year's Io Sono L'Amore (I Am Love with Tilda Swinton) as well as documentaries that run from environmental issues to tackling the thorny questions of where our food comes from, like Eric Schlosser's Food, Inc.
The films of the Culinary Cinema program are presented in decorous style with a final flourish. Selections are shown in the Martin-Gropius-Bau, a grand, neo-Renaissance building complete with coats-of-arms and gold-leaf mosaics. Screenings are followed by Q&A with a combination of directors, producers and actors.
After five of the evening shows, celebrated chefs prepare dinners inspired by the films. Guests move across the street to the Gropius Mirror Restaurant, which takes the form of a circus tent. Inside, its circular floor rises to a canopied top, the red interior is hung with mirrors, and the stage is set for mystery, slight-of hand, and a wondrous performance.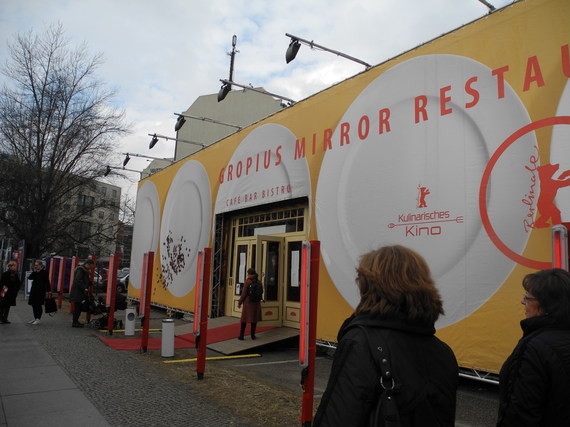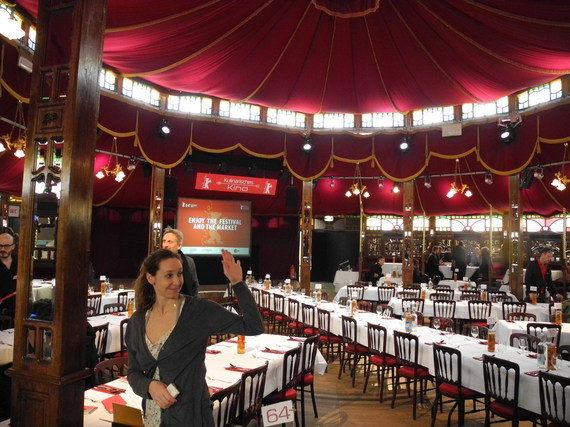 The Gropius Mirror Restaurant where Culinary Cinema fêtes its filmmakers and guests.
Culinary Cinema wants all cinema goers to eat well. For the folks on the street, it extends its feeding arm into the Joseph-von-Eichendorff-Gasse, an alley off Potsdamer Platz, where food trucks offer casual quick-bites with menus ranging from barbeque to spätzle, a German noodle that melts in your mouth.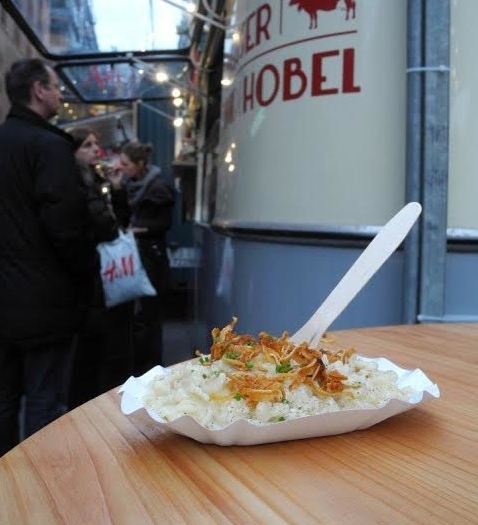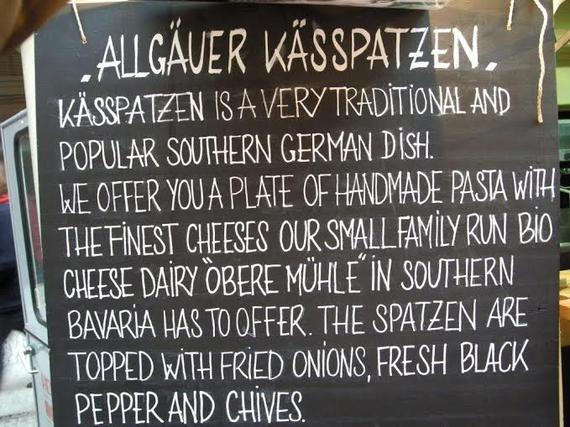 Street food sponsored by Culinary Cinema- everyone eats well.
This year's films span a wide range of offerings. Mission Blue is a documentary by Fisher Stevens (The Cove) featuring the oceanographer, Sylvia Earl. Born in 1935, Earl spent her childhood on the Gulf of Mexico and her career as a marine biologist, and she is in despair over the change in the oceans in her lifetime. She has seen the evidence that beneath the lapping waves of the seemingly unchanged surface, sea life is dying, that the ocean is on the point of collapse.
''Humans have used it as a dumping ground, drilled it with oilrigs, and emptied it of fish. We all thought the oceans were too big to fail." And there's no easy bailout in sight.
But Earl has a plan. She wants to set up Hope Spots around the world that will function like the National Park system, large tracts of water protected from fishing and refuse dumping. The hope is that within the preserve, sea life will be able to recover. If we don't do this, along with radically reducing the amount of carbon dioxide we pump into the air that's causing the ocean to acidify, things look grim. As Earl says, 'No blue, no green. No green, no us.'
Seeing Mission Blue is enough to send you running for the bar at the Gropius Mirror.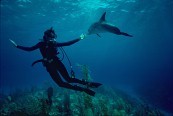 Sylvia Earl doing what she loves best in Mission Blue. Photo copyright © Berlinale.
At the other end of the spectrum, Zone Pro Site is a comedy celebrating food, fashion, and the generosity of the human heart. This Taiwanese film is extraordinarily inventive, gloriously colored, and zany in a way that evokes Who Framed Roger Rabbit and classic fairy tales, trimmed in bright stripes and polka dots. The characters are comic and supercharged, zooming around on motor scooters and performing impossible feats, often with the help of spirits.
The story of Zone Pro Site centers around a cooking contest, employing the tradition of the Ban-doh, or outdoor banquet. When Taiwan was mostly rural, weddings and such would be celebrated outside with a guest chef whipping up gastronomic delights from the local produce and game in season. As the ante has been upped by chefs around the world, gastronomic concoctions have risen like a soufflé to over-the-top creations. In the end, the judges in the film award the prizes to the simple comfort foods that mom used to make. The master chef decrees, "If you have love in your heart, the food will be good." For the dinner following, chef Tim Raue serves up his version of the ribbon-winning dish, Leftover Stew.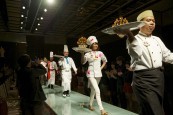 The runway banquet in Zone Pro Site. Photo copyright © Berlinale.
Food is hot, no doubt about it. From the plethora of cooking shows on television to the reform of fast food chains like Chipotle in pledging to use only grass feed beef, our highly refined culture is making a valiant attempt to reclaim control over what we put in our mouths. We want good food, cooked well. Culinary Cinema steps up to address the whole enchilada.
REAL LIFE. REAL NEWS. REAL VOICES.
Help us tell more of the stories that matter from voices that too often remain unheard.