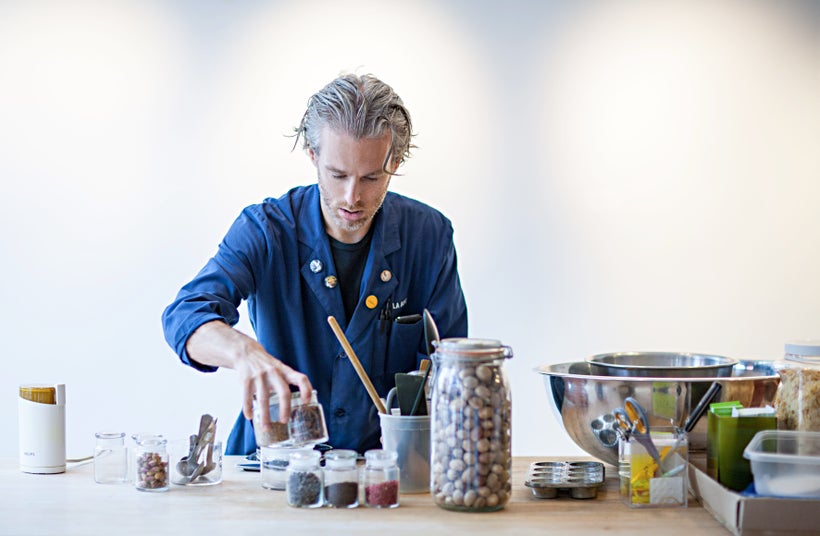 Lior Lev Sercarz, owner of La Boîte, a wildly popular spice shop in New York City, has become a spice sensation. In this era of artisanal food, he has carved out a niche as a master spice blender. His recently published book The Art of Blending is a gallery-worthy tome that elevates the seemingly humble spice.
Sercarz was born in Israel, where he worked for a catering company before heading to France for a two-year culinary program at the Paul Bocuse Institute in Lyons. After that, he apprenticed with Olivier Roellinger at his Les Maisons de Bricourts at his spice shop in Paris.
When La Boîte opened in 2006, the shop offered three blends and had a single, but powerful, customer: Laurent Tourondel, who was then building his BLT restaurant chain. Today, Sercarz offers 41 official blends, and also creates special blends for special customers like Eric Ripert's of the famed Le Bernadin.
What drew you to spices above all else in the culinary world?
Throughout my twenty-year career, spices have always felt relevant. After working as a chef, I chose to focus on an area where I felt there was a lack of both industry and consumer knowledge.
How does your upbringing in Israel affect your palate?
The Middle East is very rich in flavors, agriculture, and history. I grew up with a deep connection to nature and a strong appreciation for the diverse cultural influences inherent to the region. I have come to value simple techniques that allow for the flavors to shine.
Can you talk a bit about your process? How long does it take for you to create a blend you are ready to release?
My process can take anywhere from ten minutes to three months – it varies on the complexity of the particular blend. I begin with a basic idea; from there I identify the inspiration, textures, flavors. Then, I begin measuring, grinding, tasting and testing.
I'm told you are rather secretive about the blends. Is it true that when you are crafting blend, no one is allowed into the kitchen?
Yes, I consider crafting blends a personal process. However, my spice emporium, La Boîte, allows me to open my door to others.
You're now based in New York, but ship around the world. Are there regional/geographical preferences in spices?
There is now a greater awareness of spices that has allowed it to permeate global markets. In the past, only certain traditional regions were known for using more spices. Today, young spice markets in the United States and Europe are showing a greater interest in spices.
Do you have a favorite spice—not a blend—just a spice that you love?
Among my favorites are cumin, cardamom, coriander, cinnamon, and chilies.
Your book The Art of Blending is gorgeous. What is it about spices that evoke such emotions? Do you have any thoughts on why the human mind and soul come alive with spice?
I think it's the unique combination of scent, color, and the diverse culinary applications that allow for a spice or a spice blend to evoke special emotions and memories. My hope is that the book tells a story through its recipes and imagery that conjures an emotional and sensory experience for readers.
Any ingredient you haven't been able to incorporate yet, but would love to?
I am interested in working with truffles, but these don't exist in a great dried from – yet.
What do you see yourself doing in 10 years?
In ten years I hope to be involved in spice farming, creating more blends, and developing a culinary academy that will teach the art of spice blending.
REAL LIFE. REAL NEWS. REAL VOICES.
Help us tell more of the stories that matter from voices that too often remain unheard.
This post was published on the now-closed HuffPost Contributor platform. Contributors control their own work and posted freely to our site. If you need to flag this entry as abusive,
send us an email
.