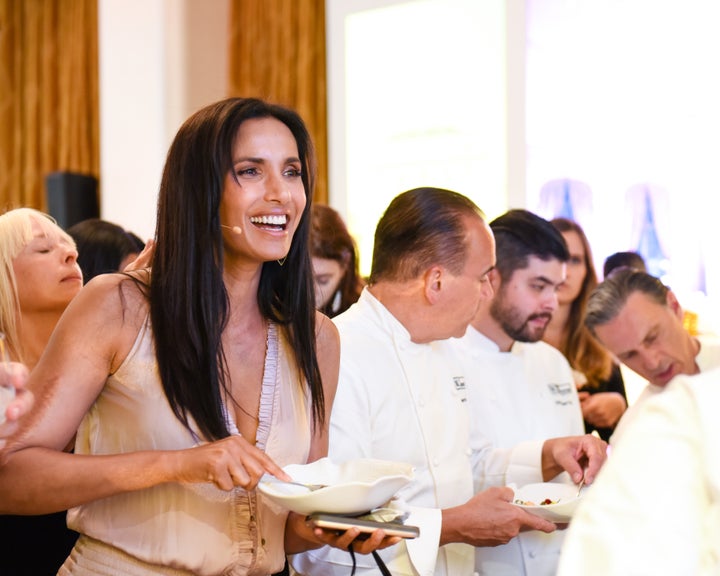 Last week, Hilton's iconic luxury brand, Waldorf Astoria Hotels & Resorts, hosted the third annual Taste of Waldorf Astoria culinary competition at the newly-opened Waldorf Astoria Beverly Hills. The event, presented by Visa, had a star-studded panel of judges led by host Padma Lakshmi, Chef Jean-Georges Vongerichten, who just opened his first west coast restaurant at the hotel, Adam Rapoport, editor-in-chief of Bon Appétit magazine, Erik Bruner-Yang, owner and chef of Maketto in D.C. who won last year's Taste of Waldorf Astoria competition, and Taste of Waldorf Astoria Chef and Vice President, Culinary Americas for Hilton, Marc Ehrler. The winning dish created by Waldorf Astoria Executive Chef Michael Zachman from Waldorf Astoria Park City and James Beard Foundation, Rising Star Finalist Chef Alex Bois, will be featured on menus at 26 Waldorf Astoria properties worldwide.
The winning dish pairing featured Beet-Cured Steelhead Trout paired with Rye & Shine Prosecco cocktail and Spicy Togarashi Prawn paired with Ginger Yuzu Asian Pear (mocktail) Mojito. The dish joins last year's winning dish, the Jing Roll, the 2015 winning dish Celery Root Risotto Alla Waldorf, and a lineup of iconic dishes that were first created at Waldorf Astoria, including Eggs Benedict, Red Velvet Cake, and The Waldorf Salad.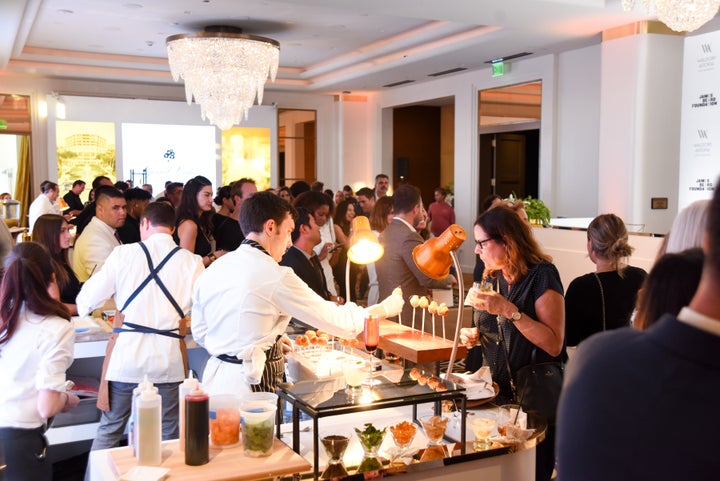 This year's Taste of Waldorf Astoria changed it up a bit from the previous two years and posed a specific challenge — to transform happy hour into the "Fifth Hour: Bar + Bites," a contemporary update to the time-honored ritual using innovative themes that mirror the sophisticated and modern style of each property. The goal here was to try and go beyond the usual drinks and appetizers, and instead have each chef duo create two small bites that pair perfectly with an original cocktail and mocktail. The chef's ability to create to perfectly pair food and beverage was a key component of the judging criteria.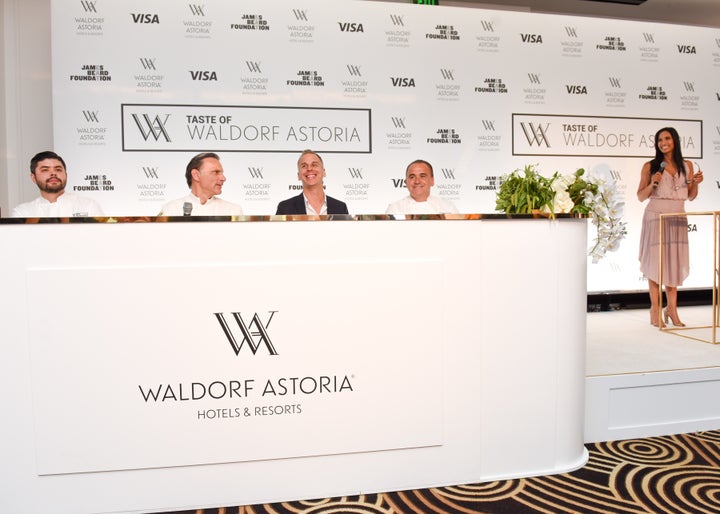 "Congratulations to all the chef teams who participated in this year's competition and a big thank you to our judging panel of culinary luminaries who joined us last night to conclude year three of Taste of Waldorf Astoria," said John T.A. Vanderslice, global head, Waldorf Astoria Hotels & Resorts. "As we introduced a new theme and location for this year's competition and final event, it is more than evident what a talented food and beverage team we have at Waldorf Astoria and we are honored to work alongside those who continue the culinary legacy of the brand."
"Waldorf Astoria has always influenced the culinary landscape and with pioneering programs like Taste of Waldorf Astoria, the brand continues to lead and inspire through innovation & strategic collaboration. I truly value the opportunity to judge this competition and bring exquisite food to discerning guests," said Chef Jean-Georges Vongerichten. "I'm excited to have found the perfect partner to make my West Coast debut and bring my culinary passion to one of the world's most prestigious hotel brands."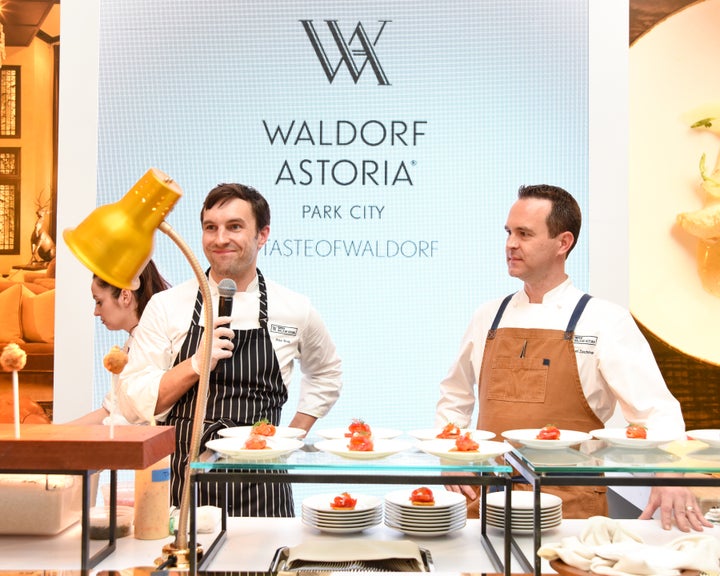 Adjacent to the iconic The Beverly Hilton, the new 12-story hotel is the brand's first new build on the West Coast and second property in California. The Waldorf Astoria portfolio now has 26 hotels and resorts around the world. Owned by Alagem Capital Group and clients of Guggenheim Partners, the hotel's 119 deluxe rooms and 51 suites are part of a world-class, Art Deco-influenced design created by renowned interior design firm Pierre-Yves Rochon, Inc. Every room features floor-to-ceiling windows that open onto oversized private balconies, perfect for drinking in the sunset or simply checking out Rodeo Drive, the Beverly Hills shopping mecca just to the east, within easy walking distance of the Waldorf Astoria.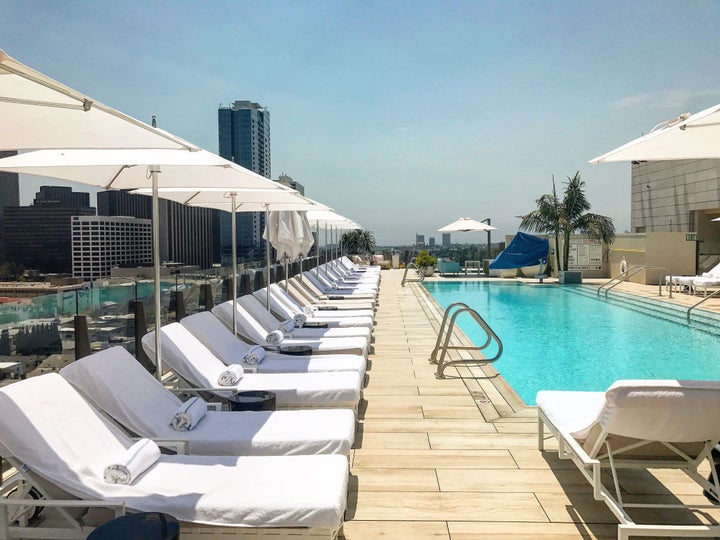 The rooftop pool deck, which is only available to registered guests, is already a desired hot spot on its own and is part of one of the largest rooftop destinations of its kind in Beverly Hills. The pool area includes VIP cabanas, a lounge area with panoramic views, and of course, a gorgeous swimming pool and separate over-sized hot tub.
When first entering the Waldorf Astoria Beverly Hills, guests will be impressed by the triple-height lobby with richly upholstered furniture in soothing tones, accented by incredible pieces of art, which create a blend of sophistication and relaxation. Additionally, the service level one comes to expect from any Waldorf Astoria level is exemplified at this property.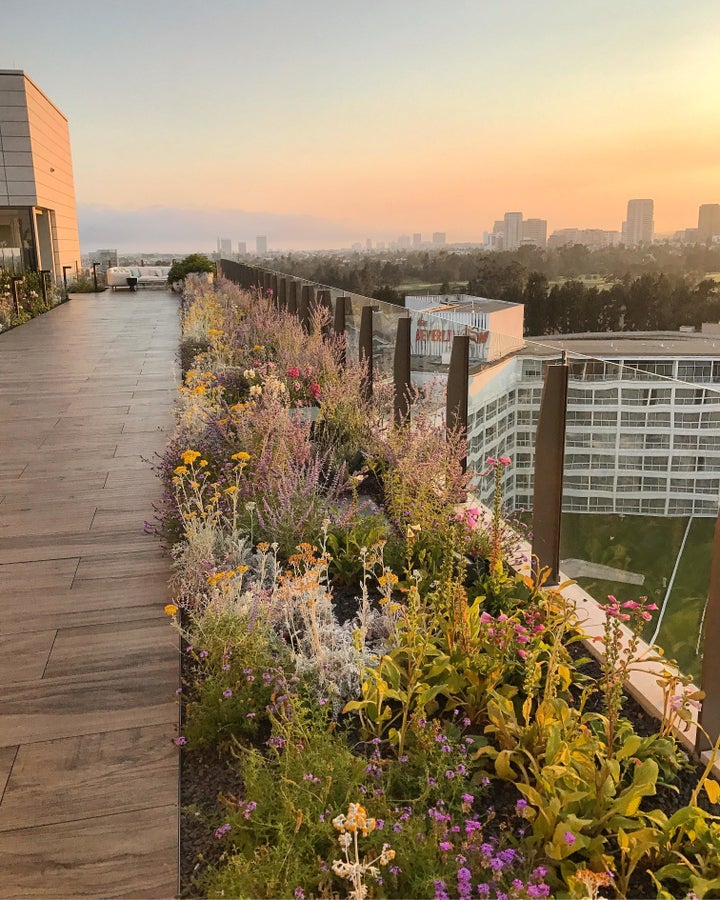 When it comes to dining, the new hotel has been blessed with three venues created by the legendary French chef Jean-Georges Vongerichten. A new standard of fine food comes to Beverly Hills with the elegant Jean-Georges Beverly Hills, the chef's signature restaurant, as well as The Rooftop by JG and Jean-Georges Beverly Hills Bar.
Needless to say, the hotel itself will on the radar of those in search of only the best when it comes to the highest standards of luxury accommodations, but affluent food aficionados will also be flocking here to explore the masterpiece menus created by one of the world's best chefs.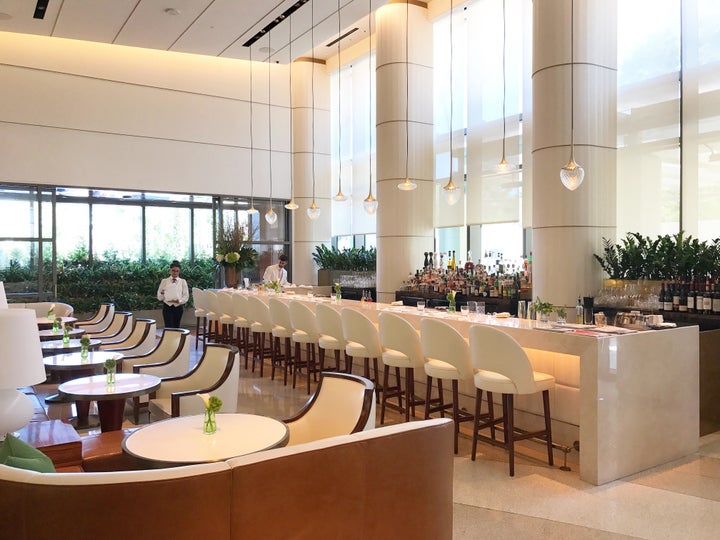 (From the Brand) - Waldorf Astoria Hotels & Resorts is a portfolio of 26 iconic properties in the world's most sought after destinations. Unified by their inspirational environments and True Waldorf Service, Waldorf Astoria hotels deliver unparalleled, bespoke service from the moment a guest books through check out. Waldorf Astoria is a part of Hilton, a leading global hospitality company. Experience Waldorf Astoria by visiting http://news.waldorfastoria.com or following the brand on Twitter, Instagram, and Facebook.
(The author of this post was hosted by the brand and hotel mentioned within.)
Related
Popular in the Community