 Careers through Culinary Arts Program (C-CAP) marked a record year in 2012, handing out over $3 million in scholarships to disadvantaged high schools kids. C-CAP, whose mission is breaking the cycle of poverty through the culinary arts, runs programs in high schools throughout America, donating supplies, offering mentorships, and connecting kids to internships and jobs who might otherwise struggle with their futures. Bottom line, C-CAP gives their kids a means to nurture their passion and change their lives, and since its beginnings it's awarded $37 million in scholarships.
Founded in 1990 by author and educator Richard Grausman (French Classics Made Easy), today C-CAP has reached its ever-growing tentacles into kitchens across America, and it's alumni can claim some serious bragging rights. Lester Walker was a Chopped Champion, Kelvin Fernandez a Chopped Finalist, Lasheeda Perry won her episode of Sweet Genius, and Yvan Lemoine was a finalist on The Next Food Network Star. More than the emerging star-power of their alumni, C-CAP also boasts heavy involvement by star chef and Board Member Marcus Samuelsson, who recently won $50,000 for C-CAP on Chopped All-Stars.
But C-CAP isn't just about grooming tomorrow's star chefs, it's about giving kids with very few options career goals and a brighter future, and giving the industry a veritable army of 18,000 well-trained, highly-motivated alumni who are serious about their passion. Although, in the very beginning, the idea was just about Grausman doing something to change the palate of the American people.
"When I went on my first book tour I realized that all across the country people were stuck eating things like burgers and pizza," said Grausman in an interview at C-CAP headquarters in New York City. "I wanted to change that. Then one day the light bulb came on in my head and the answer was to get into the schools. If I was to change the American palate I'd have to start early."
So Joyce Appelman, C-CAP's National Communications Director, who had been working with Grausman on some product promotions during his book tour, asked Richard if he'd like to come and teach the students at her local high school in Great Neck, NY. Six months later Richard and his wife Susan Grausman, a public school teacher, approached the NY Public School system and explained that he wanted to teach the teachers some recipes so they could then teach the recipes to their students.
Upon meeting his first teacher, Grausman was shocked at how under-supplied his classroom was. "When I looked in all his cupboards, they were empty!" So Richard asked what he could do to help, and the teacher laughed, saying 'I use my own money to buy flour to make bread with my students!"
Grausman then went home and called all his contacts at companies like CuisinArt, J.A. Henckel, and Wusthof, told them what he wanted to do, and asked if they'd help. Everyone came back with a resounding 'yes!'
Grausman said that when he set up a day to teach the teachers, he gave them all care packages full of supplies and equipment for their classrooms. "The teachers couldn't believe it. Nobody had ever promised them anything and then delivered." Grausman emphasized that even today, C-CAP couldn't do what it does without the help of sponsors like Guittard Chocolate, MOZO Shoes, Filippo Berio, Blue Diamond, Nielsen-Massey Vanillas, Uhlmann Co., and Best Manufacturers, all of whom give generously to supply classrooms and students.
What struck me as so impressive about C-CAP is that in such difficult economic times, when so many charities have had to cut back due to a lack of funding, C-CAP has had its most successful year ever. Of this, Susan Robbins, President of C-CAP, told me, "We've been very successful this year with rejuvenating our benefit events, getting more chefs involved and offering an evening that's selling out tickets. Plus the exposure we've had on Food Network through Marcus Samuelsson and our alumni has really helped spread the word about C-CAP and increase donations through Network for Good."
With over $3 million in scholarships in 2012, I was curious how C-CAP awards the money. It turns out the scholarships are a combination of merit-based (kids with excellent GPAs) and competition-based. C-CAP holds culinary competitions for its schools, where the kids have to prepare a main course and a dessert, and they're judged by area chefs, including C-CAP alumni.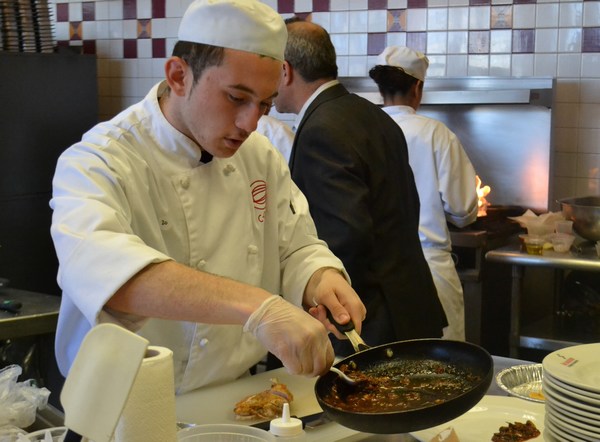 Nick Pace of Port Richmond High School at the C-CAP student competition. Pace received a total of $14,400 in C-CAP and in-kind scholarships for the Culinary Institute of America. (Regina Varolli)
This year in NYC, the competition was held at the Institute of Culinary Education, and C-CAP alum Thiago Silva, Executive Pastry Chef at Catch restaurant, was one of the judges. Over a sampling of his delicious desserts at Catch (where he's hired several C-CAP alumni), I asked Chef Silva what it was like to be a judge rather than a competitor. "It was very different, a good different. I know how they felt that day, how nervous and excited they were, all the pressure they felt. So I took that into account, but because I was there once, I was also hard on them because that's what competition and learning is about. You've got to give and take constructive criticism."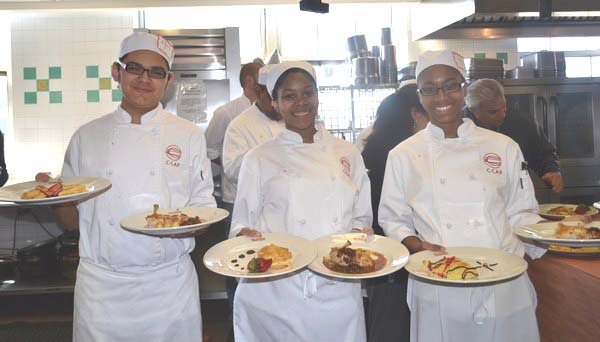 Students showing off their dishes at the C-CAP student competition. Left to right: Louis Lopez, Tianna Ottley, Shania Thomas. Tianna Ottley received the NY area's largest scholarship totaling $104,448 for 4 year's full tuition at Johnson & Wales (Regina Varolli)
Silva, a native of Brazil, was in the C-CAP program at Long Island City High School. He joined the program after discovering his talent for pastry when his mother started taking cake-decorating classes at New York Cake & Bake. "When I was 13 my mom asked me to come along because the instructor had a thick British accent and she wanted me to help translate. I ended up helping her with the decorating and it turned out I was really good at it. So she just enrolled me in the class."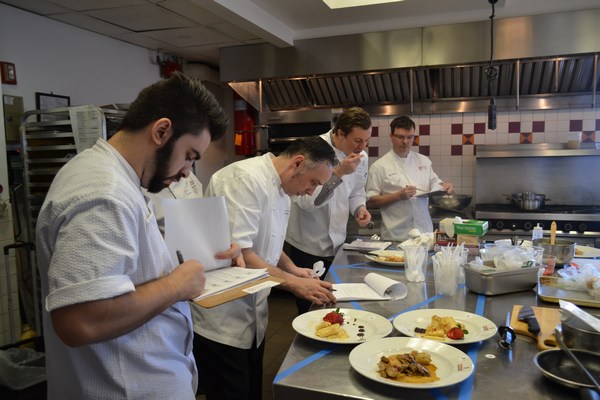 C-CAP student competition judges. Left to right: Thiago Silva, Executive Pastry Chef Catch and C-CAP Alum, Executive Pastry Chef Marc Aumont of The Modern, Kevin Lasko, Executive Chef Park Avenue Summer, Matt Hoyle, Executive Chef Nobu 57 (Regina Varolli)
Silva was also in attendance at the C-CAP Awards Breakfast in NYC, when they handed out the scholarships to the program's alumni. "I remember how happy I was when I got my scholarship. So it was great to be there this year and see the reactions of the winners."
Silva, who credits his teacher Mr. Terry Matsis for his success, didn't qualify for any of the large scholarships that pay full tuition. "I wasn't a straight-A student, but C-CAP still got me an internship at Todd English's Olives and a cash scholarship to help with expenses. They also got me in with cake decorator Elissa Strauss because I knew I could learn so much from her."
C-CAP's Joyce Appelman told me, "We spotted Thiago's talent but we couldn't get him the school tuition scholarships because of his grades. So we got him the apprenticeships and helped with his expenses through a cash scholarship. C-CAP is about more than just school scholarships, and Thiago's classroom became the kitchens where he worked."
One student who did win a full-tuition scholarship this year, for four years at The Culinary Institute of America, was Karla Vargas of Food and Finance High School. With a 4.0 GPA and a stellar showing at the cooking competition, Vargas told me what got her to do so well in school and work so hard at cooking: "I found C-CAP! And I had a great teacher, Mr. Michael Lynch, who really cared." Speaking of how she felt at the Awards Breakfast, Vargas said, "I was really scared and nervous, I didn't know what I was going to get. I knew I wanted to go to CIA, but I really didn't expect to get that scholarship. Then when they were calling out all these other names and I was just sitting there, I thought Oh no, I didn't get anything! It was really emotional! I ended up being that last scholarship they announced!"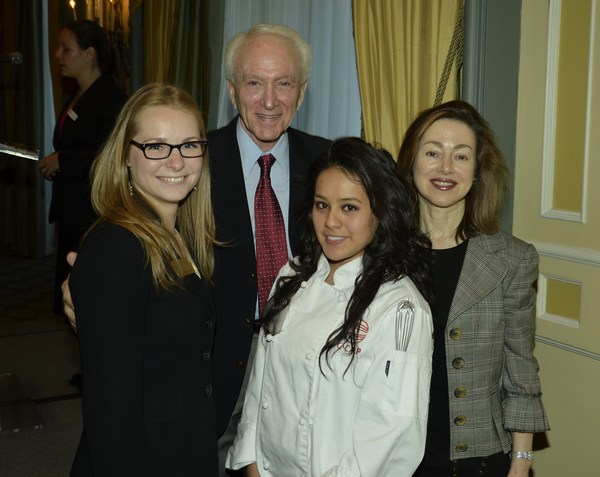 Carla Vargas receiving her scholarship at the New York C-CAP Awards Breakfast. Left to right: Kate Gromatsky from CIA Admissions, Richard Grausman, Carla Vargas, Susan Robbins. (Jerry Ruotolo, Photo courtesy C-CAP)
Having been in attendance myself at both the cooking competition and the Awards Breakfast, I can say that both events were among the most moving and inspirational I've ever attended. To see these kids with such difficult backgrounds working so hard, full of such determination and passion, and big dreams, gave me a great appreciation for the impact C-CAP has on the lives of everyone it touches.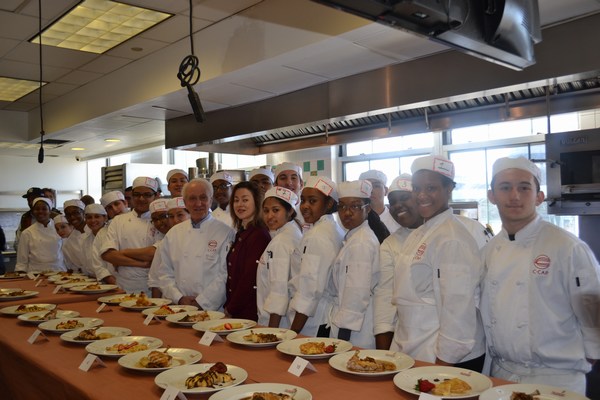 All the C-CAP students at the NYC competition presenting their dishes. Center is Susan Robbins (not in chef's whites), to her left is Richard Grausman (Regina Varolli)
After witnessing such a display of hope, I asked C-CAP Founder and Chair Richard Grausman how it feels today to see the fruits of his labors. His face lit up. "It feels wonderful! I had this desire and ability to help, this unique combination of my skills, passions, and connections, to make it happen. And, well, thanks to our teachers, donors, volunteer chefs, and sponsors, it's really happened in a big way!" he said.
Regina Varolli is the author of the best-selling book 99 Things You Wish You Knew Before Going To Culinary School, available on Amazon.com.
Correction: This post was updated to reflect that Joyce Appelman did not work on the book tour and it was Susan Grosman who went with Richard to the school system, not Appelman.
Related