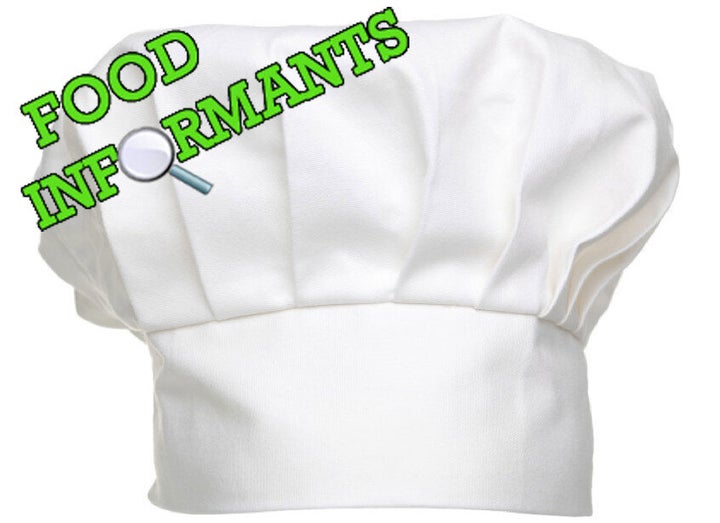 Food Informants is a week-in-the-life series profiling fascinating people in the food world. We hope it will give you a first-hand look at the many different corners of the food industry. Know someone who would make a great Food Informant? Tell us why.
Elizabeth Laseter, an aspiring food journalist, is a recent graduate of Johns Hopkins University and lives in Washington, D.C. She received her diploma in Writing and Art History and is now pursuing a Culinary Arts Degree at L'Academie de Cuisine in Gaithersburg, Md. The one-year program includes six months of learning techniques in the classroom and six months at an externship in a D.C. fine dining restaurant. Elizabeth documents her food adventures through two blogs, The Baltimore Food Rag and The D.C. Food Rag. She decided to attend culinary school after interning at Baltimore magazine and working with the food editor.
Read Elizabeth's diary below to learn about the trials and tribulations of culinary school (yes, she slices her finger).
Monday, September 26
8am: Today, I'm starting the next chapter in my life since graduation in May. Finally!
9:10am: Before I walk out the door to my car, I double check the route to school. I'm nervous about the 40 minute commute to Gaithersburg, and hope I don't get lost.
9:55am: I get lost. But I'm only a few miles from the school. Just great, I'm going to be late on my first day.
10:02am: I sprint into the classroom for orientation, out of breath and panicked. The admissions director gets me a chair, whispering, "breathe."
10:05am: I look around the room, taking in my new classmates. Some of the students look much older than I do, while others look younger. I like what the president of the school says in his welcome speech: "You aren't here to learn or memorize recipes. You're here to understand food."
11am: Chef David, our culinary instructor, tells us about the school's policies. Class is Monday through Thursday from 7 a.m. until 2:30 p.m. More than anything, he emphasizes punctuality. It's pretty serious -- five tardies and you're automatically on probation.
1:15pm: Chef David scares me again with his "be on time" speech. Before we leave for the day, we receive our uniforms, knife kit and textbooks. The knife kit contains a full set of knives, one that is so ridiculously large it looks like it came from the set of Friday The 13th.
2:30pm: First day, done. Tomorrow, we're in the kitchen.
12:30am: I try on my uniform before bed. Black checkered pants, a white apron and coat (embroidered with my name), a neckerchief (I can't figure out how to tie it) and a silly little cap that is about three sizes too large. Never did I ever think I'd end up in this get-up after college.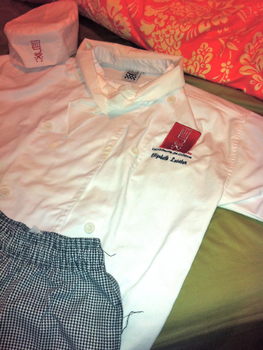 Tuesday, September 27
5:30am: I probably slept for an hour last night. As a former night owl, I can't get used to this new schedule.
6:30am: I arrive at the school and throw on my culinary gear, but I still can't figure out how to tie my neckerchief. It's apparently just like tying a tie, but I've never tied a tie. I make a knot and leave it, too tired to fuss with it anymore.
7am: Chef David wasn't joking. We start class at 7am sharp. Our first lesson is Soupe à l'Oignon.
9am: After Chef's demo, we are thrown into the kitchen and have two and a half hours to make the soup. I'm about to begin chopping my onion, but Chef informs me that I am using the paring knife instead of the chef's knife. Like I knew the difference?
9:20am: Giving us onions on the first day must be some kind of sick joke on the newbies, kind of like hazing freshmen in college. My eyes tear and burn as I slice into the dreaded thing. When I'm finished, I throw the onion slices into a pot on the stove with a generous portion of butter and add a little salt.
10:30am: The next step, caramelizing the onion, requires some serious patience. First, you must cook the onion slices slowly on low heat until they turn golden brown. This way, the onions develop a sweetness, an essential part of French Onion Soup.
11:15am: After 45 minutes and a lot of stirring, my onions are brown and softened. I add chicken stock, white wine and a little salt and pepper. After the soup simmers and thickens, it's ready to serve. I'm done! And best of all, I still have all 10 fingers.
11:30am: Everyday, our lunch is whatever we make earlier in the day. We enjoy our soup with the pastry students, who also share their creations with us. Chocolate chip cookies!
12:30pm: After lunch, students must always clean up the kitchen and demo room. I guess the rule, "I cook, you clean," doesn't apply here.
1:30pm: We spend the remainder of the day learning about our recipe book, in which we will record all of the dishes, vocabulary words and techniques we learn throughout the program.
Wednesday, September 28
5:30am: This morning, I'm wide-awake. Thankfully, I was so tired from lack of sleep I passed out pretty quickly last night.
7am: Today's menu: Quiche Lorraine, Green Salad with Mustard Vinaigrette and French Onion Soup (this time with French Bread Crouton and melted Gruyere cheese).
9am: Multi-tasking is key this morning. I struggle, not browning the onions enough and not adding enough water to my quiche dough, making it crumbly and difficult to roll out. The chef instructors watch me like hawks, waiting for an opportunity to pounce and critique.
12:30pm: Although we take an hour longer than expected to prepare our lunch, the quiche, salad and soup are delicious. It feels good to sit down.
1pm: Since we are running behind, we skip cleanup to learn how to make chicken stock. The stock is an essential base for so many of the dishes we make (such as the soup). For the next hour and a half, I slice fat and guts off raw pieces of chicken. Later, this chicken, in addition to a mixture of carrots, celery and onion, will be poured into a stockpot with water to cook.
2:15pm: There are chicken guts stuck in my nails. Gross.
8pm: For dinner, I make the mustard vinaigrette that we learned yesterday. Chopped and diced garlic, scallions and parsley mixed with Dijon mustard, then whisked with balsamic vinegar and olive oil until the ingredients emulsify. I can't believe how simple it is to prepare. My roommate raves about the dressing.
Thursday, September 29
6:15am: I'm halfway to school when I realize I've forgotten my apron. It's so hard to remember everything this early in the morning. Thankfully, I'm able to borrow one.
7am: Today, the topic is knife skills. We learn how to prepare two vegetable dishes, Potage Cultivateur and Salade Composée. Potage is a French soup that contains a medley of seasonal vegetables. Salade Composée, meaning "composed salad," contains vegetables arranged artfully on a plate, dressed in vinaigrette. In addition, we have to make another Quiche Lorraine.
9am: After preparing the dough for the quiche (it's much better today), I start the salad by julienning vegetables. Chef David gives us more vegetables than I can count: carrots, red peppers, radishes, green peppers, yellow peppers, beets, celery, tomatoes, endives and cucumbers. For the soup, I dice more carrots, yellow squash, potatoes, turnips and green beans into small cubes.
10:15am: Ouch! I accidentally slice my finger while dicing a cucumber. I have to wear an outrageously bright blue latex glove to protect the food from my bloody finger. I feel like I'm wearing the dunce cap.
11:20am: I finish my quiche, soup and salad just in time. I've made a huge mess. There's red beet juice all over my hands, chicken stock on my apron and flour caked on my shoes.
11:30am: Time to eat! After yesterday's cheese assault, I'm glad to have some vegetables on my plate. I like how the vegetables in my soup are diced small enough to all fit onto my spoon at the same time. I also love the colors in my Salade Composée; the red, yellow and green peppers make for a bold and inviting presentation.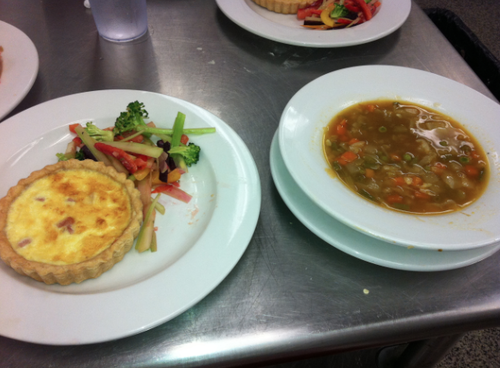 12pm: After lunch, I'm assigned to clean up the classroom we were in this morning. This involves wiping down the cooking surfaces and restocking supplies, which doesn't sound too bad. I read the list of items the room must always have: blue steel pan, stainless steel pan, stainless steel pan with Teflon, sautoir, sauté pan. This is bad. I have no idea what any of those are.
1pm: Afternoon lecture concerns an upcoming research project on spices and herbs. My assignment is thyme. I have two weeks to write a 1000 word essay, create my own recipe with the herb, and then make a dish for the class. I didn't think I'd be writing papers in culinary school!
2:30pm: I stay after school to work on the chicken stock we started yesterday in class. Every student has to help out with the stock at some point, and today is my turn. I scoop excess chicken fat off the top of the stock and pour it into a bucket until the stock liquid is clear. After simmering all night, the stock will be ready to use tomorrow.
3pm: Before I leave, I ask Chef David to teach me how to hone, or sharpen my knives. This is surprisingly much harder than it sounds. In one fluid stroke, I run the edge of my chef's knife along the honing blade. Chef David cringes at the nails on chalkboard noise that comes from scraping the sharpening rod incorrectly. He makes me practice continuously until I do it right.
3:30pm: Week one, complete! I've learned so much –- everything from the proper way to hold a chef's knife to how to make a pie crust for quiche. I've learned to julienne and emulsify. It's time to enjoy my three-day weekend!
See previous Food Informants:
PHOTO GALLERY
Food Informants
Calling all HuffPost superfans!
Sign up for membership to become a founding member and help shape HuffPost's next chapter