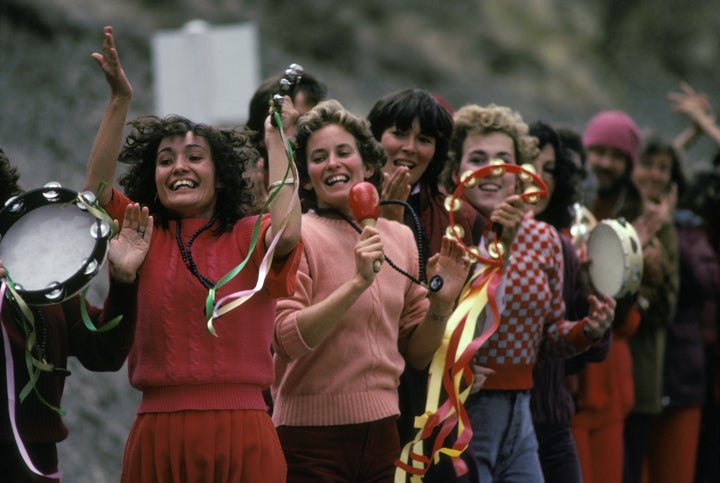 In 1979, Bennington College freshman Dara Burrows traveled to India over her winter break. She would never return to the school. In a postcard to her mother back home in New Jersey, Dara wrote: "I'm not coming home. I'm happy and I've become a sannyasin." A disciple.
Burrows had joined a cult. But not just any cult. The 18-year-old had become a follower of Indian guru Bhagwan Shree Rajneesh, and started wearing Bhagwan's photo around her neck. Over the next few years, Dara and thousands like her would travel to rural Oregon with Rajneesh, and build a sprawling commune in his name. The lure of the cult would fracture Dara's already fragile family, and even now, some 33 years after I first met them, they are still healing.
On the surface a happy place with a "Zen Connection" bus terminal, "Zorba the Buddha Rajneesh Deli" and something called "Nirvana Grove," Oregon's Rancho Rajneesh metastasized into a dangerous organized crime ring. As Rajneesh indulged a fetish for diamond-studded watches and a caravan of Rolls-Royces, his hand-picked goon squad went to war with local detractors. Commune leaders sprayed salmonella on salad bars in a nearby town, poisoning at least 700 people in the largest bioterror attack in U.S. history. They plotted the assassination of the U.S. attorney for Oregon. And they organized countless fraudulent marriages to harbor foreign-born Rajneeshees, followers of the religion, in the U.S.
This outrageous yet underreported episode of American history is finally getting its due. On March 16, Netflix dropped a captivating six-hour docuseries called "Wild Wild Country," directed by brothers Chapman and Maclain Way, with brothers Jay and Mark Duplass executive producing. The series, ambitious but flawed, has unearthed hours of home movies that the cult members shot themselves, in the fevered belief that they were building a true nirvana in the mountains of the Pacific Northwest.
Dara Burrows and hundreds of former cult members around the world are binge-watching now. On the pages of fan websites still dedicated to Rajneesh — he died in 1990 and is now known as "Osho" — the reviews are pouring in.
"Watched four parts already. Even worse than I thought," former sannyasin Dorothee Bull writes on a pro-Rajneesh Facebook page. "Bhagwan was a politician playing the power game."
"As with most media coverage of the Ranch, this series seems to skip like a rock over water, landing briefly on the most controversial events ... " former sannyasin Roshani Shay writes at OshoNews.com. "Viewers of this series can learn a lot about how not to behave from its episodes."
"Not often you get to see a sannyasin confessing to attempted murder on TV. I was left thinking that quite a few people running the show on the Ranch really did lose their minds in the worst of ways," an observer named "Lokesh" posted on the Sannyas News website.
I happily powered my way through all six hours of "Wild Wild Country" this weekend, too. In 1984, as a rookie reporter in Trenton, New Jersey, I convinced my editors to send me to Rancho Rajneesh on assignment. At the time, the Rajneeshees were slipping into Trenton and other cities and enticing hundreds of homeless men and women to move across the country to Bhagwan's Oregon paradise. With promises of free food, free beer and a life free of crime, the Rajneeshees explained that they were just humanitarians helping to address America's shameful homeless epidemic. In reality, as later reporting and the Netflix series revealed, the cult was simply importing the homeless to pack local voting rolls and control local elections.
In the winter of 1984, Rancho Rajneesh was bustling, with a private airport, a teeming shopping center, the 145-room Hotel Rajneesh and enough heated A-frame cabins to accommodate thousands of red-clad sannyasins. The Rajneeshees had selected this spot carefully, purchasing 100 square miles of rugged Oregon rangeland for the privacy and protection the former "Big Muddy Ranch" provided. Everywhere, the propaganda and groupthink was overwhelming. The Rajneeshees celebrated the coming of dawn and dusk by bowing to Bhagwan and singing for him, as he slowly cruised by in one of his 90+ Rolls-Royces. In the evenings, thousands gathered in rapt attention to watch two-hour-long videotapes of Bhagwan's hypnotic discourses. His photos were plastered everywhere, and, in the commune bookstore, only one author's works were on sale.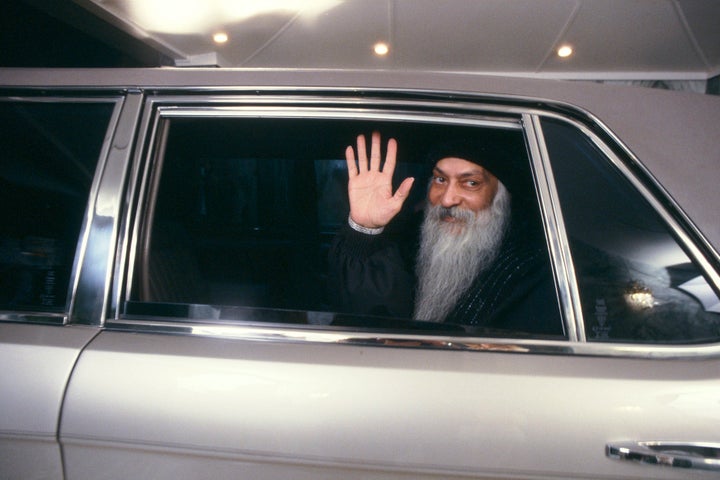 I was escorted around the well-armed property by an outgoing spokeswoman, Ma Dhyan Rosalie, formerly Rosalie Rosenberg of Scottsdale, and allowed to interview formerly homeless New Jersey transplants. Soon after, I set out to locate Dara Burrows, the one-time Bennington College co-ed.
Just before my reporting trip, Dara's mother, Sandra, sat with me in her historic home outside Princeton. Her story was devastating. First, her husband, David Burrows, left her. He had been a tenured literature professor at Rutgers University, and the couple had four children together. David met Rajneesh on a trip to India in 1978, and the experience was profound. Back on the Rutgers campus, David began dressing in orange, wearing a beaded necklace with Bhagwan's photo on it and insisting that he be called Swami Das Anudas. University life soon lost its hold, and Davis moved to India to be with Bhagwan full-time.
Just as Sandra was recovering from that shock, David gave his daughter, Dara, a collection of Bhagwan's speeches. Dara was hooked immediately by his promise of "a new way of being," his rejection of the "institutional, rigid ways of society," and she booked a trip to India to meet the guru.
"Her father gave her the money. It just kind of happened, kind of quietly, without me being privy to the decision," Sandra told me, as I recounted in a New Jersey Monthly Magazine feature story in 1986.
Mere weeks later, the terse postcard arrived back home. Dara, the Princeton Day School graduate, had become Ma Prem Dara and joined her father in the cult. "All through my childhood I thought I was the odd one," Dara told me back then. "When I met Bhagwan he was just saying everything I was feeling all my life. It was like I could breathe ... "
Sandra banded together with her two younger children, and especially her teenage son, Jamie. But she knew Dara was gone. "It was a terrible shock. I wanted her to go back to school, if not Bennington then somewhere. But there was no way I was going to influence her," she said.
For five years, the Burrows children resigned themselves to the loss of their father and oldest sister. Then, in the summer of 1984, 22-year-old Jamie accepted an invitation to visit Rancho Rajneesh, where Dara and David had moved. Improbably, the Burrows' youngest son also fell under the spell. When I interviewed Jamie, Dara and David together at the commune in 1984, Jamie was wearing the traditional Bhagwan "mala" necklace and introduced himself to me as Swami Anand Brahma. "The all-American family," one sannyasin quipped, as she passed by our table.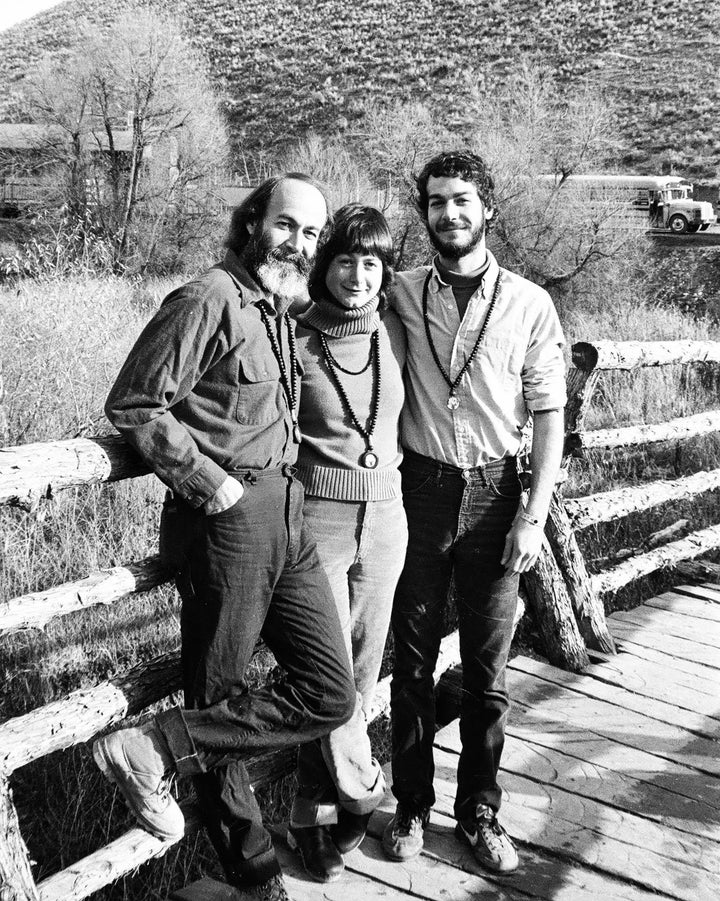 Back home, Sandra was "emotional, weeping at the dining room table," a family friend recalled. In desperation, Sandra called a cult psychologist to win her son back. "I didn't know what I could do. He's not a child. He hasn't been kidnapped," she told me for the New Jersey Monthly article.
Less than nine months after my visit, the cult imploded. Bhagwan's top aide, the vicious Ma Anand Sheela, quit and ran off to Europe under a cloud. After a three-and-a-half-year period of self-imposed silence, an enraged Bhagwan gathered the media to denounce her. "Sheela and her group tried to kill three people," Bhagwan said. "These people are absolute criminals." Fearing arrest himself, Rajneesh boarded a Lear Jet and tried to flee the country. He was arrested and jailed, and pleaded guilty to immigration crimes in exchange for a big fine and deportation. State and federal investigators rushed in, and once-loyal insiders easily flipped. As The Oregonian reported in a 2017 series, "Rajneeshees piled into court, admitting criminal conduct on behalf of the sect. The charges included attempted murder, assault, arson, immigration fraud, wiretapping and conspiracy." Sheela and the worst of the offenders did federal prison time.
Back at the commune, the residents of Rancho Rajneesh glumly packed their bags. The Rolls-Royces were auctioned off in Texas, and Jamie, Dara and David Burrows began planning for an uncertain future.
I reached out to the Burrows family last month, and all the old wounds still seemed fresh. I learned that Jamie works in finance now and didn't want to discuss his brief time at the commune. Dara married, raised a family and for 22 years has served as a senior editor for a scientific nonprofit. She's made peace with her mother, for whom the abandonment is hard to forget. "I've come back into the fold, but she always fears I could leave," Dara said in a recent interview. "I'm making a really strong effort to be in constant contact with her and show her how much I really love her."
Dara agreed to talk for the first time in three decades because, she said, she has nothing to hide. When we spoke last week, she said she was looking forward to watching "Wild Wild Country," but added that she and most Rajneeshees were unaware of the serious crimes that took place at the commune. "I don't have shame about becoming a sannyasin or going to India or to the ranch," she said. "But I do have shame about being associated with an organization that did such horrific things and hurt so many people."
Looking back, she admits that her fellow cult members "spread the illusion of us versus them, and how dangerous it was to leave the ranch." The propaganda was relentless. "I definitely experienced being brainwashed," Dara said. It's taken her decades to move on.
"Wild Wild Country" fails to explore the heartache of the thousands of families like Dara's who were left behind when loved ones joined Bhagwan in the mountains. It's one of many flaws in an otherwise haunting series that exposes the brutal town-gown confrontation between the malicious and condescending sannyasins who took over tiny Antelope, Oregon, and the narrow-minded and often bigoted farmers and ranchers who opposed them at every turn. The directors of the series seem afraid to play referee, and viewers pay the price.
Consider this: Ma Anand Sheela, Bhagwan's trusted assistant and the former CEO of all things Rajneesh, is accused in the series of ordering or participating in a dizzying array of felonies. Among them: poisoning an entire town with salmonella; stalking and attempting to gun down the then-U.S. attorney in Oregon, Charles Turner; setting a local government office on fire; illegally bugging friends and enemies; secretly pouring an anti-psychotic drug into kegs of free beer, to help control the thousands of homeless people Sheela had recruited to the ranch; and then dumping those same homeless people onto the streets of Oregon after they had served Sheela's twisted purpose. Oh, and injecting Bhagwan's personal physician with poison and attempting to murder him.
Despite Sheela's frightening résumé, the makers of "Wild Wild Country" hand her the microphone and walk away. They never question or fact-check her self-serving version of events, or ask what Bhagwan knew about the criminal underworld operating feet from his throne. Did Sheela order the hit on Bhagwan's doctor to prevent him from killing the master first, as Sheela has claimed? And did she wiretap the ranch and read through all incoming mail to protect her beloved Bhagwan, or merely to keep a close eye on her many rivals and shut down dissent? Viewers are left to wonder.
Three decades later, sales of Bhagwan's books and tapes appear strong. Most of his current followers have accepted the canard that Bhagwan was manipulated by Sheela, and was an innocent dupe all along.
Dara's father, David, was one of them. The university professor who once wore ties and wingtips and had a Peugeot sitting in the driveway quickly forgave his master. For a few years after the commune broke up, he wandered — to Nepal, Japan, Texas, New York and Guatemala. Then, in 1988, he confided to Dara, he had begun pining for India. "I don't think I have to explain why," he wrote. Burrows would live with Bhagwan once more.
Until his death last year at age 80, the man who became Swami Das Anudas had few regrets, even if it had become clear to most outside observers that Bhagwan's cult didn't offer the deliverance Burrows had sought from the cynicism and small-mindedness of the world. "Whatever happened at the ranch, it was still a lot better than what was happening in the rest of the world," David Burrows once wrote to Dara. "The harder something is to go through, the more you learn as you come out of it."
Popular in the Community