It's no secret that Instagram has taken social media to the next level. The image-heavy platform has allowed business to not only showcase their service/product, but also showcase a personal side to their brand. Whether it's business or pleasure, Instagram is a great way to cultivate your image on a worldwide scale. Here are some of the tips I've gathered from my own experience and some of my influencer friends -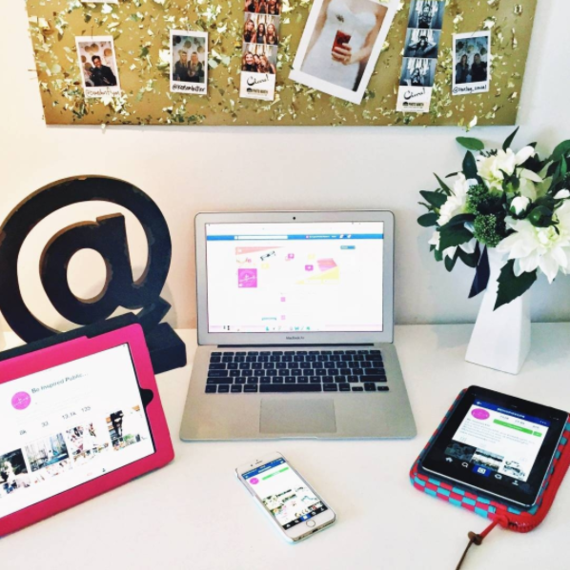 1. Figure out how to distinguish personal and business. Are you the brand or are you a part of business that you are branding? For my blogger friends it makes sense for them to consistently post lifestyle photos of family and friends because that it what they're selling. But for businesses who sell a product or service, you should either limit your personal posts or create a separate account for those. I was originally @weddingPR on Instagram, using my account to primarily post about my business and just sprinkle in some personal posts. However, as the account grew I felt it made more sense to separate the 2 so I created a personal account under @leilaklewis.
2. Consistency is key. If you only post every few months on your social media, what incentive are you giving users to follow along?? Chances are when you post after a few months of silence they've forgotten they even follow you in the first place. Your account will never grow without having a consistent presence. It needs to be treated just like any other work task! If you can't manage the account daily, consider scheduling your posts in advance or enlisting a company to help manage it for you.
3. Only post brand-building images. Second to posting consistently is posting quality photos. The images should be in focus with proper lighting, and your captions should never have misspellings. It's also important to keep in mind the flow/look of your entire feed. When a potential follower is deciding whether to click the follow button, they're going to give your profile a couple scrolls. If it's not visually appealing to them in those next 10 seconds, you likely just lost a potential follower.
4. Engage with your followers. Don't be the account that takes the love and never reciprocates! Write your commenters back (especially if they're asking a question) and be sure to like and comment on the accounts you follow. When you see a creative or work that you love, give them the praise and connect with them through likes, comments, and DM's. There will be other followers who have the same interest and follow the same accounts, and when they take notice of your comments popping up here and there, they will give you a follow!
There is unlimited potential in growing your business on social media if you're doing things correctly! Be consistent, post relevant and top-quality photos, engage with others and watch your account (and business!) grow as a result.