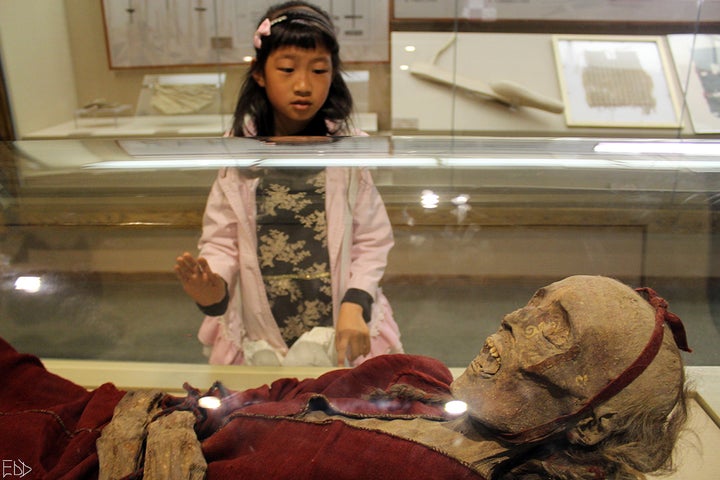 Since most articles on the Xinjiang Uyghur Autonomous Region in China focus on politics, terrorism, and human rights, few readers have an awareness or mental picture of Xinjiang's rich and diverse cultural heritage. Having spent extended periods of time on the Silk Road researching cultural heritage in all the Central Asian Republics (Turkmenistan, Tajikistan, Kyrgyzstan, Uzbekistan, Kazakhstan), I feel right at home in the mosques, mausoleums, and museums of Xinjiang.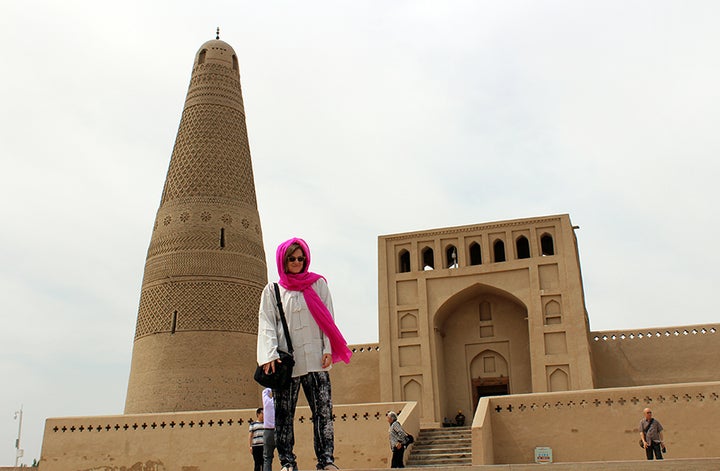 I started my summer journey to the Xinjiang Uyghur Autonomous Region in the Great Mosque of Xi'an, before making my journey west on the historic Silk Road. To reach China's wondrous western region, I took a comfortable and clean train towards the city of Turpan. Upon arrival, it was easy to marvel at the geometric designs and enormous scale of the 18th century Sugong Minaret ― 37 meters high and 10 meters in diameter at the base. Entering the mosque, I spotted a Uyghur inscription giving thanks to God, and a Chinese inscription stating that the minaret was built to honor Emin Khoja ― a Uyghur general and governor in the Qing Dynasty.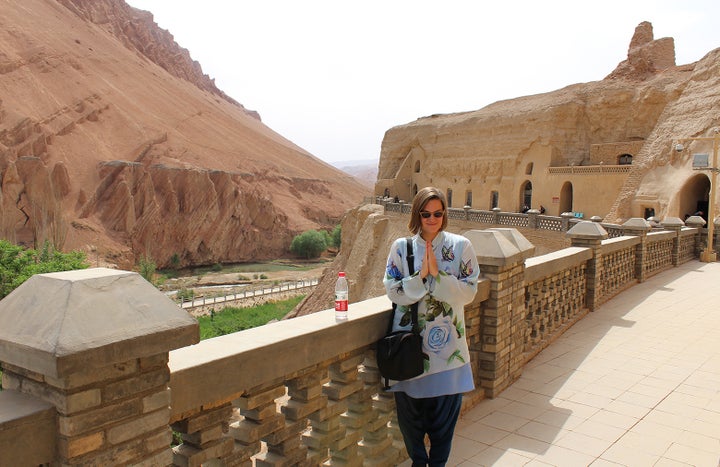 From that massive minaret, I journeyed onwards through the scorching heat towards the rose-hued Flaming Mountain to see the Bezeklik Thousand Buddha Caves ― which are filled with breathtaking Buddhist cave art. To enjoy a delicious homemade Uyghur lunch, my fellow travelers and I stopped in picturesque Tuyoq Village, known for its charming mudbrick houses and marvelous mosques (its caves have Buddhist murals too).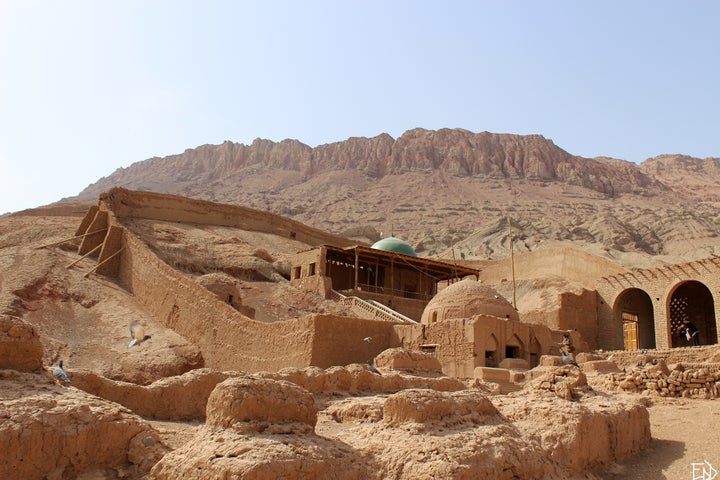 Surveying the blushing mountains and Islamic architecture in Tuyoq, I felt like I was back home in the Sultanate of Oman. When I was teaching a course at Columbia University on "Sufism in Central Asia," my students were surprised to learn that there are over 20 million Muslims in China. My students in Oman shared the same surprise this spring. As I strolled through the mosques and Sufi shrines of Tuyoq, I wished they could all witness daily life in this quiet Muslim town.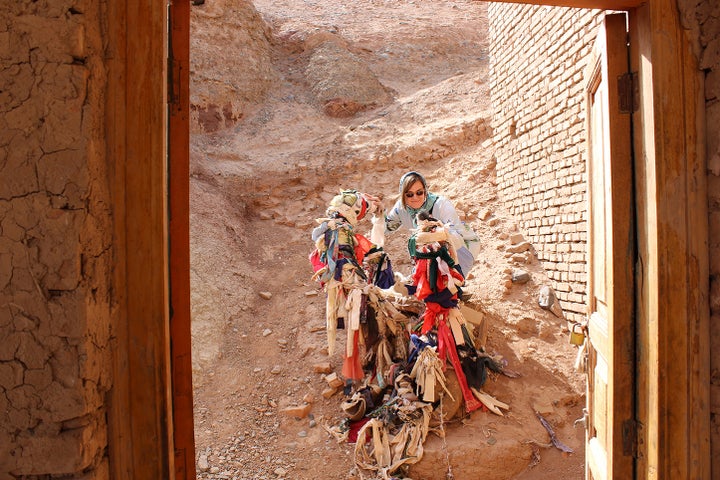 After crawling into the sacred cave of an Islamic shrine, I exited to find hundreds of pieces of fabric tied around the trunk and branches of a wishing tree ― hopes for a happy and healthy future whispering to the wind. The tree was identical to ones I had seen while preserving Sufi shrines in Turkmenistan on the Silk Road. I also had the opportunity to speak with some Uyghurs about the contemporary practice of Sufism in Xinjiang. It was while studying Mandarin and tai chi in Beirut that I became interested in how Muslim scholars in China in the 17th and 18th centuries used Sufi philosophy to adapt Chinese traditions and beliefs to Islam.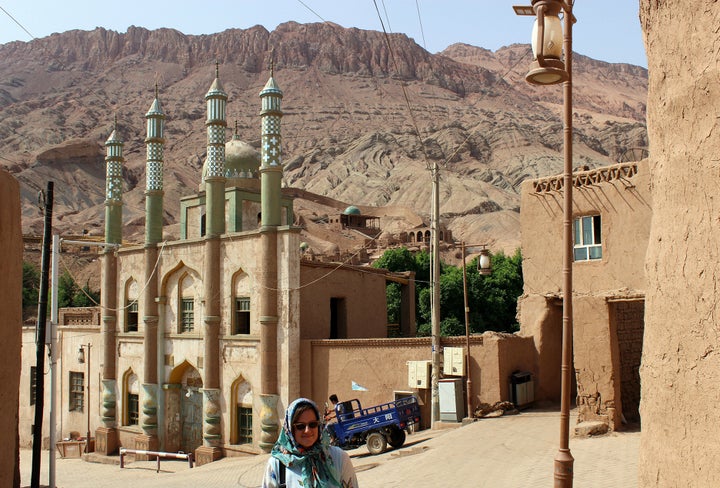 Before continuing on to Urumqi, the capital of Xinjiang, I wandered through the empty ruins ― Buddhists temples, gates, and wells ― of the ancient cities of Jiaohe and Gaochang (and examined mummies in the nearby Astana tombs). In Urumqi, my first stop was the Xinjiang Uyghur Autonomous Region Museum ― a true paradise for Silk Road aficionados. This impressive provincial museum contains more than 50,000 objects and manuscripts written in Chinese, Kharosthi, Qiuci, Tibetan, and Uyghur.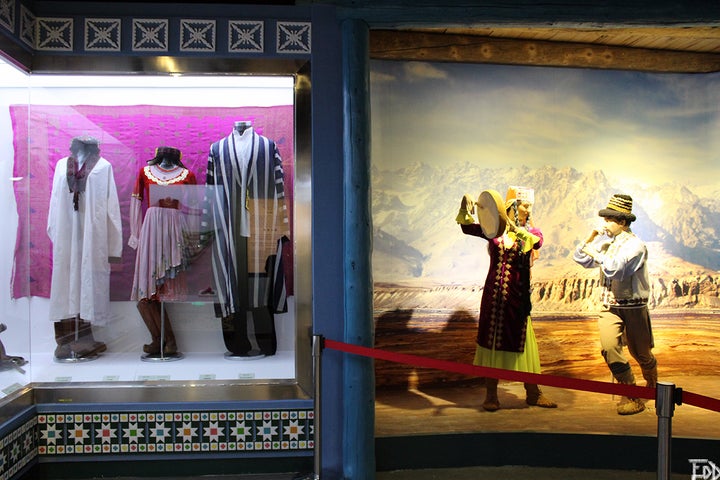 In addition to beautiful silk, wool, and cotton local costumes (and hats!) on display, the museum also has life-size dioramas of the region's twelve minorities to illustrate the diversity of local traditions, religious rituals, and marriage customs in Xinjiang. The museum also houses an impressive cache of ancient artifacts and writings, from tomb figures and weapons to stone inscriptions and coins.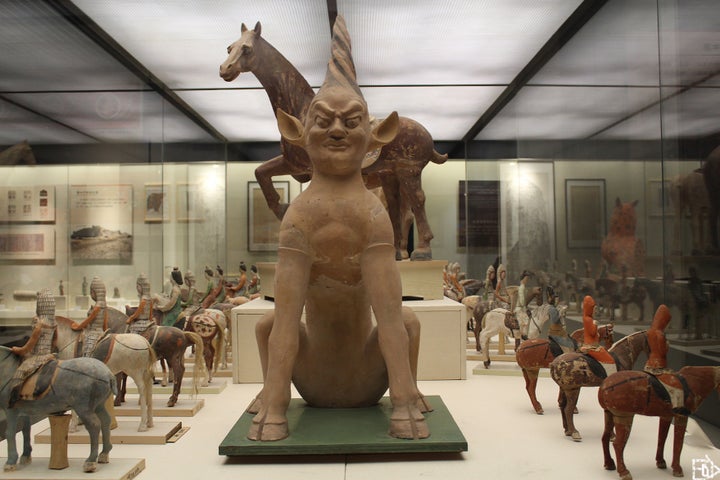 The most crowded attraction in the museum is the mummy collection. In this oil-rich region rife with ethnic strife and ongoing disputes over political and territorial control, the genetic make-up of these ancient bodies has been politically contested for decades. Having worked as an Egyptologist for several years at the Great Pyramids in Egypt with Brown University and Cairo University on a dig replete with mummies, I was ecstatic to have the opportunity to study these politicized mummies in Xinjiang first-hand.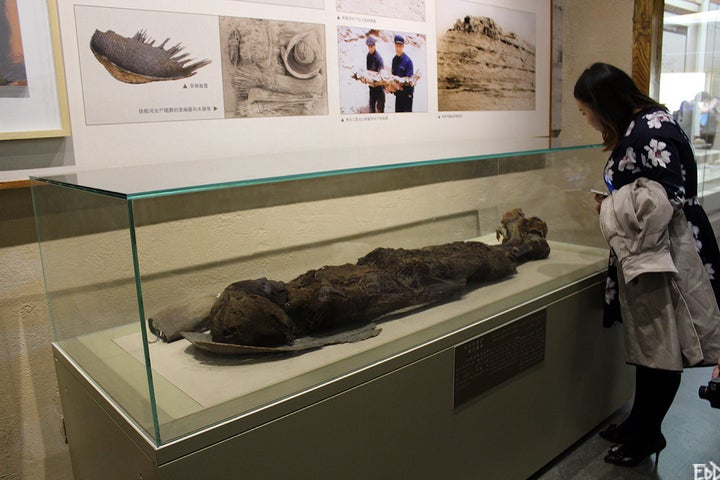 The museum's most famous and best preserved mummy is the 3,800 year old "Loulan Beauty." Young and old visitors alike stand at the side of her glass case to marvel at her long matted hair, thick eyelashes, high cheekbones, and half-wrapped feet. Whereas the ancient Egyptians developed highly elaborate embalming techniques, these particular mummies were preserved naturally by the environment of the Tarim Basin.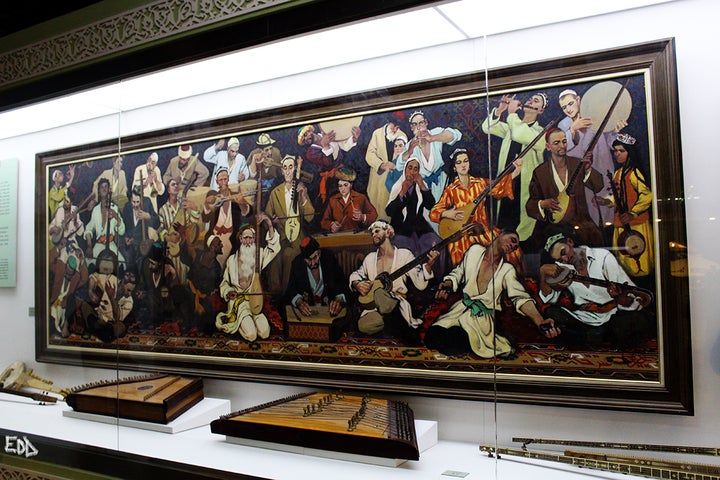 The museum also has a lovely showcase of musical instruments from Xinjiang. Music has long been an integral aspect of Uyghur daily life, religious ritual, and poetry. The best-known musical form of the Uyghur people is the On Ikki Muqam (Twelve Muqam), a suite comprised of twelve sections related to Uzbek and Tajik forms. Most muqam lyrics in Xinjiang, Tajikistan, and Uzbekistan derive from Sufi verses on divine love penned by Persian poets like Rumi and Hafiz.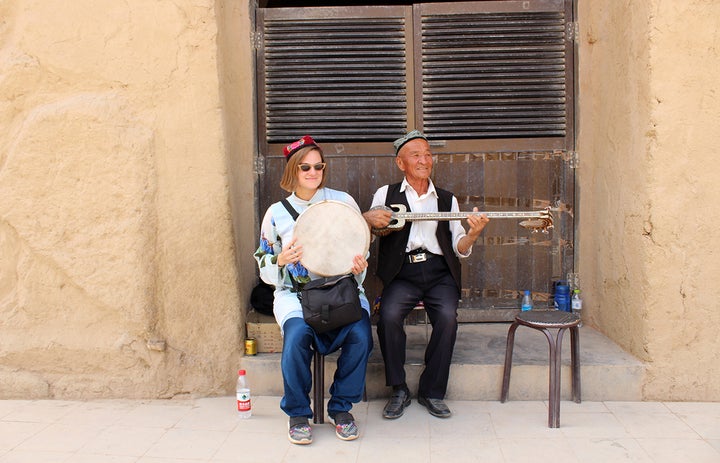 I have been in love with this Central Asian musical form ever since studying dutar (a two-string long-necked lute) with dutar virtuoso Sirojiddin Juraev at the Tajik National Conservatory while on a State Department Critical Language Scholarship in Dushanbe to study Persian and Tajik. A mesmerizing mix of songs, dances, poetry, and folk tales, the Uyghur Muqam is a joy to witness and a veritable challenge to master. In 2005, the Uyghur Muqam was designated a Masterpiece of the Oral and Intangible Heritage of Humanity by UNESCO.
The true heart and soul of Xinjiang is the city of Kashgar ― a legendary Silk Road jewel on the far side of the Taklamakan Desert. The remains of Kashgar's Old City are a brilliant showcase of traditional Central Asian architecture, while the Chinese restaurant in the former British Consulate serves as a reminder that this oasis city played host to British and Russia spies during the 19th century's "Great Game."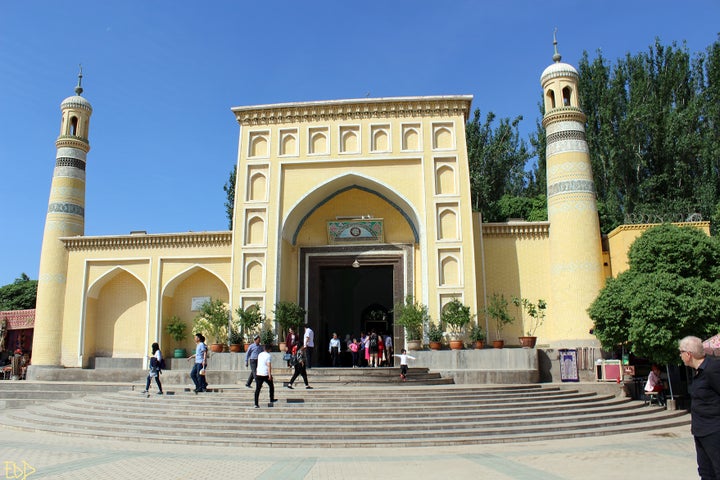 The spiritual and physical center of Kashgar is the Id Kah Mosque, which dates to 1442. The yellow glazed tiles of its minarets are ornamented with geometric and floral designs in various bands of blue. The mosque and courtyard are large enough to accommodate the more than 30,000 Muslims who gather there to mark the end of Ramadan each year. After the holiday sermon, a number of worshippers assemble outside the mosque to dance to traditional Uyghur tunes. As the largest mosque in the Xinjiang Uyghur Autonomous Region, it has born witness to numerous religious and political events.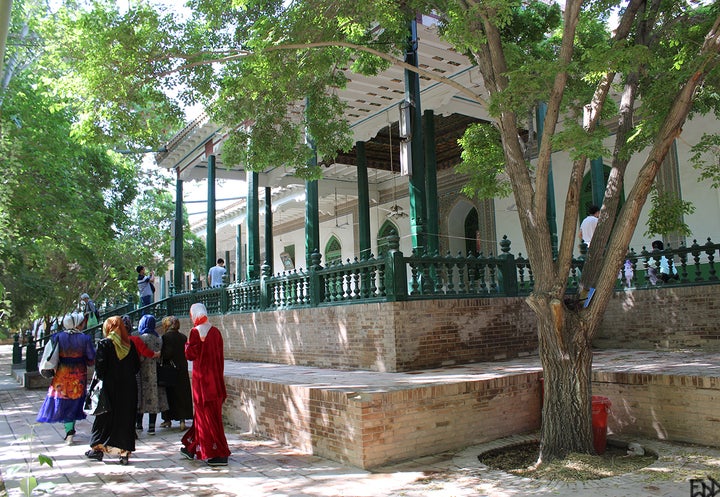 On most days, men and woman in both modern and traditional dress can be found strolling in the shade of the poplar, pine, and cypress trees lining the grounds of the mosque. Outside the mosque, there are stalls selling Central Asian wares. Kashgar, the "city of bazaars," has twenty large markets stocked with ancient Chinese and Roman coins, Uyghur hats, traditional musical instruments, saffron jars, and Kashmiri pashminas. Since Kashgar is China's western-most city, the bustling Sunday bazaar is bursting with Uyghur, Tajik, Kyrgyz, and Kazakh goods.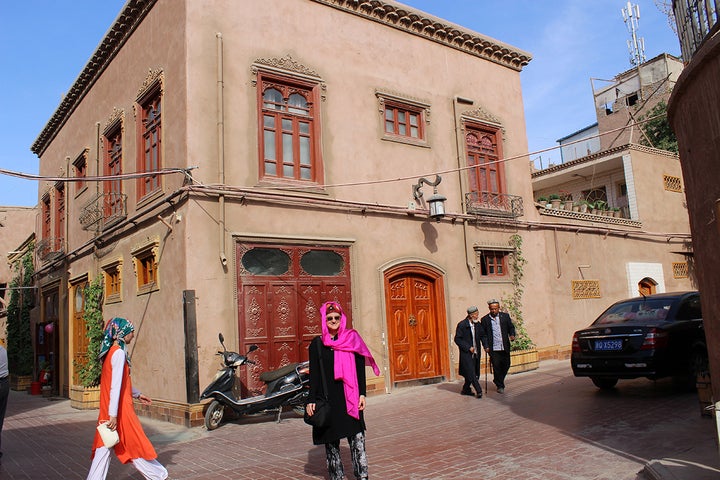 The best way to appreciate Kashgar is with a slow-moving stroll through its narrow alleys, traditional shops, and bustling streets to get a real sense of the rhythm and activities of daily life. Though the Old City's mix of traditional and modern architecture dazzled my eyes (while my feet dodged motorcycles in the street), I was captivated most of all by some energetic children playing games in an alley. After I surprised them by speaking in Uyghur, they roped me into a spirited game of hide-and-go-seek.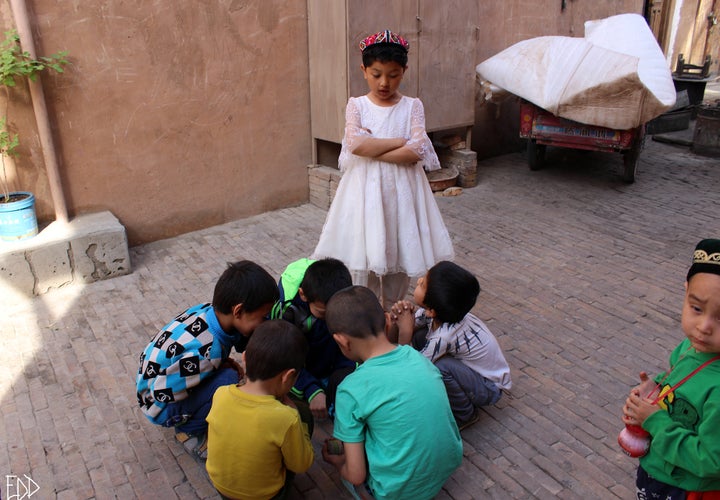 My favorite place outside of Kashgar is the shrine complex of seventeenth century religious and political leader Apak Hoja ― an oasis of tranquility five kilometers from the city. Apak Hoja is buried under the green-glazed dome of his kaleidoscopic shrine alongside the coffins of dozens of his family members ornamented with flowery tiles and Arabic calligraphy. The silence and serenity of his shrine ― which many consider the holiest Islamic site in Xinjiang ― belie the complicated political struggles, widespread missionary endeavors, and drama of competing Sufi sects he experienced while alive.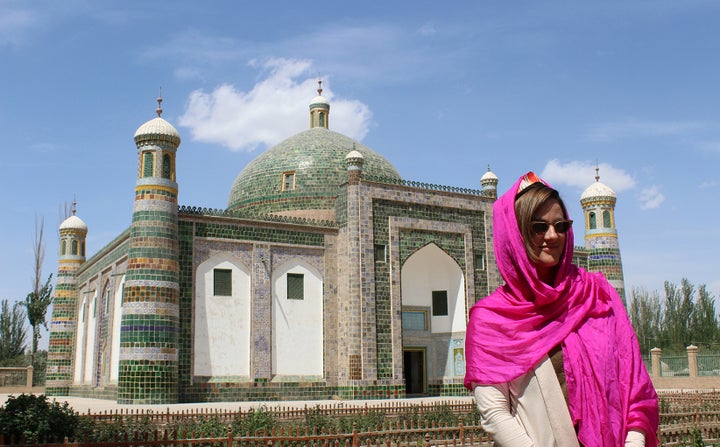 The crystal-clear pond and towering trees on the grounds of the shrine create a calm atmosphere that invites reflection and meditation. Other buildings in the shrine complex, such as the prayer and sermon halls, feature fine displays of Uyghur woodcarving. Inside the sermon hall, visitors in need of healing are encouraged to touch a sacred green and white speckled stone which is believed to to cure disease and drive away evil spirits.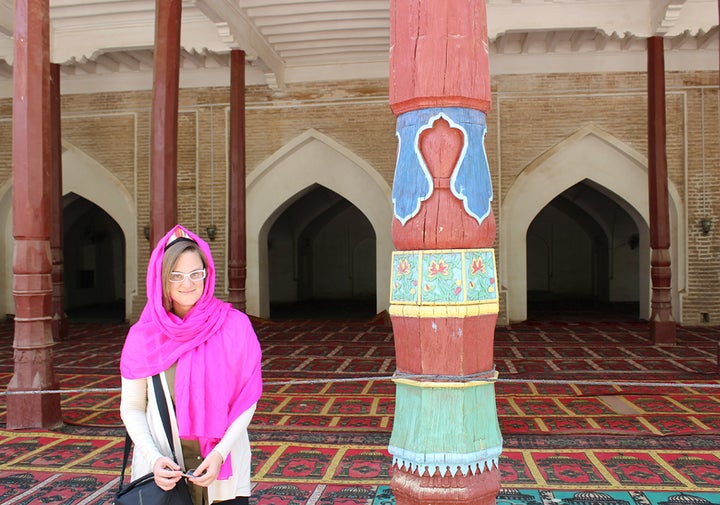 Traveling in Xinjiang has its challenges ― which I discovered first-hand when traveling further west towards Afghanistan. A severe duststorm rendered the massive mountains besides our car invisible ― but the low visibility on the region's steep roads only added to the adventure. Stopping in one small market to give our driver a break, I had the opportunity to practice speaking Tajik. While most people associate Xinjiang with the Uyghur people, the far western region is a dynamic mix of Tajik, Kazakh, and Kyrgyz peoples and cultures.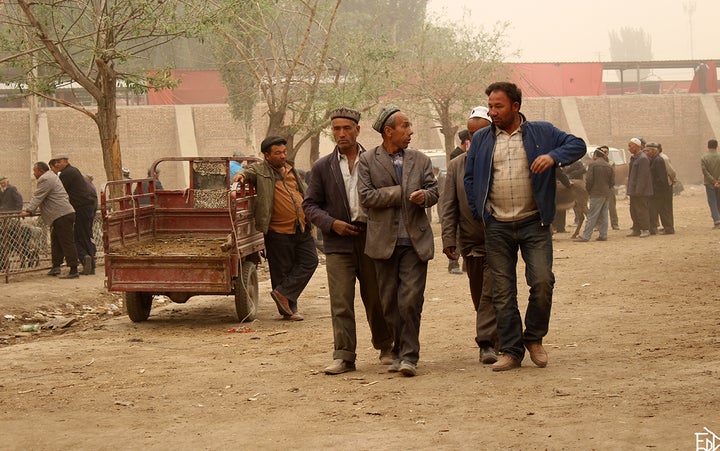 The charms of Xinjiang are not limited to its culture, history, and people ― its natural beauty has a special splendor all its own. The best way to enjoy the region's stunning Pamir mountain landscape is to cruise towards Afghanistan, Pakistan, and Tajikistan on the Karakoram Highway. Once the dust finally lifted, I was finally able to stop for some photos on the highway to capture its snow-covered peaks and free-roaming camels ― the scenery evoking memories of my solo journey to Afghanistan.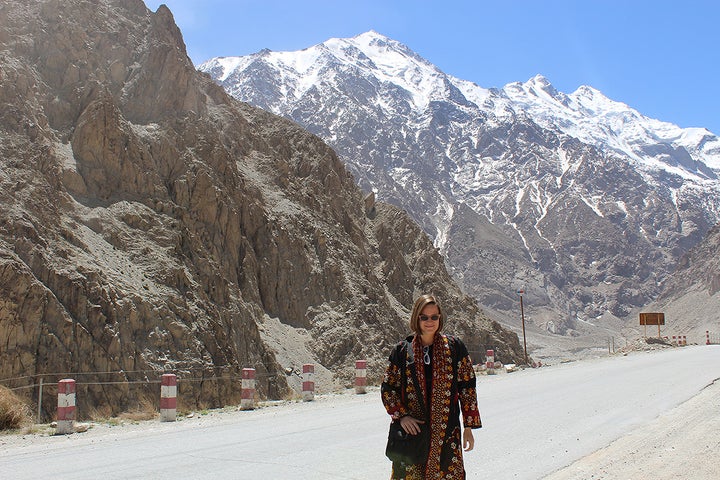 When I spotted a giant red yurt near the sand dune riverbanks of Bulungkol Lake, I nearly jumped out of our still-moving car. Whenever I see a yurt of any shape, size, or material, my heart leaps and my legs follow. I feel most at home in a yurt, having stayed in yurts for extended periods of time in Mongolia, Turkmenistan, and Kyrgyzstan. "It looks like a Kyrgyz wedding party," my driver said, as we climbed up a small hill to inspect the colorful rugs, pillowcases, and blankets hung up on the yurt.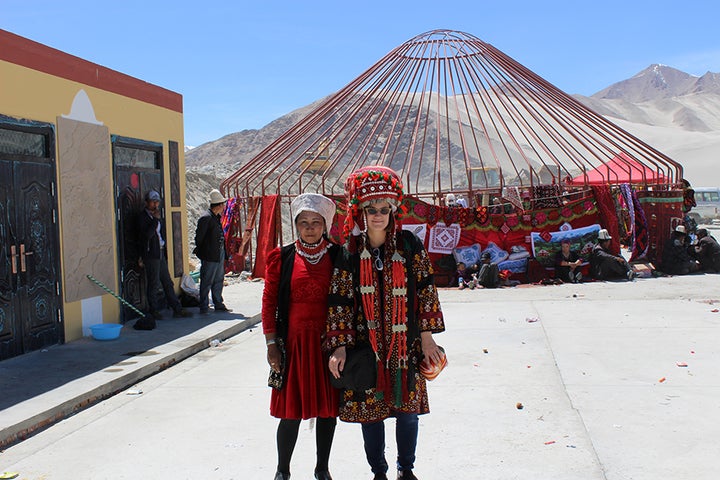 To my delight, a friendly Kyrgyz woman presented a large hat to me to add to my collection. It wasn't until the microphones and video cameras appeared on our walk back to the car that I realized we had wandered into a meeting of the local Communist Party. From there, it was on to Karakul Lake and Stone Fort in Tashkorgan Tajik Autonomous County ― where the borders of Afghanistan (Wakhan Corridor), Tajikistan (Gorno-Badakhshan Province), and Pakistan (Gilgit-Baltistan) meet.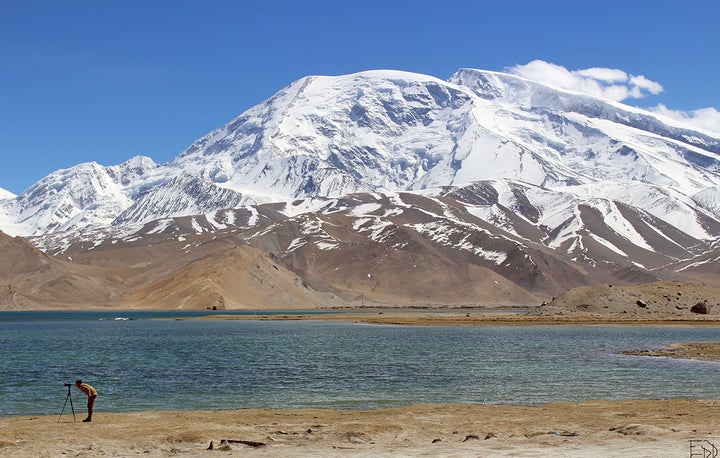 When we finally reached Karakul Lake, the jade glimmer of the water was shifting shades with each passing cloud. A photographer was fiddling with a tripod, and a Kyrgyz family invited me inside a yurt for a healthy lunch of cooked greens, scrambled eggs, and rice. Hopping on a fuzzy camel after lunch, I felt tempted to ditch the car altogether and continue my Silk Road journey towards the Afghan border on camelback. But soon the time came for me to leave the camel, and later a piece of my heart, far behind in Xinjiang.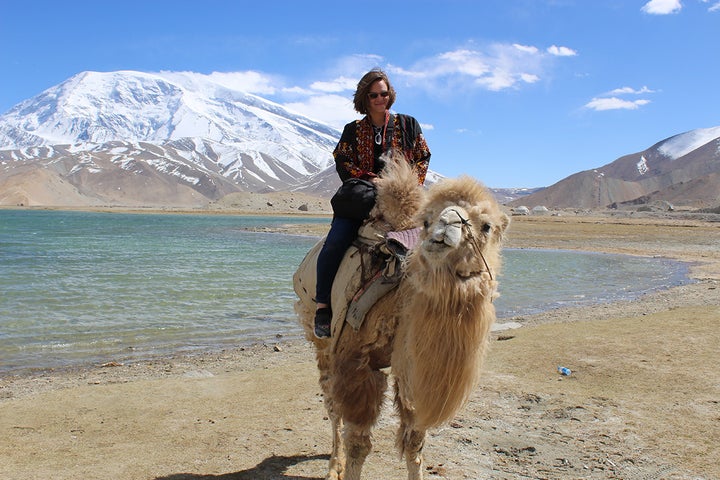 Related
Popular in the Community