This post was co-written with Linda Walters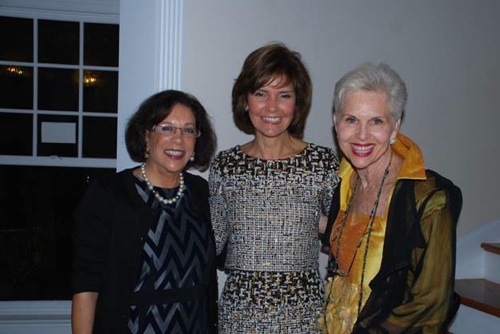 Shahin Mafi, Benefit Chair of the Embassy Chef Challenge and host of the soiree (left to right), Ambassador Capricia Marshall, guest of honor and Jan DuPlain, Embassy Liaison for Cultural Tourism DC
Capricia Marshall's announcement to leave her diplomatic post for Atlantic Council's Arsht Latin America Center, has Washington's diplomatic community commending her accomplishments and invaluable knowledge of international diplomacy and cultural awareness. She has been a confidant and liaison to local 189 diplomatic corps members since 2009, when President Obama appointed her. Capricia Marshall fondly mentioned, "The best of the best are sent to our country."
Sisterhood and Women's Empowerment
Strong women love Capricia Marshall. She speaks often of her gratitude toward Hilary Rodham Clinton, her longtime mentor, and of fostering mentorship: "Pay it forward, ladies." She also makes no apologies for leaving her dream job to focus on her role as a mother.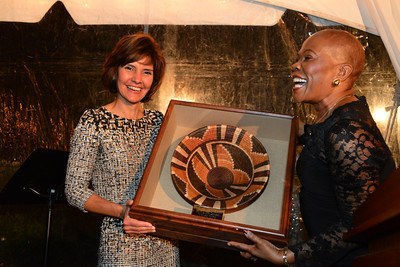 Patriotism, Travel and Food
Resonating themes of the evening were patriotism, travel and food. Capricia Marshall officially supported two strong diplomatic initiatives during her tenure as Chief of Protocol; the Experience America Program and the Diplomatic Culinary Partnership. The Experience America Program, an opportunity to showcase America, provides world leaders with cultural exchange and business opportunities with U.S. metropolitan areas. In 2012, the Diplomatic Culinary Partnership established the American Chef Corps alongside the James Beard Foundation, and the Embassy Chef Challenge alongside Cultural Tourism DC, to enhance U.S. State Department "smart power" diplomacy."
"Food isn't traditionally thought of as a diplomatic tool, but I think it's the oldest diplomatic tool. Sharing a meal can help people transcend boundaries and build bridges in a way nothing else can." --Hilary Rodham Clinton
In true diplomatic fashion, Capricia Marshall also officially supported Passport DC, a Cultural Tourism DC initiative, which opens embassy doors to showcase the diplomatic community's cultural traditions and unique roles in Washington, DC. No other U.S. city has this kind of cultural diversity and density -- an exploratory playground of cultural exchange through patriotism, wanderlust and world cuisine.
"We can all be ambassadors with cultural exchange." -- Capricia Marshall
Attendees were in continued good spirits as Murray Horwitz, Director of Special Projects with the Washington Performing Arts Society concluded the evening with a song, "It's a Big Wide Wonderful World" -- an appropriate soundtrack for an intimate crowd honoring a "model ambassador" and her initiatives to bridge cultures globally.
Photos by Neshan H. Naltchayan
Popular in the Community