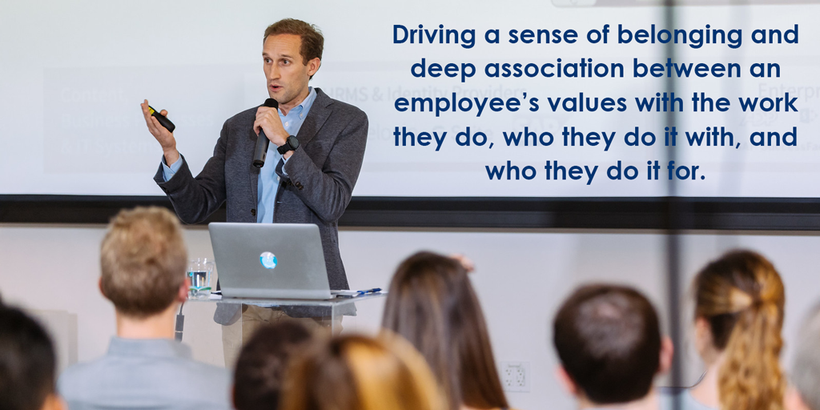 I was recently honored to participate in a panel at Beekeeper's announcement of their integrated workplace feature, alongside Jennifer Pappas (Internal Communications Manager at Wireless Vision), Anja Luthje (Group Director Rooms and Quality for Mandarin Oriental Hotel Group), and facilitated by Beekeepers VP Corey McCarthy.
The theme was all about the hot-topic of culture, A.I and especially how they impacted the non-desk workforce. There were lots of great food-for-thought, so we wanted to share a summary of a few of them as they may be helpful for those that are working on digitizing or engaging their non-desk workforce.
Three Important Indicators of a Positive Culture
Culture is certainly finding its way ever more into the limelight. With the impact of the overwhelming, always connected landscape, we are seeing a general increase in organizations that are focusing on wellbeing (beyond gyms and healthy snacks), as well as purpose-led organizations.
Through our extensive research based process we have discovered over 70 attributes that were found in environments with engaged and productive workforces. Three big components of this were leadership, purpose, and development.
Leadership: This is not just motivating employees and telling them what they need to do, it is about inspiring them and empowering them to be the best they can.
Purpose: This is about driving a sense of belonging and deep association between an employee's values with the work they do, who they do it with, and who they do it for.
Development: This includes having professional and personal development opportunities, exposure to meaningful growth experiences, as well as helping employees see their path in the company's short and long term plans.
How Communication Trends are Evolving
When asked on what they were seeing in the internal communications landscape, both Luthje and Pappas spoke to the increase in communications vehicles. Pappas mentioned the trend of "snackable content", where content regardless of vehicle can be quickly digested, focusing around the core message, with a more mobile feel, as well as the use of live-streaming to connect and engage employees that are geographically distributed.
Luthje mentioned that they were noticing "guests want to text message much more as well as use different messaging apps," and that, "colleagues like to be communicated to how they communicate in their personal lives". Luthje also noted the impact of breaking down barriers between functions, generations, leadership, and employees.
How A.I can Impact Culture
A major topic discussed at the event was how A.I. could impact culture. Naturally, there are several ways in which advances in A.I can impact workplace culture. A couple that were discussed include:
Personalization of communications at scale: for example, figuring out what to send and when to send it so that it best resonates with the individual. This can even help drive personalization around meaning. Say if for a certain employee, they may find meaning in the social good their company is doing, and another may be driven by customer success stories. Being able to understand this and implement content strategies personalized to this scale is much more possible with the understanding of data and decision making that A.I. affords.
Tracking impact of actions and changing course: Often actions are taken to improve the culture or employee engagement, then organizations wait and measure again at some interval. With A.I you can monitor the real time response to change and decide when to implement that change of course based on certain patterns you are able to see.
What's bubbling up: Things can happen that cause negative sentiment to grow within an organization, and many times, management and leadership find out about it far too late. Empowering leadership with real-time information allows them to respond with purpose and clarity, before the negativity manifests itself.
Identifying the unknown unknowns: Converging data sets can help you understand gaps and opportunities that would have been difficult or cost too much effort to see before. For example, space utilization data with sentiment could show you root causes for why some spaces are used and others not.
The Impact of A.I for Non-Desk Workers
Narrowing in on the impact of A.I for non-desk workers, depends on how an organization chooses to operationalize it, however, two big impacts addressed were efficiency gains and engagement. When you take a deeper look at it, these two are closely related.
If, through efficiency gains (perhaps through intelligent task management and resource deployment, automation, or intelligent concierge capabilities), you could give an employee 10% of their week back, what can they now go on to do with it? How can you use the time to help them grow? Perhaps they can better spend that time on delivering experiences to your customers.
Employees are overwhelmed, and it can be hard to do everything to your absolute best when you have so much on your plate. As Luthje so well put it, "ideally all the paperwork will be automated...and in the hospitality sector, it is actually great, because it allows us to go back to the roots of really caring for the guests. Now, we have to check the guests profiles and preferences in the back, if all of that is automated it is so much easier to interact and then give that emotional connection".
Also, if you can gain efficiencies, the employees can have the time to do what they do to their absolute best. This has an impact on pride. No matter the job, humans feel better when they can look back on what they have spent their time doing and feel good about it. Pappas agreed, stating that the efficiencies will really allow them to "dive deep into the products that they are selling, into the training that they need to be doing, and less worried about all of the administrative aspects...they will be able to focus on the core of what they need to do...which is delivering the Experience."
The real question to ask yourself, given that A.I. can complement and enhance human skills, is - with it, what can you now achieve?
The Impact of A.I for Organizations
Looking more at the organizational aspect, of course, there are possibilities to save costs. However, organizations that only see it as a cost cutting opportunity will become the laggards as the leaders are busy looking at how they can use the gains to connect their customers and employees to more meaningful experiences that evoke emotions that lead to brand loyalty.
As it was mentioned in response to this question, it will open the door to changes that we haven't even thought of yet. Organization's will need to think of how they need to shift and reposition to maximize value.
Pappas mentioned that, the same as you treat your customers, understanding them and engaging them, the same should be done for your employees. One area of impact will be in streamlining your customer and employee journeys, and then engaging with them on a deeper level.
Another area of impact is in talent management. Using data and insights to maximize the value of your workforce's full potential towards the company vision and individual goals. Being able to analyze vast distributed data set's and matching employees to efforts that engage them, that utilizes their strengths, and their passion.
However, we are still learning the impact. For example, are some of the A.I solutions we are seeing novelty? What is genuinely better? What is the line between awesome and just plain creepy? We are going to be learning a lot over the coming years about the impact to human reaction and sentiment. For example, there is a reason when you are frustrated you just want to talk to a human. Some of which include shared values and empathy, as well as the understanding that they can feel what you feel. As we learn more about the human brain, A.I, and impacts, it is certainly an exciting time!
Impact of Digitizing the Non-Desk Workforce for your Guests and Customers
When asked about the impact digitization can bring to the customers, it was clear that everyone realized the non-desk workforce are critical to delivering your customer experience as they are often the front line and a face to your brand. There will be several impacts but a few discussed included:
Going above and beyond: This is one of the indicators of a great customer service experience. To do this authentically you really have to feel engaged in the organization. By digitizing the non desk workforce you can engage them so that they feel more invested in the brand. Remember, that increased employee engagement has been linked to better customer experience, and that the very essence of data can help create hyper personalized experiences – as they will know more about the customers they are engaging with, or more information to make better decisions.
They can better feel the brand values: They are delivering the CX and brand experiences – yet there is research showing that nearly 60% do not know what their company stands for and that over 80% say they didn't receive enough communications.
You can more easily get feedback from them: They are on the frontline and experience customers or operational processes every day. Getting their ideas and perspectives can broaden your understanding of gaps and opportunities. As Luthje mentioned, the front line have great innovative ideas "from interacting with guests and each other", digitizing them can help collect this amazing wealth of knowledge and perspective.
Real time reporting: From a retail sales perspective, Pappas commented to the fact that, for many, reporting is still being sent "via email in an Excel format," with digitization will come a lot more "real time reporting that will be feeding into a digital format to be accessible on their phones so that they can see exactly where they are tracking against their key sales objectives. It is incredibly fast paced with new promotions, new product launches, every day...that will now be delivered in real time and they will just be able to stay on top of it...which will ultimately deliver a better Customer Experience".
For various reasons the non desk workforce tend to not be as connected as their fellow information workers. However, using integrated applications where they can receive the same consistent communications and engage in the brand, using their own devices in a secure way, has been found to help them forge deeper connections with the organization and increase their levels of engagement. Luthje brought home this point with a great story where they used an application to track a "story". An arriving guest dropped their Kindle device as they exited their vehicle on arrival. The doorman, just got to it before it fell to the ground. The guest apologized saying how they were engrossed in the book, and that it was so good that they almost wanted to go and get the hard copy. The doorman, that very evening, went to a bookstore, bought the hard copy of the book and bought it in the next morning with a hand written note. By posting it to their stream, you could see the journey of the guests excitement and the colleagues pride, from the idea of how to delight the guest, to the guest interaction, to the book all wrapped up with the note....then, you see the thank you note from the guest, and the guest standing with the doorman hugging him on the way out, and then...the result, the glowing guest survey. This is a part of their program to inspire their colleagues to wow guests, and they have found a great advantage in the "inspiration of colleague to colleague" because they "cheer for their peers".
There were many more insightful nuggets of information, but some things to think about as you look at your Culture strategies and the technologies available to you:
Do you know what experience you are trying to achieve? If you just follow the bandwagon you risk investment that will not bring you the return you desire. First understand the culture you want to create, define your values that you want to stand up to for your customers and employees, understand where you are compared to this, and, then make wise investments in how you get there.
Do you understand humans, behaviors, attitudes, and how they are changing? As technology evolves, so will our attitudes and behaviors. Understanding this will help you better develop and execute the right plans.
Do you design with human and machine in mind? Often organizations have a roadmap for their automation strategy, another for some other strategy etc. While execution needs this level, strategically you should look at the capabilities of both humans and technology – together, not separately - to really unlock all of the potential.
At the end of the day change is consistent so we need to face it. There will, like innovations before us, be new roles that are forged. After all, humans have been creating and then adapting to their creations since…well…since we first existed.
A good question to ask is…with all of these capabilities, what employee experience and customer experience can you deliver? With this in place, how can the human capabilities be elevated to deliver something that differentiates your brand?
Thanks to everyone for a great panel!
Calling all HuffPost superfans!
Sign up for membership to become a founding member and help shape HuffPost's next chapter
This post was published on the now-closed HuffPost Contributor platform. Contributors control their own work and posted freely to our site. If you need to flag this entry as abusive,
send us an email
.