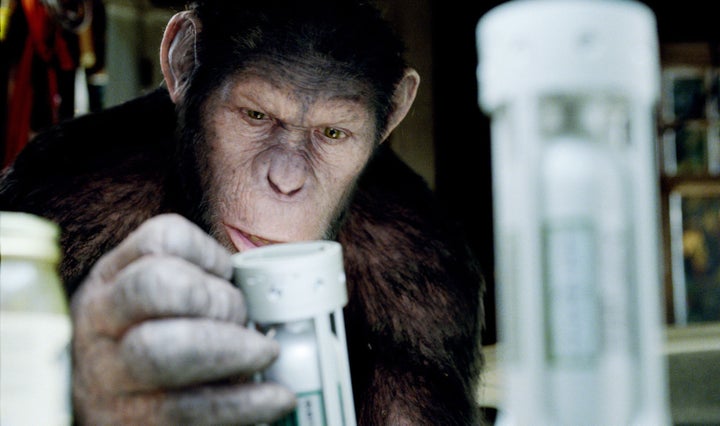 Shark Week! We felt that deserved an exclamation. Sunday marked the first day of this yearly event on the Discovery Channel. This year's week is hosted by Chief Shark Officer Andy Samberg, which should bring some comedic relief to an otherwise terrifying week of footage of one of the scariest creatures out there. Oh wait, this is supposed to make us less afraid of sharks?
We've been waiting for this release since we first saw "A Screaming Man" at the Philadelphia Film Festival late last year. Today, the film finally gets the widest kind of release -- on DVD. The film follows a hotel pool attendant, Adam, who is demoted after his job is given to his son. This begins as the central struggle of the film, but fades into the background as the concerns of civil war come to the fore, and Adam contemplates offering his son up as a volunteer for the war. Adam is both frustrating and sympathetic, making his performance -- which carries the film -- completely devastating.
Beirut's much-anticipated album, The Rip Tide, drops (digitally) on Aug. 2. We've had a couple previews of what's in store for us on "East Harlem" and "Santa Fe," and it's looking considerably poppier. We can take that in small doses, but we're hoping the album has a bit more range than what we've heard so far. The album will be in wide release on Aug. 30.
The rise of the monkey movies continues with "Rise of the Planet of the Apes." While nothing can compare to the psychological mindgame the original "Planet of the Apes" delivered, based off the trailer, this take on the series looks to be more promising than expected. Set before the original Charleton Heston film, it follows James Franco's character, Will Rodman, as he genetically modifies apes to find a cure for Alzheimer's. He creates a new kind of ape with human-like intelligence, mad chaos ensues, and you've got yourself a summer blockbuster.
The three-day music festival at Grant Park in Chicago, Lollapalooza, kicks off Friday and runs through the weekend. This year, which marks the 20th anniversary of the festival, boasts a diverse lineup, from Eminem and the Foo Fighters to Muse and Crystal Castles. YouTube will be streaming the event live, which is nice, but isn't being there the whole point of a concert?
Popular in the Community