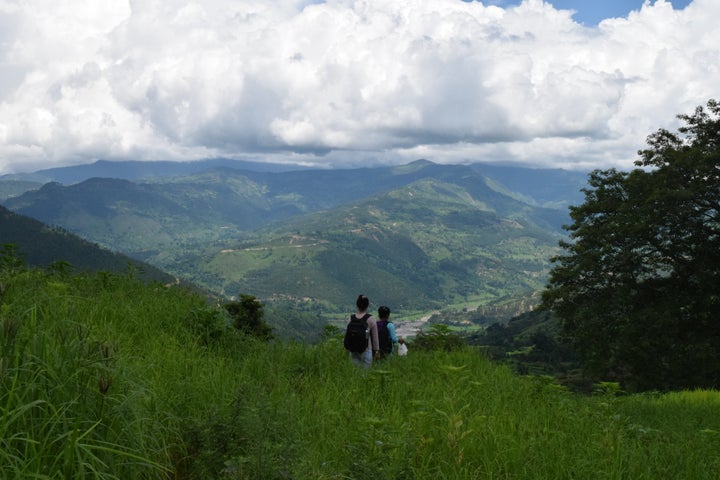 Sonu Khadka is a remarkable healthcare leader and nurse from the remote Far Western district of Achham, Nepal. She has trained and supervised community healthcare workers in her home community to combat disease and promote health with Possible. Possible is a public-private partnership non-profit healthcare collaboration between Nepalis and Americans that I have worked with for the last ten years as a physician and epidemiologist.
This year, she received a scholarship to attend a six-month leadership training program in the United States that starts next week. In recognition of her accomplishments, our organization agreed to support her with time and covering some of her expenses. For the remainder of the expensive travel costs, she took her own initiative and raised the money online. Sonu, the leaders at Possible, and the communities in which she worked were proud to support her acquiring new skills and new perspectives and had confidence in commitment to bring them back home.
This is a story of the best of global cooperation. A talented woman from a remote district that has struggled from economic exclusion and marginalization would have opportunities to learn leadership skills and bring a global perspective to the important work of rural development back home. At the same time, her own voice would have the chance to be heard on a global stage, something that happens too infrequently and perpetuates marginalization of the rural poor.
And then… a visa rejection from the US Embassy. A terse, disrespectful interview, no explanation, and a form letter.
Though she had no guidance from the visa officer, and the client service folks were dismissive, she tried again. She reviewed her letters. She made it clear that she had no interest in staying in the United States beyond the course – she has a career, a family, a husband, all here in Nepal. She has no criminal record, nor does her family. Possible has supported successfully this kind of course before.
Armed with more letters, Sonu applied again. Another rejection, again without explanation.
As a co-founder of Possible, and an American citizen, I felt compelled to understand what had happened, to try to be Sonu's advocate. As I asked around, I heard similar stories of rudeness and opaqueness in a bureaucracy that is supposed to champion American values. A clear visa preference for the wealthy, high-caste, and well-connected. Incredulous officials who could not imagine why a Nepali woman might go to America. My own Embassy's treatment of my Nepali colleagues made me feel disgust and shame.
I know the deep and tragic histories of my country, the racism, sexism and classism that pervades society. As a white American male, I have seen in my own thoughts and behaviors the biases that have shaped me and are engrained in our culture. To what extent would her visa had been accepted had she not been a woman from Achham? What if she were a man from Kathmandu? What if she had had the opportunity to study at an elite college where she would have spoken English with less of an accent? What if her skin had been lighter?
The US Embassy provided Sonu with no explanation of denial, simply stating part of Section 214(b) of the Immigration and Nationality Act: "Every alien shall be presumed to be an immigrant until he establishes to the satisfaction of the consular officer, at the time of the application for a visa… that he is entitled to non-immigrant status." The Act continues to utilize the odious term "alien", as if visitors are not human beings, and the only pronoun in the Act is the masculine. Language aside, the law clearly gives power to the local consular officer, a single mid-level staff person who holds America's prejudice and fear.
The arbitrariness and disrespect of the Embassy is something that can be changed. As an American who has witnessed Sonu's loss, I call on the US Embassy to make these simple changes: 1) provide a clear list of reasons for denial to all rejected applicants; 2) increase training in cultural sensitivity, respect, and customer service for its officers; 3) provide clear screening guidelines to officers to identify those who pose a real threat; 4) prioritize visa approvals for historically marginalized groups like ethnic minorities and women.
I am indebted to the United States' Department of State and the commitment of its remarkable staff around the world in helping the world be a safer and more equitable place. The many colleagues I have met in foreign service believe in transnational cooperation and exchange, and in the basic decency of all humans. I know our foreign civil servants here share with me an appreciation of the rich linguistic diversity, cultural vitality, emerging democratic traditions of Nepal. Nepal has taught them, like me, how to be a better citizen, a better human being. I hope that the Embassy here in Nepal could reform itself to promote the best of our shared Nepali and American ethos. The Embassy should be opening, rather than closing, doors for Sonu and other champions of our values.
Popular in the Community