Think back to the first time you saw "The Rocky Horror Picture Show."
For many young queers -- whether they knew they were queer or not at the time -- "Rocky Horror Picture Show" provided our first point of entry into a world of possibilities outside of the heteronormative matrix. These characters, bodies and concepts did not align with the ideas many of us were taught about what it meant to be human and "correct," and it likely affected each and every one of us in many different ways.
Additionally, "Rocky Horror" provided a rallying point and created community for many young queers and people who felt as if they just didn't fit in. So what better way to celebrate Halloween than a queer deconstruction of this seminal film in a party setting?
Art collective and party promoters The Culture Whore are doing just that, by providing a space for all of us who were influenced by "Rocky Horror" in our youth to explore what this film means in a modern day context through performance and aesthetic. On Friday, Oct. 24, The Culture Whore will present "ROCKY HORROR SHOWS SHOWS SHOWS" at DIY performance space Mister Rogers in the Crown Heights neighborhood of Brooklyn.
The line-up for this party is massive, featuring performers such as Untitled Queen, Merrie Cherry, Charlene, Chris of Hur, Manifestany Squirtz and Lucy Balls. Hosts for the evening are also extensive, including the likes of Cher Noble, Domonique Echeverria, Molly Rhinestones, Mr(s) Williamsburg 2014 Aja, HuffPost Gay Voices Associate Editor James Nichols, Pandy and Macy Rodman.
The Huffington Post chatted with The Culture Whore founders Mark Dommu and Paul Leopold this week about their vision for "ROCKY HORROR SHOWS SHOWS SHOWS," what they're trying to accomplish with this party, as well as what attendees can expect.
The Huffington Post: Why did you decide to make the theme of the Culture Whore's Halloween event "Rocky Horror"?
Mark Dommu & Paul Leopold: We like choosing something from pop culture as the inspiration for the theme of our Halloween parties. Last year we threw Hogwartz Rave based on Harry Potter and it was so much fun to see everyone replay this widely-loved adolescent fantasy. When brainstorming about where we would take it from there, "Rocky Horror" quickly surfaced as an idea we could all get excited about.
Who didn't have some kind of earth-shattering experience the first time they saw "The Rocky Horror Picture Show?" For many, it was the first time they saw a man dressed in women's clothing, and looking fucking sexy at that. As free-spirited queer artsluts in 2014, part of a vibrant queer community that includes so many amazing trans/gendernonconforming/genderfucking queers, taking "Rocky Horror" to the furthest extreme felt so very right.
"Rocky Horror" was, for so many of the queer people we know, one of the earliest cultural experiences that helped them realize, "Oh, it's ok to be weird, and it can actually be beautiful." Its language may seem outdated now, but Frank N Furter created a queer utopia in his castle, and it's a dream of sexual and artistic freedom that we're still dreaming about today.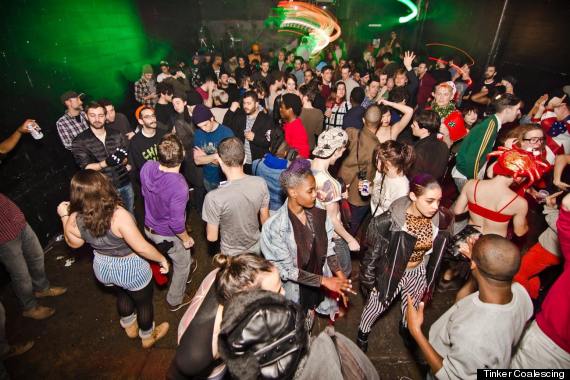 Why do you think Rocky Horror is such a seminal film for the queer community? What does it represent?
We asked our good friend, Tinker Coalescing, who will be taking photos at the party, to chime in on this one.
Tinker: I experienced RHPS before I fully realized or elucidated my queerness. Now, 28 and transitioning, I look back on the RHPS subculture as amateur, 101, sometimes embraced by sexually active theater geek kids who have not necessarily thought deeply about their gender or what it means to bend it, playing queer parts without experiencing the social consequences of queerness outside that safe explorative space. But it's an early sign of queers to come, RHPS is a kind of a gateway drug that one often does on their journey to a more solid and politicized queer identity. In other words, I appreciate RHPS as a recruitment tool.
Do you think Rocky Horror will hold the same level of importance for future generations of queer kids? Why or why not?
Our friend Charlene, who is performing at the party, had something to say about this.
Charlene: Our generation has found itself in an age post-cult status of Rocky Horror. Glee has changed the word 'transexual' to 'sensational,' MAC cosmetics has released a line of pristinely packaged makeup inspired by characters with unset foundation and poorly blended eyeshadow, and our only regular access to the show in New York City is tired -- to say the least. We, however, experienced the show with virgin eyes as the utmost of the bizarre, the fabulous, the fucked up. We meet on an even playing field in Brooklyn in 2014, and we have to regain that familiar sense of fantasy and revive the spirit of a show that America has insisted on running into the ground. We'll make Rocky properly unfit for television again and see if we can inspire elation of having "fuck you!" screamed at us by an entire theater for the first time once more.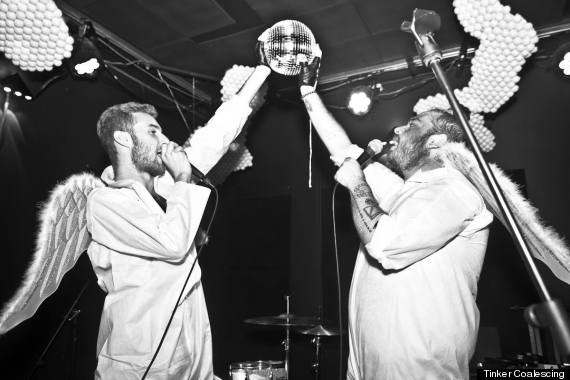 What can attendees expect at this party?
The Culture Whore will be transforming Crown Heights DIY gallery space Mister Rogers into Brooklyn's very own Frankenstein Place. A coterie of performers amassed from New York's queer underground will present their own twisted versions of beloved "Rocky Horror" songs: drag sensations Merrie Cherry, Charlene, Untitled Queen, Lucy Balls, Lady Simon, Chris of Hur, Manifestany Squirtz, Rify Royalty, Crimson Kitty; mystifying performance artists Boywolf, Mark Dommu, Gabe Gonzalez, Carolyn Gilliam, and Chris Tyler; and enigmatic, rising-star rapper Bunny Michael.
A trio of DJs -- William Francis, David Sokolowski and JX Cannon -- will be giving deep house, hip hop, nu disco, electropsych, rhythm+bass, and ballroom beats, to keep all of our unconventional conventionists dancing well past sunrise. And performance group Descent will be building installations to create a sensually strange version of Frank N' Furter's castle, aided through visuals by Keo.
Our parties always have this very special open, friendly and wild vibe, so we're stoked to create that space once again and see what happens. With all our events, but especially this one, we're experimenting with how we can give our crowds a fully dynamic theatrical experience inside the paradise of an all night rager. Our hope is that folks who come out and stay for a while will leave feeling like they experienced more than just a party or a show, but something more like an adventure to a world unknown.
For pictures from previous The Culture Whore parties check out the slideshow below. All photos courtesy of Tinker Coalescing.
Pre-sale tickets for "ROCKY HORROR SHOWS SHOWS SHOWS" are $10 and $15 at the door. Head here for ticketing info or here for the event page.
PHOTO GALLERY
The Culture Whore
REAL LIFE. REAL NEWS. REAL VOICES.
Help us tell more of the stories that matter from voices that too often remain unheard.