In the old days before digital photography and Photoshop were able to transform everybody and anything in something else willy nilly, art directors would have legions of staffers doing nothing but things called paste-ups: actual physically manipulated cut and pasted images they would then photograph until they got it right.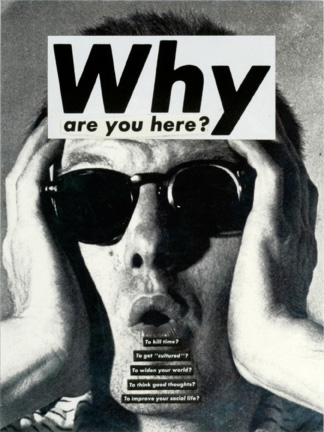 Image courtesy of Barbara Kruger and the Skarstedt Gallery
Barbara Kruger has been in our faces for years, the doyenne of graphic imagery whose work has become a default for the commercial advertising industry (she was once a Mademoiselle magazine art director). Her exhibition of "smalls" done the old-fashioned way: forty four images, all but two black and white, none larger than 11 X 14, framed simply in black at the Skarstedt Gallery has been called Pre-digital only because they feared nobody would know what a paste up even was anymore.
Yet Kruger is loath to be lumped in any way with commerce so the smalls, both beautiful at this scale, and chilling, reflect her canny ability to be provocative and cautionary and as in your face as anything of hers that is much larger (one example is downstairs at the entrance to the gallery). Her artful combination of word and image is both prescient and capstone, warning and codifying at once.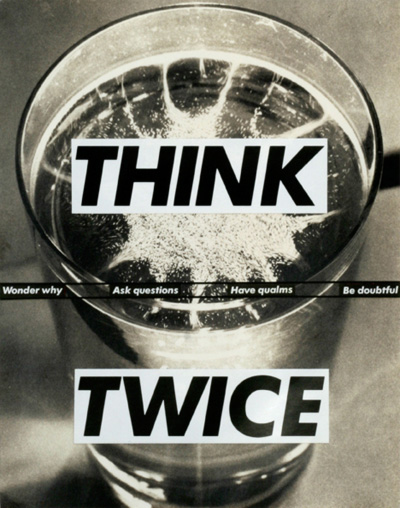 Image courtesy of Barbara Kruger and the Skarstedt Gallery
Not necessarily grouped according to subject matter, the thematic areas that concerned her then (1980-92) emerge in the two upstairs galleries: fact v fiction, history, art, our bodies, looking and watching, philosophy, economy and love--a broad range of things that prickle and poke at our pre-conceptions. Even though these images are not her current work, they are every bit as powerful today. They tell us to stay alert, to be mindful, and aware that we can be easily manipulated.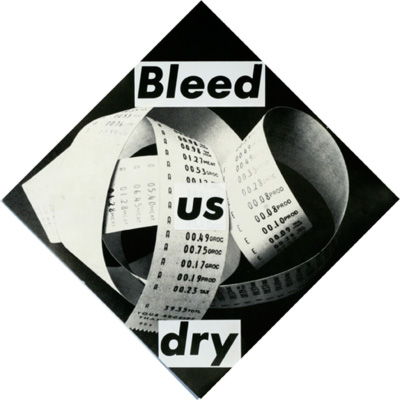 Image courtesy of Barbara Kruger and the Skarstedt Gallery
I carry a small plastic Kruger satchel (she sometimes allows the images to be reproduced in commercial formats; I was lucky enough to buy five of these under twenty dollar items when MOCA in LA sold them as part of her retrospective there in 1999) which still attracts attention from people under 30 everywhere I go and I could have made a small fortune reselling them. Against a background of tiny people printed in black, in red, the bag says:
It makes me feel more powerful than any label or status bag would at a much higher price point as it is light as a feather but its weighty message much closer to my heart.
Barbara Kruger, Pre-Digital has been extended until April 22nd. Skarstedt Gallery is located at 20 East 79 Street, New York. (With Sophie Calle and Jenny Holzer also up concurrently in Manhattan, we really have hit the perfect trifecta)
REAL LIFE. REAL NEWS. REAL VOICES.
Help us tell more of the stories that matter from voices that too often remain unheard.