It's not too soon to start to look for markers that change is not only coming to Washington and politics but to the arts.
They say that artists and designers channel the zeitgeist better than the rest of us, that even if they are not actively talking with each other, somehow, similar themes pop up like ground squirrel burrows.
Cindy Sherman, photographer extraordinaire, has always had her incisive gaze focused firmly on herself, yet it has been the self of a thousand faces. Having taken us through women as B movie stars, clowns, and fairy tale heroines to list a few, Sherman began working on a series of well-heeled divas early in 2008 that presage the end of this era of opulence in both patronage and fashion. (It's no accident that this past Sunday, the New York Times featured cheap-ish shopping bags of famous designers instead of the $2,000 variety that has driven much of the luxury goods business in past years.)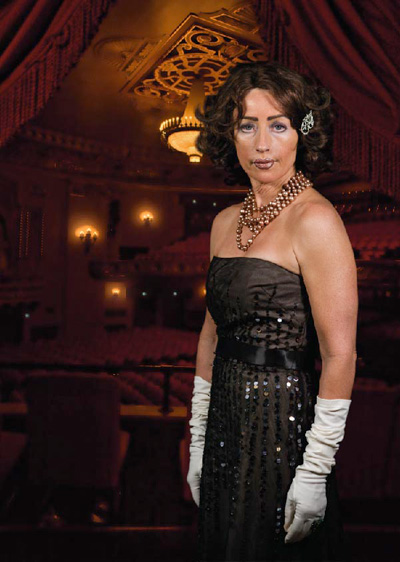 Untitled, 2008 ... by Cindy Sherman
As arts institutions hurriedly shore up year end commitments from their recently depleted trustees, (one infamous one -- Alberto Vilar -- is under current jury review and may go to jail for thievery), and all eyes are on Obama and what he might (or might not) be able to do about the arts on a federal level given the current economic meltdown, to see Sherman's typically ingenious re-creations of a series of rich ladies, bejeweled, be-gloved, be-pearled, be-lip-outlined (hello Sarah P!) and be-gowned, set against opulent theaters, villas and gardens or with their dogs, is to juxtapose money, aging, artifice and reality in a Sherman's March that also ends with not a few corpses.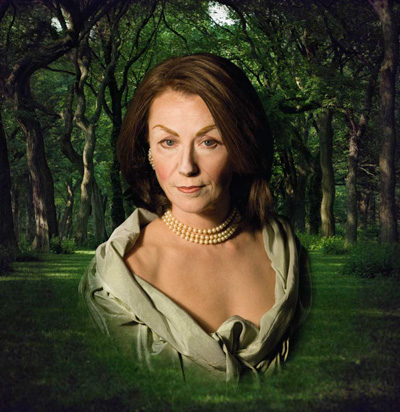 Untitled, 2008 ... by Cindy Sherman
Are they anonymous? No one knows for sure. Some of us thought we recognized actual people, but that is Sherman's genius -- she makes archetype look entirely familiar.
Interestingly enough, Sherman's opening night party (did you know Cindy and David Byrne were bf and gf? How terminally cool is that?!) was a total pre-meltdown blow out at Per Se, the Thomas Keller restaurant at the Time Warner center, itself a symbol of excess, yet where we were all allowed into the kitchen to help ourselves. Talk about yin and yang!
Nobody, though, could spot Sherman: she is as invisible and nondescript as ever, the diminutive girl from Glen Ridge, New Jersey via Buffalo.
Yet Sherman isn't derisive about these women any more than she was about film actresses, she is just entirely, totally accurate. Not a bauble or bouffant escapes her unerring eye. (Nor do crepe-y cheeks and upper lips). Though a couple of photographs upstairs at Metro Pictures are of a more dowdy, bow-tied, dowdy sort, most are large scale images of wealthy women that almost seem to have their haughty eye on you, you poor, shabby example of hum-drum humanity.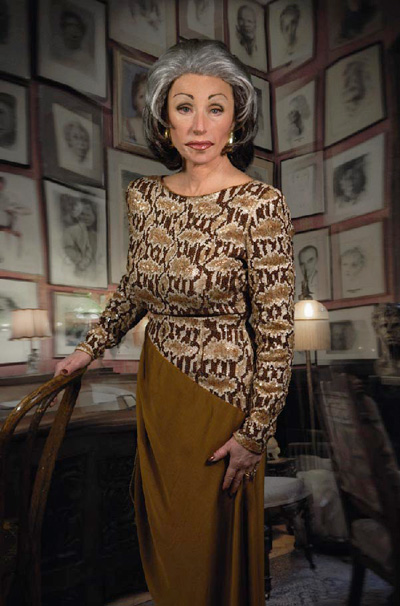 Untitled, 2008 ... by Cindy Sherman
Sherman still does all of her own set design, costume design and production, and it's no wonder she once tried her hand at film-making; her return to still photography however, a perfect marriage of medium and message.
Many (myself included) prefer the smaller, but no less artfully posed black and white images Sherman used to make, but the larger format and highly saturated color are totally appropriate to this subject matter -- these women see themselves as larger than life.
Some of us had already started going the other way these last years. My own retreat into La Vie de Boheme well pre-dates the current economic retrenchment, yet seems now to be utterly of a piece with downsizing (more on this in coming weeks).
Don't forget art galleries are FREE -- wherever you live -- and a welcome respite from getting hammered by current events. (Another jewel in Chelsea right now is a show of early, unknown Eva Hesse, De Kooning and Lucio Fontana work at Andrea Rosen. Lots of seventies artists have also percolated back up in Chelsea -- is this another sign that we are in retreat?)
In the meantime, take the virtual tour of the Grand Tier with Cindy but don't forget to put on your lipstick before you do.
All images courtesy of the artist and Metro Pictures
Popular in the Community