Nathalie Daoust's Pilatus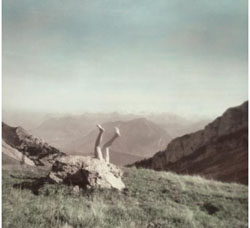 Growing up, we often learn that keeping within the lines, behaving, is best. It's easier for one thing: you make an outline, or you trace something that already exists and then you color it in, not quite painting by numbers, but almost. It's a little bit automatic, certainly safe and predictable. At least you know where you're going.
I had occasion to think about borders on a visit to British Columbia last week.
Lately it's been our southern borders we have been most preoccupied with because they deliver to us, and those to try to penetrate them illegally, so much grief. They're also the ones that delimit a vibrant culture more distinct from our own gringo thing. Yet even though Alejandro Gonzalez-Inarritu and Alfonso Cuaron are current film superstars and Frida Kahlo and Diego Rivera still exert enormous influence in the art world, the Mexicans who have infiltrated our culture--and not just our margaritas--can have a tougher path. This has nothing to do with their enormous talent and everything to do with the border.
The border with Canada has historically (at least until 9/11) been more porous; Canadians have been, welcome in the USA and populate the arts and media; famous Canadians who have spent time plying their trades in the US include: Peter Jennings, Frank Gehry, Jeff Wall, and writers Margaret Atwood , Michael Ondaatje whose novels are best selling and the basis for film adaptations.
The Canadian Broadcasting Company was the model for PBS; I remember when working there the admiration we had for the funding that just didn't quit and the famous shorts supported by the National Film Board of Canada. Today, the Toronto Film Fest is considered by many to have usurped the power of the NY and Chicago film festivals.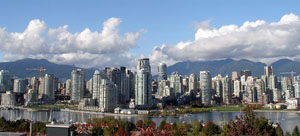 Vancouver Cityscape Photo: Thom Quine
In 2010 the winter Olympics will be coming to Vancouver, British Columbia. Leaving aside for the moment the convolutions we are now experiencing with the torch, and the ones we suffered through in Salt Lake City, and the possibility that the Olympics are so corrupted by politics and television now that it's hard to feel the purity of the Greek athletes who spawned them, Vancouver is an excellent choice.
Most people have probably never been there unless they are skiers (Whistler MT), in the movie biz (Vancouver has stood in for a lot of cities in your favorite movies) or live in Seattle (and in the old days, going up to have a beer over the border because it was cheaper made sense.)
I don't know how many US artists, now that our monetary systems are on parity, won't hop over to test those very waters. It's a beautiful, mostly modern city, a kind of Hong Kong in the making, a crossroads of Asia and the West and its diverse population reflects that. It feels like you are in a world class city but when you stick your head up, it's surrounded by elegant snow capped mountains. It's much less provincial than Seattle where the coffee mania only fuels their self-righteousness (though there literally is a Starbucks on EVERY block in Vancouver also, what is it with these Northerners?!) The food is good; like San Franciscans, Vancouverites pride themselves on their culinary offerings. (Apparently, there is also more use of cannabis in BC than anywhere else in the industrialized world. Hmmm...)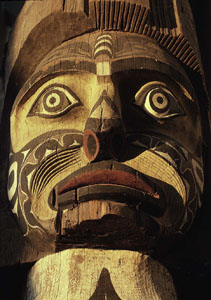 UBC Museum of Anthroplogy Photo: Bill McLennan
They have two fine museums. The Museum of Anthropology at the University of British Columbia is rightly recognized as one of the best--you feel like you're on Easter Island, the enormous totem poles and carved figures rival those and only make you sad that all of these sites have been so plundered. (They are hosting a well-timed dialogue on Porous Borders, the Loss and Return of National Treasures next week.) There's also a lively contemporary art gallery on campus and the UBC arts newspaper lists a recent lecture on the topic of Why marry at all, the premiere of an opera called Dream Healer about mental health (why not? Operas have the most esoteric librettos imaginable) and a lecture on the link between housing and fertility (Did you know the suburbs were actually BAD for you?!)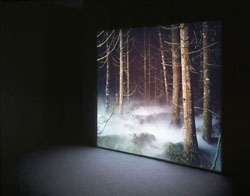 Kutlug Ataman's Paradise at the Vancouver Art Gallery Photo: Christopher Bliss
There is the Vancouver Art Gallery downtown, right now with a concentration on photography and video (they commissioned work from Kutlug Ataman, an LA artist with two rooms full of talking heads that were a perfect foil to the Getty show I recently reported and a show on Canadian women modernists that opens this week that I was really unhappy to miss. And in a more indigenous British Columbian spirit, a beautifully curated exhibition on artists' hommages to trees.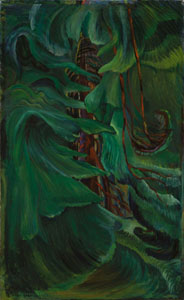 Emily Carr's Cedar at the Vancouver Art Gallery Photo: Trevor Mills
Just outside of town, Simon Fraser University is a monument to sixties brutalist concrete architecture. I loved the upper deck quad which feels strangely, like Mexico.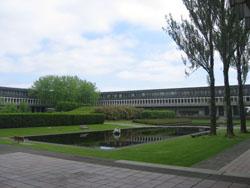 Simon Fraser University Photo: Arnold C
There is that accent, the o's leaping oot at you as soon as you get to Customs.
There is the whole French thing....think of it. Nobody in Vancouver actually speaks it, but the French minority in Quebec was powerful enough to bring the entire nation to its genoux and all signage must present everything in both languages in an even more official nod than the one we make to our much larger Spanish speaking population. But I love it, it makes me feel like I've traveled much further away.
There are cranes everywhere and by the time the Olympics gets there, there will be a whiff of commercialism that could get in the way a little bit.
So go now, even if you do ski afterwards. The mountains stay open late in the season if you need that excuse. Or plan a trip to Orcas or Whidbey or Victoria Island and go kayaking and see the whales. But build a few days in to check oot Vancouver.
And while you're at it, instead of going to the beach in Mexico, go to Mexico City, one of our great world class cities, right next door. Go for the murals or for the amazing food at Las Cazuelas. Or to the Silver Cities (Morelia, Guanajuato, Queretaro, San Miguel), just north of there that contain some of the finest Colonial architecture which rivals that of Spain. Or go to Monte Alban in Oaxaca to commune with the gods (and you can still go to the beach in Puerto Escondido or Huatulco) Or, if the state dept site says its ok, go to Chiapas, home to Palenque's chic ruins and one of the most colorful outdoor markets in San Cristobal.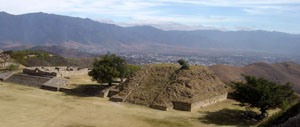 Monte Alban Photo: Bobak Ha'Eri
There's a definite upside to becoming the poor relation: in seeking out a more affordable alternative, the cultural wealth of our nearest neighbors' will astonish you. If you're looking for a way to uncrush your pocketbook after April 15th, and beat the Euro, you can have a great adventure closer to home.
That is, if you're willing to go outside the lines.
REAL LIFE. REAL NEWS. REAL VOICES.
Help us tell more of the stories that matter from voices that too often remain unheard.