Dancing outliers turn out to be much like others Malcolm Gladwell has identified: they emerge from the forest, not necessarily the tall trees. They are testing the limits, yet not pointedly rebelling. They are just doing things their own way.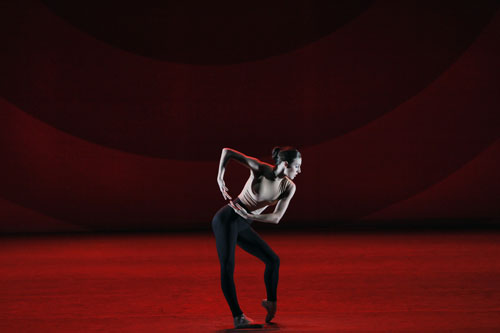 Tiler Peck. (C) Paul Kolnik.
When the curtain goes up on Outlier, the new ballet by Brit Wayne McGregor at the Architecture of Dance Festival at the New York City Ballet, the reddish target backdrop immediately recalls abstract outlier Jasper Johns. The costumes and sets are minimal and reference color theory. Painter Mark Rothko--you can see his outlying in Red-- might have plotted them out. And the concentric circles of the target are echoed in the music--Thomas Ades challenging Concentric Paths concerto for Violin and in the choreography, particularly a segment towards the end which has the dancers circling and observing each other, cutting in finally when they seem not to be able to bear it anymore. But there are shout outs to other artists like Vasarely and Albers as well. There is even a moment of Da Vinci, a body enmeshed in a circular grid.
This energetic, sexy ballet is everything a contemporary ballet can be. It takes from the past and rockets to the future.
McGregor says he was influenced by architect Philip Johnson (who designed the then NY State Theater, now the David Koch theater), Bauhaus and minimalism. But I also saw Johnson's Glass House and Jerome Robbins's early masterpiece NY Export Opus Jazz (also on the NYCB calendar this season) referenced in the sets and stripped down costumes. So minimal--the men wear barely-there shorts, the women tops so nude as to be seamlessly invisible.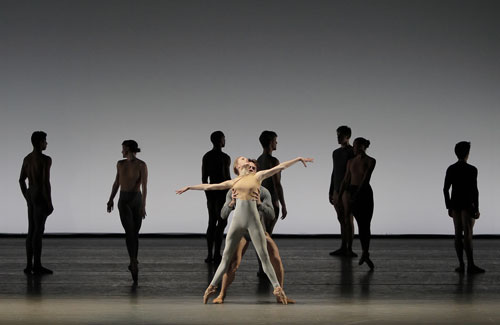 Sterling Hyltin and Gonzalo Garcia. (C) Paul Kolnik
McGregor says he wants to "push the technology of the body between fast angularity, sharpness and abstraction, with fluid, circular and sensual movement--often encouraging the body to misbehave. These anomalies act as physical outliers." The choreography, while achieving a certain minimalism in line, is also complex and fascinating. The pas de deux are sensuous, writhing and torqued: love is wonderful, they suggest, but it hurts too. The core movement often springs from a kind of jelly roll, hully gully undulation that is also a great deal of fun, a Slinky-meets-Marceau that has you wondering how any dancers--or structures for that matter-- stay up at all. A favorite of mine was a turn executed by male hand-to-female bottom instead of the usual hand-in-hand. Not a few lifts were veritable flying buttresses of disbelief--even if the Bauhaus eschewed such traditional supports.
Dancer Robert Fairchild once again felt like the go to guy, choreographers rightly sensing that he can be trusted to anchor. Wendy Whelan gets to show off her deep connection with a challenge but Maria Korowski and Tiler Peck also dance with particular wit and gracefulness. All hands channeled the intricacies of the McGregor vocabulary with élan.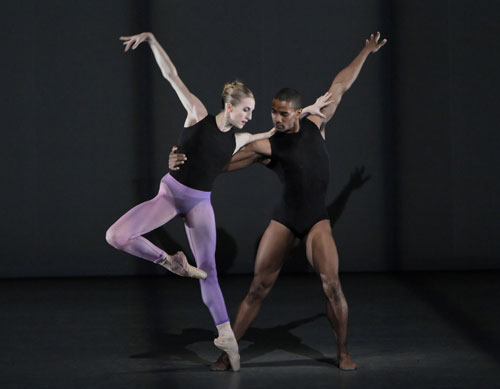 Wendy Whelan and Craig Hall. (C) Paul Kolnik.
Wayne McGregor is obviously an outlier himself. He looks like an architect--he might be any one of the bald-headed, bold-looking tall guys who dominate today's architectural scene--but he is very much a dancers' choreographer, one who lets the play of bodies and the hearts find expression on stage.
Details about performance dates and more information about the Architecture of Dance season at the NY City ballet here.
REAL LIFE. REAL NEWS. REAL VOICES.
Help us tell more of the stories that matter from voices that too often remain unheard.