With all the slogging through post-mortems on the decade, the year, etc., I kind of felt a bit put upon myself to take stock, so thrusting yet another one on readers seemed unfair. Yet there are some things lingering in my memory, and before we get going on two ten (like the way that sounds, anyway) there's still a way to capture some of this in the new year/decade. Take a quick look, there aren't even ten!
1 . Crazy Heart. Once upon a time I worked for the NY Film Festival. A movie called Hearts of the West was playing as part of the Film Festival. I got a mad crush on the new-ish actor whom I had only seen in The Last Picture Show. of I have carried a cinematic torch for Bridges, his messy, human but still sexy-as-all-get-out leading man. He is one of those guys you don't only want to have take you to bed, but also to wake up in the morning next to you. The movie is partially about women being able to trust that instinct in themselves: should I bring him home, or not? Bridges is the one that gets away again, though this time not because he necessarily wants to. See it also for some down home music produced by T-Bone Burnett and a menschy turn by Robert Duvall as Bad Blake's best friend.
2. Heat Waves in a Swamp. The title sounds like something out of CrazyHeart, but the paintings of Charles Burchfield have a magic all their own. To come upon an artist whom you know only in passing, in rooms filled with other worldly water color, and notebooks filled with the handwriting of a child that only complements his pure and strange vision of nature, is really a thrill. Though the Charles Burchfield show at the Hammer Museum is now done, there is a chance in June to see it at the Whitney Museum. Yum.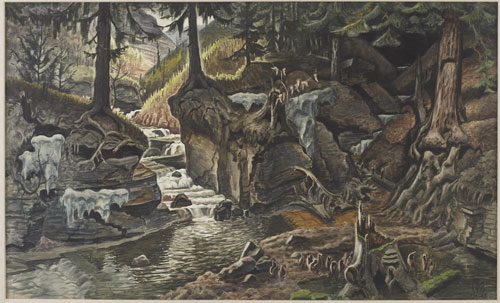 Two Ravines, 1934-43. Watercolor on paper, 361⁄2 x 611⁄8 in. (92.7 x 155.3 cm). Hunter Museum of American Art, Chattanooga, Tennessee. Gift of the Benwood Foundation.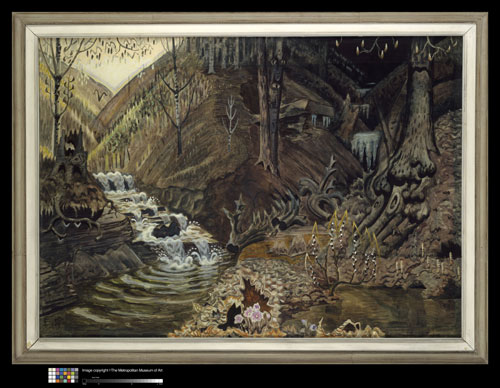 The Coming of Spring, 1917-43. Watercolor on paper mounted on presswood, 34 x 48 in. (86.4 x 121.9 cm). The Metropolitan Museum of Art, New York. George A. Hearn Fund, 1943.
3. An Education. Kind of the flip side of Crazy Hearts, a romance from the point of view of the girl. I had seen Carey Mulligan in last years production of Chekhov's Seagull on Broadway, and found her to be a bit mannered and shrill, though others raved about her. Here she is a masterpiece of mixed up young woman -- Audrey Hepburn with a modern twist: should she trust the guy who takes her places she would never otherwise have gone? For a while the answer is a resounding yes: how many of us want the prince and don't ask too many questions until it's too late? In this fractured fairy tale, the prince turns out to be a total charlatan, and we know he's excessive all the way along. Yet even we like seeing the fifties parties he brings her too, so why shouldn't she? All boats have been lifted by director Lore Scherfig, who gets smashing performances from everyone else too.
4. Gustavo Dudamel introduced me to the Berio Schubert Rendering in his first season with the LA Phil, and I found the sampling of Schubert by this 20th century composer the perfect combination of mushy and romantic, with trills of the modern. It only seems to be available on Amazon in a recent recording by the Bamberger Symphoniker, still very nice.
5. Speaking of Dudamel -- yes, I know, you're saying stop already. I've been roundly criticized for my fawning Dudamel posts but there's no way around it: he makes the classical orchestral experience a whole other thing, and the hype is well deserved. Catch him if you can in your local city. Though we bought him as music director in LA, he is often not with us, and sightings in other cities are not as difficult as you might think
6. A Streetcar named Desire. Nowadays, I mostly go to the theater ready to be disappointed. Not with this production. Lovely all the way around, I hope they can make a deal with Cate Blanchett's Aussie company to bring it back to Broadway, where if ever there was a need for American classics that can hang on for more than a month, this is it. So many people didn't get to see it, but you can rent the divine Elia Kazan version with Brando and Vivien Leigh and still remind yourself of how precociously talented Tennessee Williams was, and how well he got women.
7. William Kentridge . The good news about Kentridge's place on my list of favorite things is that he can be next year's too. Kentridge performed I am not me the Horse is not mine, his delightful performance piece, in San Francisco at the opening of his traveling exhibition at SF MOMA and then again in New York at Performa this fall. Now the next stop to his grand and sweeping multi-media exhibition is MoMA in March. Perhaps he will consider doing it again. Even so, the show is wonderful and a Met opera of The Nose going up at the same time completes this renaissance artist's three ring circus of talent.
8. Important Artifacts by Leanne Shapton. Oh my, the cleverest book all year. Shapton takes the faux tale of Lenore Doolan and Harold Morris -- their love affair gone wrong, the detritus of which goes up for auction. The annotated "catalog" is funny, sad, bittersweet and just plain brilliant. Still an excellent gift book, very inexpensive on Amazon.
REAL LIFE. REAL NEWS. REAL VOICES.
Help us tell more of the stories that matter from voices that too often remain unheard.