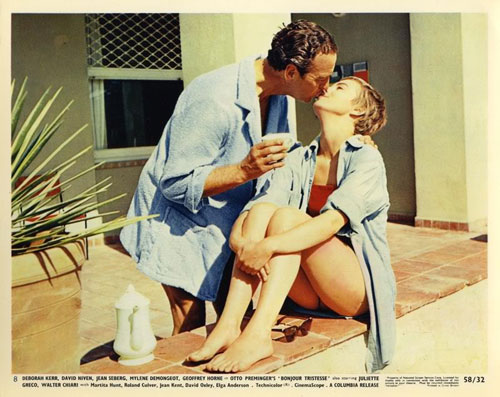 Films about fathers and daughters from recent decades generally end up in predictably musty places: the proud, old-fashioned father is awkward about his daughter growing up (Father of the Bride, What a Girl Wants), or, the daughter, generally a younger girl, wishes to reunite her father with his wife or girlfriend (Parent Trap, Definitely Maybe) so that they can all live happily ever after. Among films of the last few decades, only Paper Moon stands out as portraying a daughter who took her bond with her father as central and did everything she could to sabotage his other relationships.
One film to have previously done so, Bonjour Tristesse, was closely based on the 1954 number one best-selling coming-of-age novel by 18-year-old Francoise Sagan. Despite being dismissed by most critics, the book had been a sensation for its young author with her diary-like tale of a daughter desperate to keep her father for herself and her preternaturally louche way of looking at the world. When the film version appeared in 1958, its critical reception was similarly negative. "A bomb" said Bosley Crowther of the New York Times, but over time, it has garnered a cachet for its lush Technicolor scenes on the Riviera and its iconic performances by David Niven, Jean Seberg and Deborah Kerr.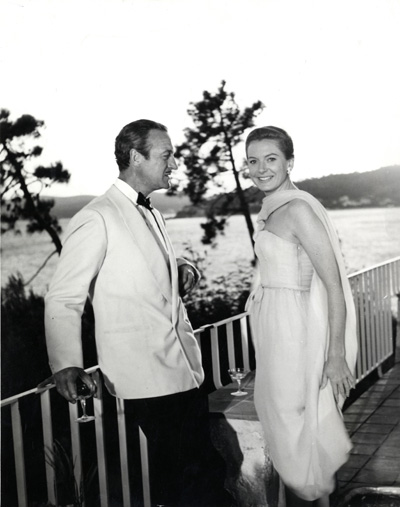 The title pays homage to Paul Eluard's surreal poem about love and loss, Farewell Sadness/Hello Sadness/You are inscribed in the cracks in the ceiling/You are inscribed in the eyes that I love
The novel opens on the musings of Sagan avatar Cecile in the summer of her seventeenth year: "A strange melancholy pervades me to which I hesitate to give the grave and beautiful name of sadness." Sadness, in this case, is a ratio in the proportion of cozy nights out with her 40-year-old father Raymond divided by the number of women in his life. In the villa in the south of France to which they have repaired from a life only vaguely more quotidian in Paris, Cecile and Raymond are idling away the summer. They are sunning, swimming, drinking and hobnobbing with other attractive (Raymond has "an aversion to ugliness") underemployed, well-to-do Parisians. This usually results in associating with "stupid people," according to Cecile, who has all the ennui of a woman many times her age -- but the actual inexperience of one her own.
Raymond, a widower since he was 25, a player whose string of women is on call to suit his different moods, could not be "a better or a more amusing friend" (though a dubious role model) and he has invited Elsa, a demimondaine (a concept once used to identify women of questionable repute which now only dates the work to which it is attached), to accompany them. It's a conceit Cecile finds just dandy, as she knows her father is attractive, easy to love, kind, generous, gay, clever, curious and full of affection for her -- and also frivolous and easily bored. "He needed women around him and I knew Elsa would not get in the way," she confesses.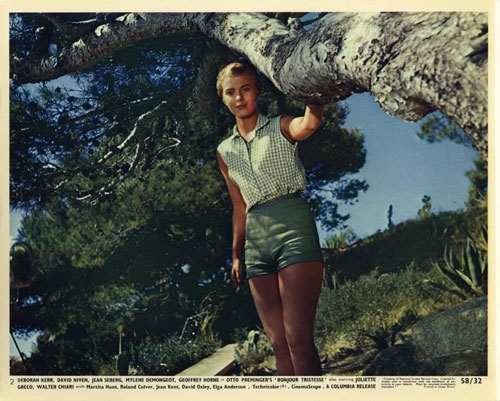 Like a wife who accepts a mistress knowing her husband may be the nicer to her for it, she welcomes Elsa's presence: this slightly older surrogate will supply the only thing she cannot. Everything else -- the laughs, the late nights, the boites, the cocktails, the lazy lunches, the swims -- in these she will be the eager, first-string, participant. She sees her father and herself romantically, as belonging to a race of nomads or hedonists -- untameable and wild. Her fanciful images are filled also with Freud, whose classic version of psychoanalysis was all the rage mid century too, though Sagan's insight into the moeurs and mind of a 17 year old stops just short of analyzing how precisely the bond between them resembles that of lovers and not daughter to father. "My little accomplice", says Raymond, "what would I do without you?"
But her beloved father, in addition to importing Elsa, surprises her one day by telling her he has also invited the more intimidating, highly intelligent divorcee Anne, a fashion designer who had been a friend of her mother's and whom Cecile remembers as the person to whom she owed her first glimpse of elegance and her first flirtation. Cecile finds the thought of her arrival at once stimulating, exhausting and humiliating. Menages a trois were the conceit du jour in France in the fifties -- Jules and Jim had paved the way to making them a kind of litmus test of true love, but this one, for Cecile, has all the makings of disaster.
Perhaps though, because she adores her father, she understands this seemingly destructive maneuver and believes she shares his weakness for self sabotage, "this conception of rapid, violent and passing love affairs" that has appealed to her imagination. Cecile says she prefers older men in general, although as her father becomes preoccupied with navigating the polyamory, Cecile defensively undertakes a serious flirtation with a university student, Cyril, whose two main attributes are unwavering devotion to her and a porpoise-like affinity for the water. Despite Cecile's affected boredom and cynicism, twinned, naturellement, with a great deal of whisky and tobacco, she is also admittedly innocent about love.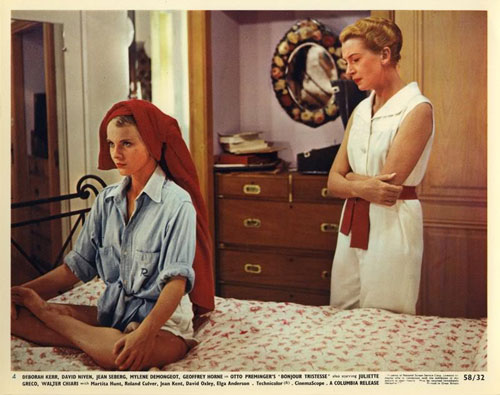 So, inevitably, it is Cecile's affection which is sorely tested. Anne's seriousness of purpose--pushing Cecile to study and take life more seriously -- does not sit well with Cecile's plans for an indolent and carefree summer. When Cecile tires of her ministrations and fears their increasingly serious bond, she plots to undo the relationship by making Elsa complicit in her scheme to arouse his ardor for the lesser of the two. Tipping her off to appear at crucial moments with Cyril, the plot works all too well; eventually, Anne melts down and in flight is an assumed suicide at a hairpin turn on the Corniche. Cecile's guilty conscience and her father's remorse are short lived; with these two party people, after a brief period of mourning characterized by the book's unique mention of God, she and papa are soon re-launched with new "conquests," ready to resume their annual gay sojourn in the south.
Jean Seberg, who had been cast as Cecile, was by all accounts already practically suicidal after the poor reception of her first film with Otto Preminger, St Joan. She had taken an apartment in Nice on the Cote d'Azur, and was trying to calm down and prepare for Bonjour Tristesse, her second encounter with the volatile and controlling producer-director who had discovered her in an international talent search and with whom she already had a difficult relationship. In an echo of the fictional story, she met a debonair young French lawyer whose attentions she much cherished and whom she snuck out to see when they were on location.
She had restored the St Joan crop for which she was already famous, and was costumed in chambray workshirts or checked sleeveless shirts paired with fitted short shorts or casually tied over bathing suits. Deborah Kerr as Anne was an elegant foil to the youthful Seberg, who thought of her a real life role model too. David Niven, who played Raymond, is at his Moon-is-a-Balloon best but the sight of him bending over, café au lait in hand, to give Seberg her good morning kiss on the lips is nevertheless practically actionable.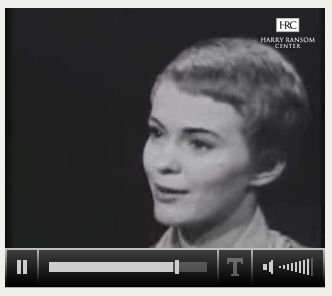 The Mike Wallace Interview with Jean Seberg, 1/4/58, at the Harry Ransom Center.
Mike Wallace interviewed Seberg about her "Cinderella story" just before the film was released in January 1958. In between plugs for Philip Morris, Wallace disparages her as "a pretty girl but not the prettiest, a creation of Otto Preminger, with no acting experience," yet Seberg comes across as a charming, intelligent woman who is able to deflect Wallace's studied journalistic "get." Seberg realizes "telling something to a journalist gives its importance away. You lose it." But their conversation about celebrity, and the media "circus" could easily have been recorded today.
Seberg had a perfectly decent relationship with her own solid citizen of a father from Marshalltown, Iowa, a drugstore owner who used to let her read the movie magazines which she admits are what gave her the idea of becoming an actress in the first place.
Despite Preminger's dictatorial rages, it was to be a relatively gentle moment in Seberg's life and the sting of the second film also coming up short with the critics was mitigated by the new Frenchman in her life with whom she was already living and would eventually marry. David Richards, Seberg's biographer, quotes a letter she wrote about that time which, for a woman who was only a few years older than the girl she was playing, and whose life ended in shambles, sounds wonderfully wise and unlike the vixen Cecile.
" Take Care, work hard, love life and living--it is amazingly, silvery beautiful. And most of all, be gentle".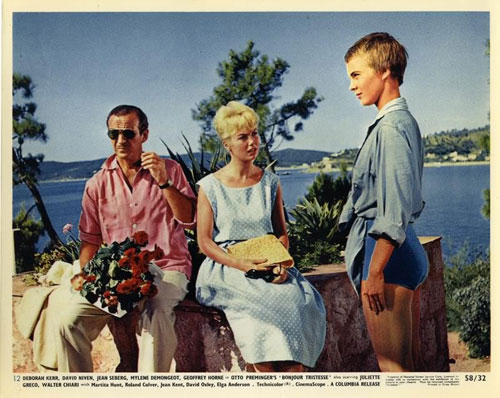 Bonjour Tristesse is screening at MoMA www.moma.org Friday night 4/16 at 8 pm and Wednesday 4/21. Tickets only available at the museum.
Popular in the Community