Though this week is the opening of the Whitney Biennial, there could not be a more incendiary, voluptuous, warm-blooded exhibition than the Gustave Courbet show at the Metropolitan Museum of Art.
Petit Palais, Musée des Beaux-Arts de la Ville de Paris; Petit Palais/Roger-Viollet
I was swept away by the images, especially the glorious and erotic nudes which are all in one room except for the really graphic one which was seen even in Courbet's time behind a curtain or by special request.
But before I get to the good part (like Alan Wheelis, the psychiatrist who read novels by looking at the sex scenes before he read the rest of the book knowing that if those parts were exciting, then the rest would be too), let me tell you a little about Courbet, who despite living in the second half of the nineteenth century was a bohemian political leftist and a man whose take no prisoners style of making art held up until he himself was taken prisoner for advocating the destruction of the Vendome column in Paris, a symbol of Napoleonic rule.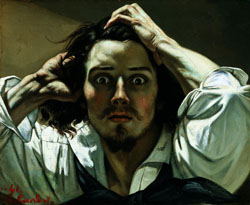 Private Collection, courtesy of BNP Paribas Art Advisory
Courbet was proud to call himself a realist; a modern thinker who was extremely influenced by photography and his own influence on successive generations of artists is well documented. My absolute favorite artist, Manet, was a rival and one can see why; though Manet's subjects often confronted the viewer with a direct and fearless gaze and Courbet's often look away (except for that in your face self portrait), there is a symmetry of audacity. Both artists were ambitious and engaged with society the way we think of a Schnabel or even a Hirst finding public approbation essential to their work.
The Metropolitan Museum of Art, New York, H. O. Havemeyer Collection, Bequest of Mrs. H. O. Havemeyer
This is the perfect exhibition to see to help you set aside, once and for all, your preconceptions about art that is not contemporary, that gives a frisson of pure, astonishing pleasure. You can begin with the portraits which display this captivating modernity. Courbet's portrait of himself as a Desperate Man and his portrait of a wild haired woman Jo (Whistler's mistress) are twinned and kindred for me, the two of them just the way I feel after a long day of work, or with the kids. And his portrait of his friend, the philosopher Proudhon could have been painted yesterday--he practically looks as if he's wearing jeans and a white shirt from the Gap. Yes, there are landscapes and hunting scenes too, and those I found beautifully executed.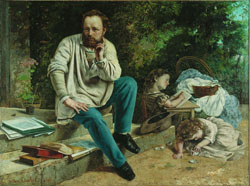 Petit Palais, Musee des Beaux-Arts de la Villle de Paris
But nothing thrills the way the nudes do. Courbet had three sisters whom he used as models for his early works. It's been suggested that having grown up around deshabille may have contributed to his realistic portrayal of the female body. He often painted women sleeping, or dozing, or what seems like the half somnolence of post or pre coital engagement. One would think the scale of some of these nudes would lessen the erotic charge, but it's quite the reverse; though much larger than life, they have a just-took-off-my-clothes-and-jumped-into-bed look, an impromptu quality that makes you think of sexual abandon that he didn't try to disguise. Though they often represent the fleshy, curvy type of beauty more a la mode in the nineteenth century than today, they have an intimacy that is very much a la minute.
The Metropolitan Museum of Art, New York, H. O. Havemeyer Collection, Bequest of Mrs. H. O. Havemeyer
My favorite is the Woman with a Parrot which actually lives at the Met. I once wrote a movie about a man and a woman and the parrot that brought them together so it is possible I have imbued parrots with larger than life qualities to begin with, but take more than a glance at this painting: does this woman not look over-the-moon?
Two were commissioned by Khalil-Bey, a Turkish diplomat who had an extraordinary painting collection which makes today's hedge fund collections look wan by comparison. One image that I have not posted, though I was sorely tempted just to see what Huffpo readers would make of it, is a full-on crotch shot called The Origin of the World (title alone is fantastic, no?!). This is the one that lived behind a green veil, and at one point, had an entire overpainted panel hiding its lascivious charms. But this will give you added impetus, me thinks, to run over to the exhibition.
In the spirit then of debunking preconceptions this week, one other reminder: After an absence of decades, I finally caught up with one of the warmest , most sensuous venues for listening to music anywhere in the world: Carnegie Hall. I heard the Vienna Philharmonic, conducted by Valery Gergiev with Yefim Bronfman playing the challenging Prokofiev piano concerto No. 2 on a program with the sensuous Afternoon of a Faun (Debussy) and the uber-romantic Tchaikovsky 6. Those faithful readers of the blog know I am a Bronfman groupie. I don't care, you can throw every hot pianist at me, Uchida, Lang Lang and I still think YB is tops. He serves the music, seems virtually ego-less if that's possible, and yet is the most gracious of performers, a teddy bear and truly virtuosic too. Though it's old news to New Yorkers that Carnegie Hall is now gleaming ivory and gold, has chic anterooms for drinking and eating during intermission and a very select looking audience, those of us who routinely visit other more pedestrian venues will here feel euro-sublime. There couldn't be a more romantic place to take a date and there is enough programming and counter programming so that there is truly something for everyone.
In fact if you take your date (or mate) to Courbet and then to Carnegie Hall, I don't see how it's not possible to put them in the mood. They are both the very epitome of enticing foreplay.
Calling all HuffPost superfans!
Sign up for membership to become a founding member and help shape HuffPost's next chapter