Francis Bacon: Three Studies for a Self Portrait
When they think of Francis Bacon, most people think: torment. Tortured and torqued figures, wailing, screaming, headless, chinless, from world and his personal history, portrayed under attack for being gay (which was actually illegal when he began to emerge as a painter) or being political or just being different. Bacon sampled poetry, power, religion, world events, spiritualism, hypocrisy and homophobia in a mix with liner notes that told of isolation and fear. That sense of discomfort you got from the confrontational work turned you on or off; Bacon referred to himself as a "pulverizing machine into which everything I look at and feel is fed."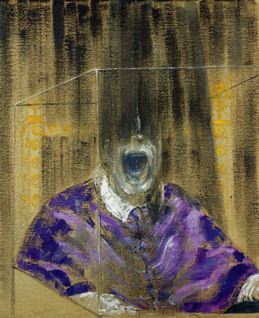 Yet, even though I didn't immediately understand the depth of suffering, I always loved his dynamic, in your face painting, his pushy subjects, his sophisticated colors (oranges -- neon to peach to ochre to muddy brown -- blues -- navy to teal to lavender -- and a luscious avocado). Even the backgrounds, at first glance seemingly one-dimensional, are tricky with floor sweepings and bits of collage that give lie to the notion that he is simply a portraitist who cared only about the figure. The Metropolitan Museum of Art is the last stop on a tour of a retrospective of this spectacular painter.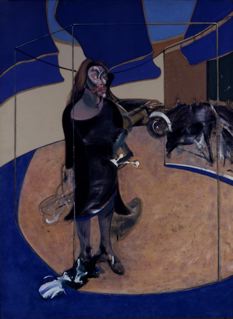 Francis Bacon: Portrait of Isabel Rawsthorne
In 1975 when the Metropolitan showed his work (including the tryptic that sold at auction last year for $86.3 million), I bought a signed poster, all I could afford, which was relegated to an attic as my stuff could not keep up with my criss-crossing of the country.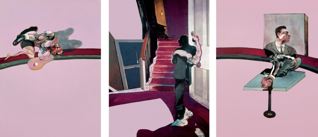 Francis Bacon: Triptych in Memory of George Dyer
When I landed again in NY a few years ago, I quickly retrieved the Bacon and put it next to my bed and in the tiny room you can't help but think how unlike most bedroom art it is. And yet even with his angst and anger over his lovers, Bacon was immensely moving, spewing fractured fairy tales that depict desire as the thing that drives you crazy even as it is the only thing that keeps you sane.
The retrospective is extremely beautiful. Everyone was talking about how the artist normally known for his ugly portraits could be an astonishing colorist, every bit as complicated as Picasso, Velasquez, Matisse and many photographers (Muybridge) and filmmakers (Eisenstein) whom he took as inspiration. His love affairs almost undid him. Yet he worked every day with a protean single-mindedness; the work is testament to his original and fierce view of the world.
I can't help but think a whole new generation of artists will come to the Met and claim his audacity and genius for themselves, his inspirational technique and passion ricocheting off the Metropolitan walls.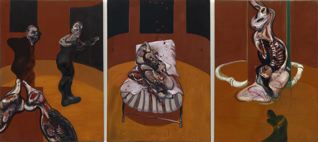 Francis Bacon: Three Studies for a Crucifixion
REAL LIFE. REAL NEWS. REAL VOICES.
Help us tell more of the stories that matter from voices that too often remain unheard.