It should be pretty obvious by now that Los Angeles is not-so-stealthily scooping up among the most talented leaders in just about every artistic discipline. I say this not with any kind of one upswomanship to my home town NYC or to any other capital of culture. There are a lot of shining stars out there.
But the prescient Boards of Trustees of the LA Philharmonic, the Los Angeles County Museum of Art (Director Michael Govan), and the Hammer Museum (Director Annie Philbin) among others have been aggressively seeking out those willing to brave the insane traffic, the counter intuitive social life where setting aside two plus hours for the drive eats up the time you would normally be having dinner with friends or even just getting more time for work in, for a chance to contribute to juicing up a non-traditional city not always known for being on the cutting edge of the next new thing.
This week, Gustavo Dudamel arrives in LA trailing a NYT Sunday Magazine profile, and his own already oversized reputation as the boy-wunderkind and inheritor of the mantle of our beloved Music Director Esa Pekka Salonen, the least likely retiree I have known.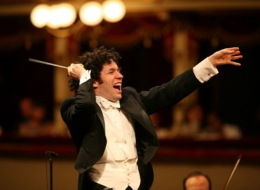 Last winter when Dudamel conducted the LA Philharmonic (with Yefim Bromfman, my favorite pianist), already, right there, you had a combo that almost had steam coming out of the Gehry organ pipes. But Dudamel isn't just a dynamic, rock-star-y conductor. He is someone who has already convinced the LA Philharmonic that just resting on their now primo musical laurels isn't enough; he is out to reshape the way Los Angeles deals with young musical talent. And for me, this could be the most important, the most useful thing that he could bring to the city, and to the orchestra.
As someone who has a flock of inner-city high school seniors to look after culturally ever year through the remarkable auspices of One Voice, I can tell you that by senior year, they are not just craving musical instruments but tools with which to paint, write, horseback ride, and ice skate. Some live a few blocks from Disney Hall but have never been inside any of the Music Center buildings despite outreach efforts on the part of all of those fine institutions.
There's just too many kids slipping through the cracks, not just with health insurance, and food, but with food for the soul, something they desire in equal measure.
Dudamel has youth on his side--like the tennis star Roger Federer, he has a poise and sex appeal well beyond his years. But he also has the moxie and now the clout to make change from the bottom up.
On Monday I attended a conference planned by the LA Philharmonic to energize thinking about replicating El Sistema, the Venezuelan state funded program that puts an instrument in any child's hand by the age of two, in LA. Dudamel, a curly haired charmer in blue jeans and a black velvet jacket, spoke in his half English, half Spanish way about how his father, a trombonist and part time salsa musician had been his first inspiration--he used to conduct an orchestra made of legos, stopping them every once in a while to say, "you're playing to loud over there", but that El Sistema took over soon after and by the age of 12 he had conducted his first small orchestra and by 17 in public performances. His avowed humility, eagerness to learn from the veteran conductors and his fantastic dimples had me at his first hola.
The panelists were realistic--delegates from Finland, from the LA Board of Ed and other academics--agreed that with No Child Left Behind and funding shortfalls already at gargantuan levels, the Sistema knock off would be a tough get and an appearance by the mayor did not offset some skepticism.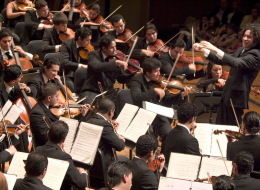 The Department of Health in Venezuela devoted 29 million dollars this year to the program which begat 250,000 students who practice or play two to three hours a day! Thirty professional orchestras have sprung up to accommodate them, and 125 youth orchestras. It's staggering, even though we know that Chavez, who takes credit for the program which was begun well before his time by the visionary Jose Antonio Abreu, is torturing the population in other ways. (Gas is subsidized too, but that turns out not to be a very good thing.)
Deborah Borda, President of the LA Phil has already had the good sense to encourage her Young Musicians Initiative to pull resources for this herculean task from some very good things that already exist in LA--via the Department of Cultural Affairs, and the Colburn School, just across Grand Avenue. Colburn, finally a fully fledged conservatory (full disclosure: husband is architect), has been quietly ministering to some of these talented children from a very early age. (Richard Colburn, despite taking up a great deal of time marrying ten wives dedicated a substantial part of his fortune to educating young musicians--it's a shame he's not still around to give Borda the big time seed money she is going to need). Borda has been inclusive with these other institutional partners she calls "stakeholders" -and she will be have to tap dance to continue to do as little wheel reinvention as possible while at the same time totally galvanizing this new, much broader effort.
Children respond to almost any initiative provided it's done properly, with good teaching and resources. At the first panel during the symposium Monday, there were the age old discussions about sports v. the arts, if classical music can be mainstreamed, and about how music helps your math scores. These are all important, but subsidiary issues.
The main thing is that Dudamel, a Spanish speaking 26 year old dimpled genius has landed in our midst and will help galvanize the political will to get this done. I am resisting the urge to join the skeptics --one only has to look at the documentary about the Venezuelan experience to get teary about what it could do for children in LA.
Dr. James Catterall, a standout panelist reminded those assembled that the true definition of the word culture is "a medium in which to grow things". Here's hoping this initiative can get off the ground and make our medium, the city of LA, already the prime US example of the diverse city of the 21st century into the most nurturing, welcoming, petri dish in all the land.
Tonight Dudamel performed the first of a series of concerts on a national tour (next up San Francisco, Boston and Carnegie Hall) with the Simon Bolivar Youth Orchestra, the creme de la creme of the Sistema program. When was the last time an orchestra and a conductor got a standing ovation on the way in? Leonard Bernstein must have been smiling down as the orchestra opened with the Symphonic Dances from West Side Story in a rousing, mambo-inflected rendition that had the audience (and a cheering section replete with Venezuelan flag) on its feet. The faces of this orchestra are the faces of future and one can only hope that the LA Philharmonic will eventually reflect the cultural diversity of the city in a parallel way. I wished I'd been able to have my One Voice students along to show them anything is indeed possible, somehow, someday, somewhere, right here in LA.