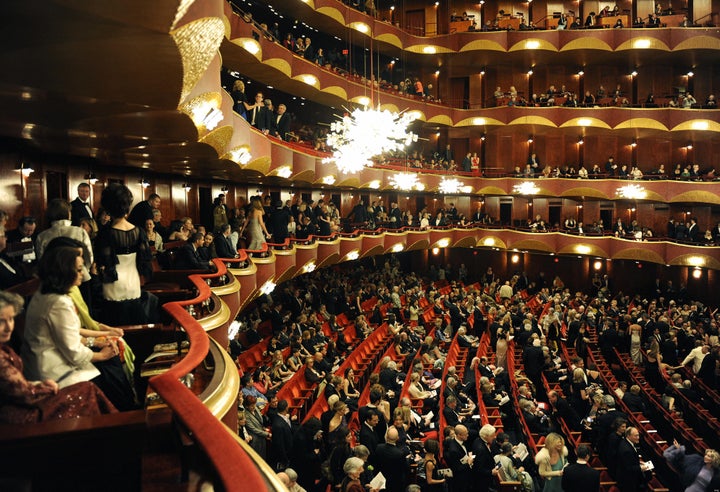 Bartlett Sher, the director of South Pacific revival just next door to the Met Opera is finished with the wash-that-man-right-out-of-my-hair mission and onto a trickier task: washing that man out of four different pretty heads in Les Contes d'Hoffman. Once again, we visit the tragic love affairs of the 19th Century, only this time, it's not one, but four girls and a guy. Those are not the kind of odds that generally appeal to me. Jacques Offenbach, the composer, actually died before he finished it which may say something about how tough the piece was to conceive or more likely how difficult it is to manage so many women at the same time.
Sher says he is interested in the "outsider" themes that Contes offers up which makes his take on the opera unconventional -- yet because the opera was never finished, each director who has taken it on (including Roman Polanski) brings his own outsider backstory along with him. Offenbach therefore provides the template and the rest is up for grabs. Also, it is stories, not one linear story -- and we all know that can either work very well, or feel like you're at four different events.
The libretto has its roots in ETA Hoffman, he of Nutcracker and Coppelia fame, a writer who seems to have been fascinated with dolls coming to life and getting themselves into a heap of trouble. There's one in Contes also, but let me not get ahead of Charles Fabius, former director of artistic programming of the Paris Opera, whom I invited to help me lay out the complexities.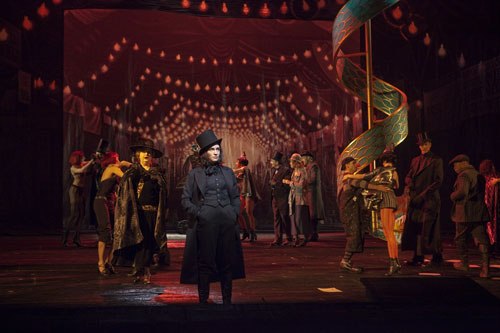 All photographs by Ken Howard for the Metropolitan Opera/Contes d'Hoffman
CZ: Contes was an unfinished opera. Offenbach was coming off a lifetime of operettas. What were his impulses and why did he never finish?

CF: Wildly popular for his politically satirical and sexually "risque" operettas (imagine SNL set to music), Offenbach had developed an inferiority complex towards the great 19th Century Grand Opera composers such as Meyerbeer, Verdi, Wagner and Gounod, who were all the rage in Paris. Offenbach considered himself just as great a composer, an in hindsight, maybe rightly so. By the time his publisher Choudens finally got him a serious gig at the Opera Comique (not quite Palais Garnier, but better than nothing) , Offenbach was already old and sick. Sensing that he would only have one chance, he kept hesitating, changing and reworking the material for Les Contes d'Hoffman.(The Tales of Hoffman) He died before he could even complete the orchestration. Guiraud finished the job and the premiere was a triumph. CZ: Offenbach drew on the same source material as the ballet Coppelia -- the doll that becomes a woman and real enough to fall in love with. (ETA Hoffman also wrote the Nutcracker story). He presents four very different sides of women. What were they and were they drawn from his personal experience?

CF: The four women in the opera can be seen as four aspects of the "eternal female": the virgin, the whore, the Barbie doll and the Diva. The lead character, the dashing young poet Hoffmann, subsequently falls for all four of them (this is pre-eHarmony!), but loses them just as quickly, seeking comfort in wine and music...for sure, this story appealed to Offenbach, who had numerous, much talked-about affairs with his own Operetta Divas.

CZ: Why do you think there is more than one female singer cast? Couldn't one singer, like Netrebko, handle all four roles?

CF: I wish!..Funny, when the Met announced it plans for the new Hoffmann with Anna Netrebko, I simply took it that she would sing all four parts (sing three to be exact, as the Diva Stella is merely a silent appearance). I mean, if anyone could do it, she would, and she would bring the house down! Olympia, Giulietta and Antonia each require a different type of voice, but, all three have been sung by a single soprano before (i.e. Beverly Sills, Joan Sutherland, Mary Dunleavy), even if it usually meant transposing down some of the doll's music. With the four "Vilains" (Hoffman's dark alter-ego) already being sung by the same baritone , the opera gains in psychological density if narrowed down to a "menage a trois" between two lovers and a doom-laden inner voice. That said, Netrebko, who is as much a stunning as a cool-headed opera diva, probably realized that she would bring down the house regardless even if appearing for only 45 minutes as the endearing Antonia (for whom Offenbach wrote some of his best music), and crossing the stage as Stella. So, for the same end result (and the same fee?!), why even bother...?

CZ: Is Bart Sher up to the task of tackling what sounds to be a complicated opera? He has done a rollicking Barber of Seville for the Met and of course, just next door, the perfect revival of South Pacific. But doesn't Contes represent a real challenge for a director?

CF: Contes is tricky with its fragmented, loosely related acts. Some directors are better at one story than at another. Olympia's act (Coppelia in the Ballet world) is usually the "easier" one, Giulietta's, however, often ends up as a Carnival of Venice traffic jam. Few directors have been able to pull all stories together in one phantasmagoric dream sequence, like something between New Moon and Rebecca. I have high hopes for Sher, based on the ominous stage magic he created in Joe Tuner's Come and Gone.The question remains whether his sensibility and great care for detail will pay off on the vast stage of the Met, and whether he will have been given enough rehearsal time to stage all those complicated chorus scenes... CZ: Recently, a new version of Tosca at the Met elicited resounding boos. As someone who was not a veteran of the Zeffirelli version, I found it haunting and beautifully sung, if a bit funky in Act 2 (seeing a three way faux fellatio as a curtain raiser at the Met was certainly unexpected). Does Sher risk everything by presenting a new version of Contes?

CF: Sher not only starts out with great credits, but his productions are never sensational just for the sake of it. He tends to stay faithful to the original material. At least, in spirit. So, I do not foresee a scandal "a la Bondy". And, if Sher lives up to expectations, these Contes could be the absolute highlight of the season, and a welcome cash cow for the Met for years to come.
Contes d'Hoffman appears tonight, and Dec 7, 11, 16, 19, 23, 26, 30 and Jan. 2 at the Met.
Popular in the Community