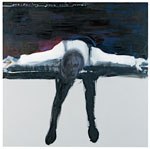 In the no woman's land between artist and public lies a phalanx of people who are ready to tell you what to think: critics, art historians, curators, dealers and your friends. The cacophony of voices who remind you if it's commercial (or not), sexist (or not), or will be worth umpteen millions on the secondary market (or not) or whether having it on your wall will confer a certain status.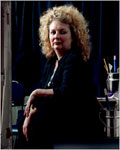 What a pleasure then to hear directly from the artist, to let her tell what made her get up and fight her way to one of her beautiful, expressive, dramatic and powerful paintings. Many artists resist having to explain themselves but Marlene Dumas, subject of the first American retrospective of her work originally at the Museum of Contemporary Art in Los Angeles, and now at the Museum of Modern Art, New York, is all over it. Speaking to an overflowing crowd at the museum, she cheerfully debunked myths others had constructed about her work and her own previous statements which she tried to hurry along, rolling her eyes impatiently as a film compilation unspooled behind her on the stage. How charming was the notion of an artist fighting with her own voice-over!
Dumas, the person, is at extreme odds with Dumas, the work. Known (and dramatically on display at the museum) for her haunting images of sex, birth, death and political repression, Dumas is voluptuous and has wild, frizzy blonde hair, light years from her painted alter egos which include a dead Marilyn, the only work painted especially for this show, because she "lived and died in LA".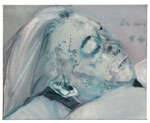 She is unfailingly sunny and has a wicked sense of humor, portraying herself as a harried Dutch hausfrau, genial, and easily convinced by post-talk questioners of various theories. Yet as she describes her daily battle with the canvas, one she characterizes as physical, she betrays her sunny demeanor with tales of iron resolve to keep attacking a subject until she wrests it onto canvas, or conversely, to concede defeat when she cannot summon the right way to translate her copious "idea bank". She admits she has to be scared of her subject matter to be moored to it, to feel threatened by not being able to get it right, revealing too that she actually goes "cold" when she finishes a piece, when finally the passion of getting it right is spent.
Everything about Dumas feels kinetic, yet the images are stationary, frozen in a tundra of repression. Though the bonds are only occasionally visible, the straining at them is visceral. "I'm not so good when I stand still", she warns at the beginning of her causerie (lecture too defined for what transpired). Dumas does not work from life or from actual models. Born in Capetown, South Africa where she "didn't see anything growing up" (she shows a slide of the museum there where she had a retrospective, its vegetation whiplashed by the fierce winds) and then going to art school where the doctrinaire methodologies (Don't put the figure in the middle) made her crazy, Dumas has replaced the real world with thousands of photographic images she files as she sees things that strike her in some way. (My impoverished file keeping already acknowleged re: Twyla, does good file keeping a genius make?). She points out images of Malcolm X, Lumumba's wife and Japanese art that eventually made their way into her work.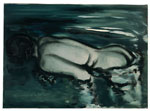 The galleries at MoCA and MoMA are thematically organized, not chronologically, so we get to see how she has changed (or remained the same) in her attitudes as paintings from different periods bump up against each other; sometimes this feels literal: a Bin Laden stares away from a series of corpses, a pole dancer sans pole seems to dance for a private client.
A dead man in what appears to be a deep turquoise pool (Dumas does not paint background imagery) is in the first gallery while what seems to be a companion but is ten years later, a woman face down appears in a different gallery. Figures that recall Buddhas (Martha), the night of the Living Dead (Evil is Banal), Goyas (The Believer and The Missionary) both echo and transcend the source; the Model with her African-ized pre-cubist face or the Death of an Author recall Picasso's Demoiselles d'Avignon or his sad early painting of his friend Cassagemas's premature death.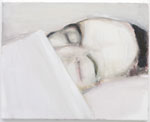 She's not afraid to be compared to other artists and says she often hasn't seen their work until afterwards, but she confesses to understanding herself better by reading what others have said about their own work, not only invoking nineteenth century artists Van Gogh but twentieth and twenty first century artists Otto Dix and Lucien Freud--companion to her in being in the auction stratosphere(she was only recently displaced by Louise Bourgeois) and Damien Hirst and Gilbert and George, and photographers Diane Arbus and Richard Avedon, whose confrontational, full frontal, large scale photographs do indeed recall Dumas work. She remembers thinking as she walked through Avedon's retrospective at the Metropolitan Museum--if he can do it, why can't I? Similarly, she summons Francis Bacon and De Kooning as rebels with a cause, her cause, the one that tries to defy preconceived rules.
So inclusive, and so honest! What a relief!
Many artists now use photo-based images: for a while it was considered very cheap and not as important as those who worked from life. But now, with everything digital, those hierarchichal distinctions have mostly disappeared. The work doesn't stay with its source though, instead functioning as fuel to ignite her tussle with the subject matter, the same way, she says, that certain problems in life keep coming back.. Art is an "exorcism", freeing you from a "dictatorship".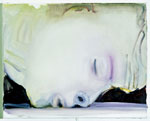 She is not afraid of depicting terrorists as real human beings, sexualized like her strippers (like Gerhard Richter whose series on the Bader Meinhof gang is iconic) and Bin Ladin as an almost Christ like figure. She draws the connections between disparate and desperate subjects. Is the subject of The Kiss a detainee or woman who is being tortured?
And how does she feel about the images of sex which are sometimes sexy, but also harsh; a series of strippers, of very tight shots of pubis (she likens this to Courbet's Mystery of the Origins of the World, or of fingers splayed on a behind, or of high heels and bondage, of very large, vertical girls who challenge your gaze but maybe just because they are bored with thousands of viewers who like johns are really only interested in one thing. A watercolor of Simone de Beauvoir (whose book The Second Sex is still right up there in my pantheon of great literature about women) shows that Dumas is culling from all media. She quotes something written about Wolfgang Tillmans, one of art's emperors, that he is " anally friendly", laughing at the analogy to her own, extremely heterosexual, work. When she began to paint the images drawn from pornography, her mother urged her back to Picasso.
I notice that the men in the galleries looking at these images are up close and not afraid to approach the hugely erect penis or the wide open vulva while the women stand slightly further back. Are they erotic? You bet. Are they scary and harsh? You bet. Dumas says she is commenting on pornography, that the underlying imagery was much harsher, but even these watered down versions, if they indeed are second generation, cause one to flinch. The conversation about commenting on pornography as opposed to being pornographic is still being had and it would be interesting to hear readers' thoughts on this.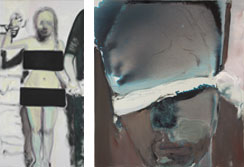 The notion of bondage, whether to an ideal, against an ideal, to a person, against a person is deeply embedded in the work. She reminds us that men are said to make history, and women, autobiographies and that she resists this stereotype, but a famous (male) filmmaker I mentioned the quote to said he finds autobiography much more intriguing (so do I). And no, Dumas laughs, in response to the unspoken question about how her career took off, she never went to bed with museum directors.
But she has asked herself, how to do you paint the end of a relationship? How do you indicate without words, what two people have meant to each other? And she manages to do it, rendering the awful pain of separating from someone you thought you would be close to forever by juxtaposing the head of one lover on top of another, no longer side by side, looking in entirely different directions.
The titles of her previous shows (titles, she says, come after the work is done, she does not paint to a theme) are Unsatisfied Desires, Private v. Public, Eyes of the Night Creatures, Mankind and now, the title of this exhibition, Measuring my Own Grave.
Dumas says cannily, "Artists want everyone to want them, but they don't want anybody" But I didn't feel that way at all about her. She seemed to be graciously inviting us to partake of her world despite its emphasis on fear, that to try to understand it is to meet her halfway and she couldn't ask for more than that.
Where, asks Dumas, is the meaning of something? How do you stack up what is going on outside, in the world, against your own personal fears? How do you take Afghanistan and the Taliban and Snow White and the Seven Dwarfs in the same lifetime and have them convey a new mythology, a personal one? Can you measure your own grave by extending your arms like an angel, a wingspan away from understanding? Can you control every last bit of your destiny, down to the size of your coffin?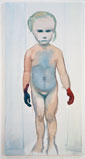 Dumas may depict herself as a baby with her hands filled with paint, or blood, the yin yang of the artist as innocent channeler of emotion or as weapon of destruction. Either way, though her subject may be fear, she, herself, is fearless.
A selection of recent web addresses for Dumas with links to the NY Times interview and a You Tube selection of her works:
Following its debut at MOCA, the exhibition is now at the Museum of Modern Art in New York until February 16, 2009 and The Menil Collection, Houston, from March 26 to June 21, 2009
All works are by Marlene Dumas and courtesy of MoCA.
REAL LIFE. REAL NEWS. REAL VOICES.
Help us tell more of the stories that matter from voices that too often remain unheard.