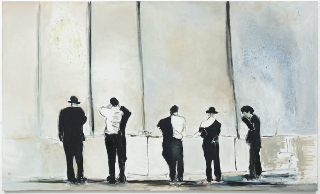 We are so fortunate to have at the moment an abundance of artists who engage with their audiences, with politics, and very deeply with life. Some are decried as having become too commercial. What does this mean exactly? Yes, they make money from their art, occasionally a great deal. But isn't it also that they have found a way of connecting to a larger segment of the society? That they might be ready to take on issues that seemed not to be part of their daily brief?
Marina Abramovic, William Kentridge and now Marlene Dumas come to us with huge reputations and significant bodies of work. But that should not mean that we resent their success. An artist can look at something and present it to us in a new way. Now, more than ever, it seems, we might need their help to distill the overwhelmingly complicated and hostile realities confronting us. Recently, So Much for That,by Lionel Shriver, a novel about health care has received positive attention for the willingness of its author to grapple with contemporary issues.
In a letter solicited by her new gallerist, David Zwirner, Dumas explained why she became engaged in the hot political topic of Israeli-Palestinian relations, saying, it is "because the rhetoric of South African apartheid feeds my distrust of definitions and at the same time my longing for them. The naming of things and people. The spirit of the Law against the letter of the Law. The artist as some stuttering Moses having heard the commanding voice from the bramble bush."
Marlene Dumas's choice to extend herself and her art into new realms joins a confluence of world events this week well-timed with the opening of her new show Against The Wall at the David Zwirner www.David Zwirner.com Gallery in Chelsea. Israel announced new East Jerusalem settlements during a Joe Biden visit meant to relaunch talks which instead launched a war of words and heated sentiment between Benjamin Netanyahu, Hilary Clinton, various ambassadors and envoys and a fusillade of reaction in the White House (Stop!), in the conservative Israeli press (Go!) and in the world (What are they thinking?!).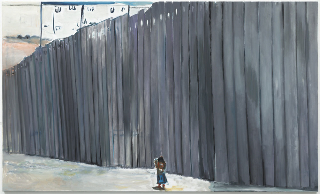 But Dumas didn't need another flashpoint of disaster between the Israelis and the Palestinians. She already had chosen her moment. Her point of departure for this new series of work at the David Zwirner gallery was a news image she had seen. At first thinking it was the wailing wall that was pictured, (the men do indeed look practically prostrate as opposed to prayerful), she then realized it is the barrier to Rachel's Tomb, which is located at the northern entrance of the West Bank city of Bethlehem.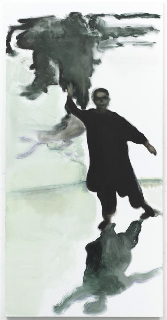 Oddly, Dumas has never liked painting architecture or backgrounds or perspective narrative space. All of a sudden, this wall extruded a desire to expose the self-deception of everyone who has a vested interest in keeping this wall up and made her leap over her previous concern. The large paintings therefore are situated in real 3D space. Dumas also quotes Susan Sontag, Desmond Tutu, rabbis and Palestinian sages in the catalog to buttress her conviction that limiting access is the wrong way to proceed.
We are lucky to have Dumas, and other artists, help focus our attention and see this, and other dilemmas from a new perspective. Shouting matches, op ed columns and blogs can sometimes add noise but not necessarily enlightenment.
All images courtesy the artist and David Zwirner David Zwirner Gallery
Support HuffPost
The Stakes Have Never Been Higher
Related
Popular in the Community