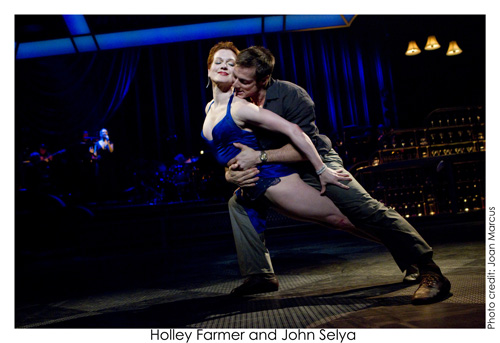 If you grew up dancing in the living room to Songs from Swinging Lovers, (reissued on CD) like I did, maybe you would understand just how much I anticipated seeing Tharp's new dance hybrid Come Fly Away.
It wasn't just that I had pride of place in these after work or weekend turns to Sinatra (and the Mills Brothers) around our sunken living room floor; it was that I thought my father was Frank Sinatra, or at the very least, separated at birth. He had the same angular face, the wiry body, the look of the boy from the wrong side of the tracks having landed (himself) in (relative) splendor, and he would do an early, audacious karaoke. Sinatra was linked forever in my mind with dancing -- and getting attention.
I knew that Tharp must have felt something of this too when I saw her Nine Sinatra Songs ("Strangers in the Night," "All the Way," "That's Life," "My Way," "One For My Baby [And One More for the Road]," "Softly As I Leave You," "Something Stupid," "Forget Domani"), her first trip down memory lane with Old Blue Eyes created for her own company and then the follow-up Sinatra Suite she remade for the American Ballet Theater (with elegant costumes by Oscar de La Renta). Sinatra Suite took the grace and unerring cadence that was Sinatra and embodied it and the longing that was in every phrase he sang. (Here's a peek at the original, danced just recently by the Sacramento Ballet.)
But this week at the Marquis theater, I was no longer so sure.
We all know what can happen when there is a thing, and someone has the idea to "expand" it. Twyla's second pass at Sinatra seemed to me the perfect one, the one that made you float up the aisle afterwards (especially when Misha was dancing it) In Sinatra Suite, the pas de deux to "One for my Baby" is so sexy and romantic as to be pre-coital. And Tharp was the first person to make me feel like "My Way" was part of the canon, with her twinkling disco ball that descended as the men lift the women in concentric circles.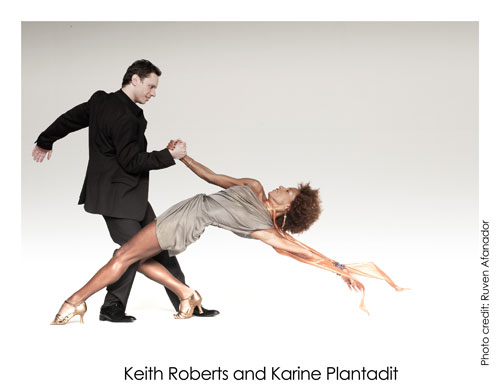 Sometimes, then, a do-over can work. And then other times, the jewel quality of the original is lost in translation. This is I fear what has happened with Come Fly Away.
The dancers are wonderful -- of that there is no doubt. At least one trained dancer, Rika
Okamoto, actually teaches Tharp technique, but Laura Mead also channels Tharp and Sinatra brilliantly, a lovely combination of sexy and small town. Another, though, Karine Plantadit, who was an Ailey dancer, grimaces, writhes, speaks French and plays shamelessly to the crowd. Her aggressive style of dancing has a harshness that works against the golden pipes.
Tharp is no longer about turning convention on its head -- she is now as much a part of the dance canon as Sinatra is of the musical one. But there's an overall marked sense of hamming it up, and distrust of the pure dancing and the pure music, that has certainly been driven by the Broadway imperative, or at the very least the drive for narrative. I guess they feel they can't trust Broadway audiences like they can trust dance audiences to be sophisticated.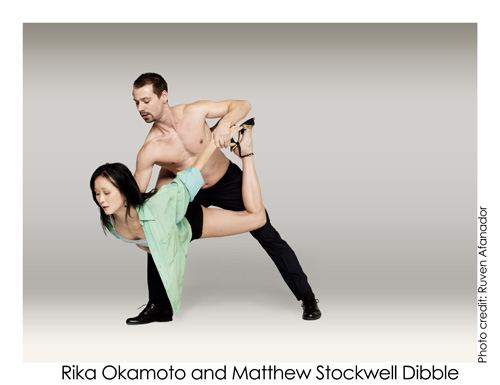 It's a shame, because some things are still appropriately pared down: the nightclub set derived from the original ballet makes sense in the tiny bits of narrative linking that Tharp has imposed. The singer Hilary Gardner -- who scat sings, has a few solos, ("Crush on you," yum) and a number of "duets" with the recorded Sinatra -- is wonderful and deserves a spotlight, as does the onstage band, easily enhancing the original recordings.
So all hands are top flight. But Come Fly Away never truly takes off.
Of course, some would say that even not perfect Sinatra or not perfect Twyla is better than almost anything else, and when the strains of "I've got you under my skin" come up on the (over)loud speaker, you do melt a little. But it's not witchcraft.