I am sitting in the lobby of an apartment building so close to Lincoln Center that you could probably stick your head out the window and deliver a performance. In a moment, a flurry of activity: two young women negotiate grocery bags, a stroller, and an icy-cold wind at their backs as they make their way through the revolving door.
They could be any two sisters in the world, but they are not.
One is perhaps the hottest young international opera star, Anna Netrebko, the Russian div-ette who has just had a baby with glam baritone Erwin Schrott.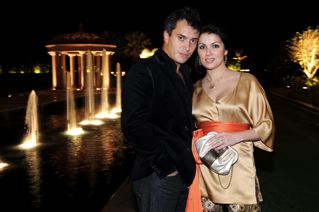 Netrebko & Schrott April 2008 in Abu Dhabi
I check out Tiago (short for Santiago, Erwin is from Uruguay), the baby... with ruddy, chubby cheeks, a fab, punkish looking head of hair and big eyes.
I can't believe I am this close to a woman whom I saw last year, half naked, suspended on a bed from the ceiling of the Metropolitan Opera, a Juliet who finally was shown to actually be hooking up with her Romeo, and who just the night before, after barely having given up nursing and flown in from Russia, delivered an astonishing performance draped over a flight of 26 stairs as Lucia, a woman gone mad because she has had to give up the man she loves because her brother has forced her to marry the guy who will save the family fortune.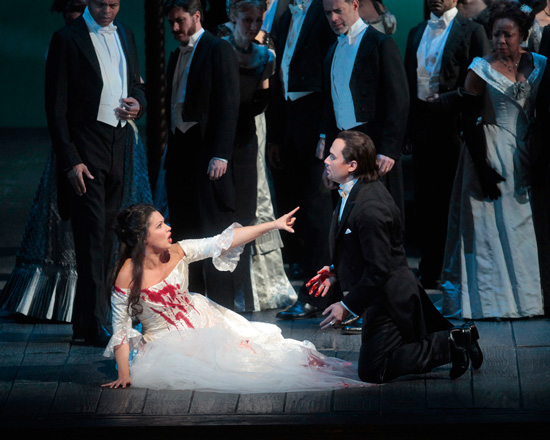 Anna Netrebko as Lucia. Photo by Ken Howard, courtesy Metropolitan Opera
This is a girl after my own heart: this is a girl who thinks big.
As we all ride the elevator upstairs to Netrebko's New York apartment, I tell her about my babies born in N.Y., also in the winter, one of whom was so colicky I used to have to take him out in his carriage and run up and down the cobblestones next to the park so he would settle down and fall back to sleep again. I tell her I have done the boy thing four times over.
I think then, instantly, I am seen not just as the journalist come to call, but a mother, another woman, one who has had to do her share of juggling. And pretty soon, as we sit perched on stools next to the bar as Netrebko makes me a cup of tea, she jokingly asks if I want tequila... and I tell her she will do fine in LA. (Already wowed LA in a knockout performance as Manon, reconceived as a pole-dancing hottie.)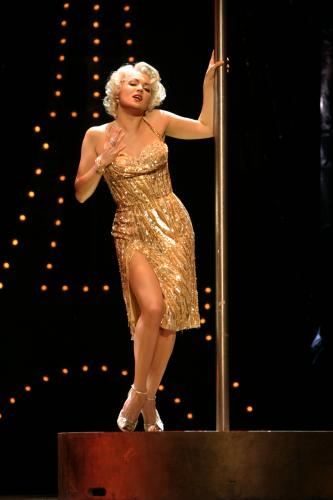 Anna Netrebko as Manon. Photo by Robert Millard, courtesy Los Angeles Opera
And then all at once, I am handed the baby and am bouncing him on my knee. This, I know how to do very, very well.
But the other part, the one where you have to risk everything and stand up in front of four thousand people (sometimes, in her free, open air concerts, up to sixty thousand) and either wear very restrictive gowns or take almost all your clothes off and then deliver an aria and have the most discerning critics examining, literally, your every breath and intonation, this, I can only imagine in my wildest nightmares.
Netrebko is known to be a moving and exciting singer, both rich and clear, who commands the stage with her slightest trill (in Lucia riffing with a glass harmonica), her smallest gesture.
Still, especially after a performance she had barely enough time to rehearse for, after six months off, and a performing partner (tenor Rolando Villazon) either under the weather or his own demons, who had forced an emergency illness alert before the third act by Met General Manager Peter Gelb and thus some critical restlessness, I had imagined she might be a bit low. But unlike Maria Callas, with whom she is often vocally compared, Netrebko is not a tragic figure but a resolutely optimistic person, one who was reportedly "chill" before the performance. Arianna, who wrote about Maria Callas, would recognize in her the same throw-yourself-in-front-of-a-bus kind of performer, who constantly challenges herself.
Then, at intermission, I heard from a reliable source that Netrebko had been running around backstage gloating about her first paycheck in six months!
I don't blame her in the least. We're all alike. We are all dying to have babies, and then we are petrified that no one will ever hire us again. We fear losing the thing that makes us special. We think our talent, and we, will disappear if we step back, even for a moment.
How brave then! There is a mix of Russian peasant, bad girl, good girl, fun girl. But under it all: a steel resolve to be the best, a hard work ethic that could easily be chipped away by cranky critics and paparazzi. In New York, she can be the anonymous mother; in Europe, she is followed everywhere, and the quest for baby photos is apparently on the order of the Brangelina brood.
Tiago, himself a sturdy, happy thing, is very much cast in his mother's mold. Still "a Netrebko" because Anna and Erwin have not yet married (she tells me he is far away, but not where. She would like to get married, but "when, where, how?"), Netrebko is at pains to refute the notion she put forth only a year ago in the New York Times that she had mixed feelings about having a family. But even on a good day, when they are in the same city, two superstars in demand cannot have it easy.
After a short show and tell, Tiago goes into the bedroom for a lie down, soon to reappear, quite happily, in his little seat to hang with us, cooing and smiling. Netrebko says he sleeps through the night and I tell her it's only because babies sense these things: he knows his mother is a famous opera star who needs her rest.
When I add that a lot of American women who have children complain of being torn, she affirms, "The grass is on the neighbor who is greener."
And I actually think that says it better that way, positively environmental!
Though Netrebko lives part time in Vienna, she thinks of New York, too, as home. She has "always loved this country" and describes it as a "fairytale," a "Disneyland" with "bright stuff," where "people are happy." And let me just say, she is a great, bright addition herself. Though Escada has dressed her for lots of concerts and recitals, Anna is going with the designer to the stars, Oscar de la Renta, for her Vanity Fair shoot today. Personally, I love her in the short black and white striped sweater dress, black tights and brown suede lace-up boots she is wearing, with a Russian-inflected thick white wool hairband, entirely opposite the mad, faded aristocrat with whom she was communing last night.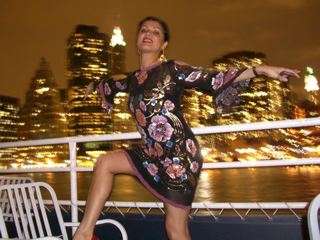 Courtesy Sean Michael Gross
Though motherhood, she says, has changed her, not only singing with "a full voice" but shaded, with "dynamism," this is not a girl who is withholding.
She had a little trouble with the pole in L.A. -- "three times the size it was supposed to be" -- and she was spinning and shaking, the dress was so tight she could "do nothing." Did she have to take pole dancing lessons?
No, she smiles seductively, she knew how.
She complains of being seven kilos overweight still (she just stopped nursing!) but also laughs on herself since she knows when she and Erwin relax by watching videos at night, it's over a tub of Haagen-Dazs. I love the way she looks, voluptuous and sexy ( a very different energy from Wendy Whelan) which just shows, girls, that there is more than one way to keep them hanging around.
When I suggest she do an open air concert in Central Park -- in the past she had done a lot of these free concerts, so people who can't afford the price of a ticket get to see her -- Netrebko counters with, "I'd love to sing at the White House." Then I heard from another connected Obama friend that Gustavo Dudamel had approached him on the same subject.
Memo to Desiree Rogers: Glastnost, a la Anna and Gustavo, what could be a better way to thaw U.S.-Russia-Venezuela relations!
Netrebko knows life throws you curves and she is prepared, eager, to deal with that. She is always "working, fighting" to "make things useful," instead of "running" and never getting anywhere. I tell her that the reason opera heroines are so meaningful to me, even though they are 19th century (Mimi, Violetta, Manon)is that they are ruled by longing and desire. And after reminding me with a laugh that "they all die!" she agrees. "Desire is driving us, for good and for bad.... If there is no desire, everything is empty, gray, sad.... You might make a mistake, but at least you are not staying in the same place."
And the corollary to that: that you have to "appreciate what you are having or you never will be happy, if you are very 'selecting'" (she means selective, but I like her way of saying it better), you will "never taste anything."
She even surprises herself, going "15% over the top on the stage" of what she anticipated. "How can I do that?" she wonders retrospectively. "From where I can take this force?" She is feisty about conductors, whom she says, "hate me", because she is fighting for new interpretations of the music, "Donizetti, Mozart," the sacred cows of the opera repertory.
Though a contemporary opera is not around the corner, she wants to eventually do one, and I think she would be fantastic -- she has the chops and the audacity, though she is concerned about the ability to sing in English for the moment. Anyway, she is booked solid through 2014.
Imagine knowing what you are going to do almost every day for the next five years!
Netrebko does "coaching" working with a pianist to keep in the groove, and growing as an artist. Though needs now imposed by the baby have restricted her further, she tries to see films and plays; when she was at the Music Center in L.A. she remembers enjoying Doubt with Cherry Jones, playing right next door at the Taper.
And she does have 4,180 Facebook friends.
I'm told they are talking to distributors about getting her film La Boheme out in the U.S. Just check out a clip from Netrebko's website, all you girls who have been waiting patiently for your guys to finally show up with a candle to light the way. (And finally, be done with Rent, really a poor substitute.)
How can we "get" the next generation of opera lovers, like readers of Huffpo? Netrebko says, "It's the sound of voices, the live sound of the orchestra, the instruments... [because] it's not on a computer, it can be risky and amazing."
Check out her albums.... My favorites are the most recent one, Souvenirs and the Russian Album. Her current fave: Rihanna!
When it's time for me to leave, Anna picks up Tiago and swings him around in the air. Underneath the bon vivant extrovert diva lurks a mama.
Though the performances of Anna Netrebko in Lucia at the Metropolitan Opera are sold out, you can see it in HD at your local theater on February 7th. Then, there are a few seats left for her performances as Violetta in La Traviata in San Francisco in June.
Popular in the Community