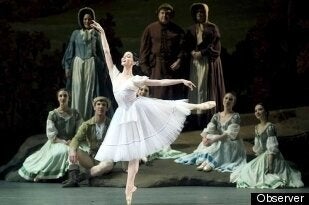 All the way downtown on the subway and over to Hell's Kitchen where towering new apartment construction abuts the Lincoln Tunnel, I am thinking -- with not a little trepidation: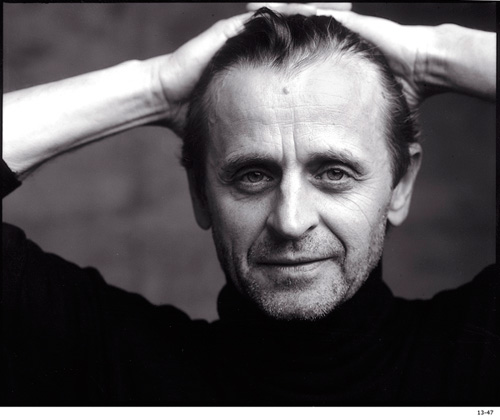 Photograph by Annie Leibovitz, courtesy Mikhail Baryshnikov
For an ex-dancer, even one whose career was long-ago nipped in the bud by a mother who didn't believe ballet was a path likely to produce a house in the suburbs and 2.2 babies,
I find myself walking a little taller, the slight turnout that sometimes imports vestigially when I even think about a ronde de jambe as I cross the scaffolding on the overpass.
But my pilgrimage is not about my dancing, or even, really, his. I am coming instead to talk to a master of self re-invention, to find out how you can shape shift repeatedly and still come up smiling.
They say everyone has four or five careers now, but not everyone has the potential to fail with the eyes of the world upon them. Baryshnikov, Russian superstar dancer-actor-impresario-photographer-father, pays this no heed.
Most of his decisions about career shifts "came from the heart", anyway, he insists, and were not premeditated. (Check out the vast YouTube library, which documents his career.)
Misha greets me in a small conference room atop his now three-year-old Baryshnikov Arts Center, a home for itinerant dancers and performers of all stripes, his elegant, wiry frame still fit and ready for action. In between raising money for his new theater (home to the Wooster Group), acting as a facilitator (he hates the word "mentor") for other dance companies, being a benevolent landlord, honing his photography, being a "better" father to his four children and grandchildren, Misha is planning a round-the-world tour of a new series of dances with Ana Laguna in late spring, choreographed by Russian sensation Alexei Ratmansky, the American Ballet Theatre's Artist in Residence, Mats Ek and Benjamin Millepied.
Yet he opens with, "I don't know what or who I am," later reiterating, "I really don't know half the time what I am doing." He is overly modest, claiming he, "never had any reputation," ceding pride of place to "friends" like George Balanchine or Jerome Robbins, who guided him while they were still alive. Though he admits to some "mistakes," left vague, his eagerness and enthusiasm, even overlaid with a bit of weariness, shows through.
When I ask him if he reads the Huffington Post, he says with a twinkle, "like Governor Palin, I read what's put in front of me." At first a "Hillary" supporter, he lined up for Obama when he became the candidate and they share a number of the qualities of compelling leaders.
Like Obama, he relies on a "collective" decision-making apparatus, one in which everyone's opinion around the table is taken into consideration, preferring a "chamber" way of working: small, intimate, and where presumably he can still have some measure of control.
And like Obama, he is an agent for change.
But there is something a little bit different about dancers than, say, the Cabinet.
"We're a little bit like a bordello," he confesses wryly. "We wait for the kindness of strangers."
And he singles out Obama's "wife and children" as his most impressive accomplishment, that the way they comport themselves "says a great deal about who he is as a parent and human being." In fact, his tone changes to regret only once during our chat, when he confesses to being a "quite-absent father," presumably one of the "mistakes" with which he is "trying to catch up." His own children are 14, 16, 19 and 27, the eldest the child he had with Jessica Lange.
He is the first to admit: "some young people have old souls."
Yet even showing me around the studios later, or chatting with Hugh Jackman, who has come to present himself between rehearsals for the Oscar number he's working on, one sees the deference, the homage that's paid. Misha's goal of putting creative people together with the express intention of having them rub up against each other has worked at BAC and plans for its expansion continue deservedly unabated even in the current economic climate.
I can only imagine, two men in the same building who dance on air!
Misha doesn't teach except for the rare master class -- he's more comfortable giving advice only when asked. He is self-deprecating to a fault: one wants a little bit of the Russian impresario to emerge, just because, well, he is larger than life and we have so few heroes left anymore.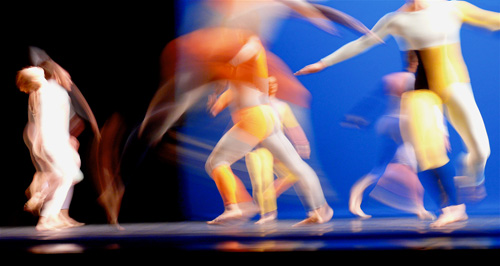 He had fun with Sex and the City and his other movie work, but does not seek it out. Things and people seem to come to him; he has the easy charm of someone who doesn't have to fight for attention. Yet there is a gravitas that alternates with the charm, one he says all artists have as they experience the "exaltation versus the depression, the shifts of mood... Nobody loves being unhappy," or being a "brooding soul" (even if that's what we expect from Russian literature), yet it comes with the territory of "chasing something that is not quite manageable."
Baryshnikov could have long ago put his masterful feet up and sat back and rested on his considerable laurels.
But he still seems curious about so many challenges and is one of those people who begins each morning by "thinking about moving forward."
"What is this day," he asks himself as he gets out of bed , "going to propel you to do?"
After a whirlwind tour in Europe, Misha alights in Los Angeles September 4 and 5 to launch the second season of the Broad Stage. Director Dale Franzen rightfully boasts, "The Broad Stage is intimate but world class theater, with extraordinary acoustics in a beautiful and accessible setting with free parking in the heart of Santa Monica. We are honored this season to have iconic artists like Savion Glover, Placido Domingo, Juan Diego Florez in addition to the best of emerging artists in our Under the Radar series in our black box Edye Second Space. Something for everyone -- dance, jazz, chamber music, vocal/opera and world and more."