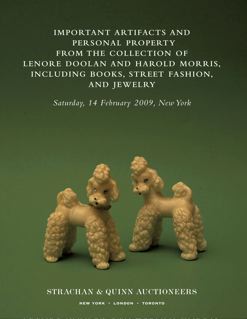 Here's the concept: an ex-couple auctions off the accumulated detritus of their relationship. Meticulously documented like a real auction catalog with lot numbers, estimates and photographs, the arc of their love affair is laid out for all to inspect, everything from the early days of excitement and nervousness to the middle years of coziness to the end-stage tears.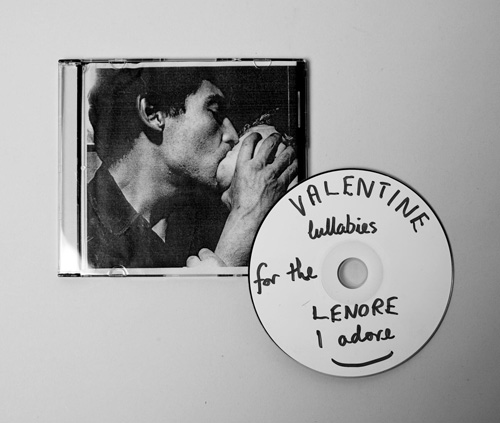 LOT 1044 A mix CD A CD titled Valentine Lullabies for the Lenore I Adore. Cover is a photocopied portion of an Ed van der Elsken photograph. Song list: Johnny Cash, "If You Could Read My Mind" / Björk, "Bachelorette" / George Harrison, "My Sweet Lord" / Bee Gees, "Hold On" / Nick Drake, "Northern Sky" / Caetano Veloso, "Love Me Tender" / Yoko Ono, "Mrs. Lennon" / John Lennon, "Oh Yoko" / Neil Young, "Bandit" / Beth Orton, "Dolphins." 43⁄4 x 51⁄2 in. $20-30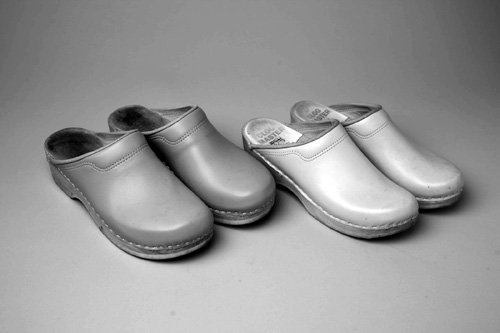 LOT 1037 Two pairs of clogs Two pairs of clogs from Sven of Sweden, 4401⁄2 La Cienega Boulevard. One pair powder blue women's, size 8, the other red, men's size 11. Some scuffing to leather. $30-50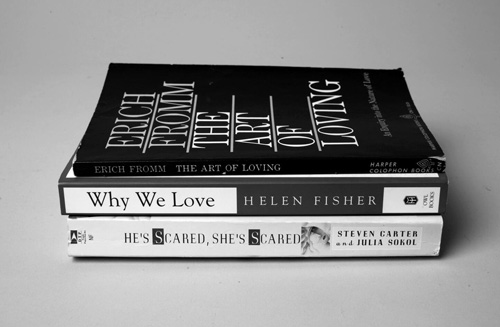 LOT 1258 Self-help and relationship books The Art of Loving by Erich Fromm (Harper & Row, 1962); Why We Love by Dr. Helen Fisher (Henry Holt and Co., 2004); He's Scared, She's Scared by Steven Carter and Julia Sokol (Dell Trade Paperback,1995). $20-30
Leanne Shapton, whose brilliant execution of her concept is evident on every page of this very affordable book ($12.24 at Amazon!) is certainly the cleverest woman I don't know: she has made sour cherry tarts out of coconut cupcakes.
Why is Ms. Shapton so effective? Things start off well enough for Doolan and Morris, her protagonists, but Shapton cannily plants the seeds of their doom and by lot 1148 you have certainly got the drift: Doolan is a smart woman looking for a steady, permanent partner, someone she can count on, and Morris is just another (talented) commitment phobe. You are drawn into their heartache by the precision of Shapton's choice of objects and images, everything from the quotidian [Two pairs of clogs, Lot 1037, plastic room keys, Lot 1133] to the chichi [,Tiffany Key Ring, Lot 1189] and their unerring, spot-on descriptions; lists of pros and cons Doolan makes as she muses about whether Morris is "the one," playlists of the CDs Morris gives her in the beginning [Valentine lullabies,Lot 1044] and increasingly guilt ridden baubles in the end [Hermes Watch, Lot 1307].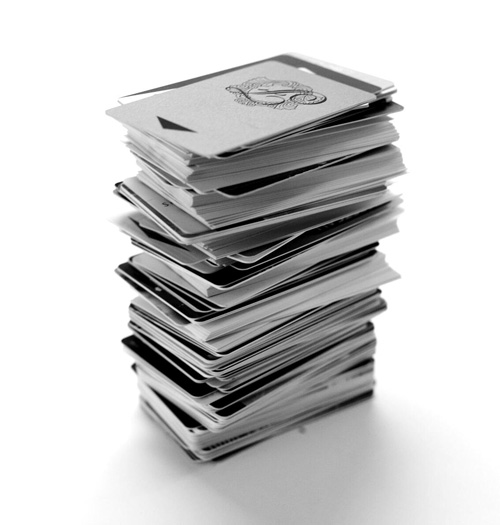 LOT 1133 A collection of hotel card keys One hundred and fifty hotel card keys, various locations, kept by Morris from his travels on assignment. 21⁄8 x 33⁄8 in. $10-20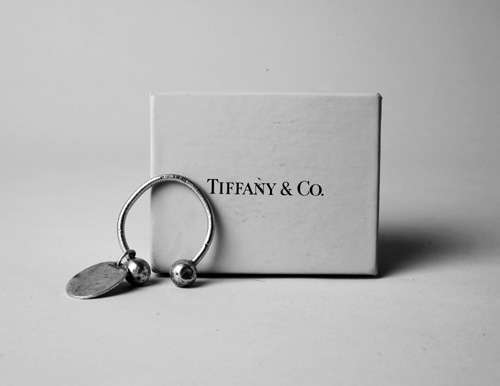 LOT 1189 A Tiffany key ring A sterling silver Tiffany key ring. Some wear and scratches. Included is original box. 11⁄2 in. in width. $50-65 Given by Morris to Doolan with a set of keys to 11A Sherman Street. Engraved tag, barely legible, reads "L."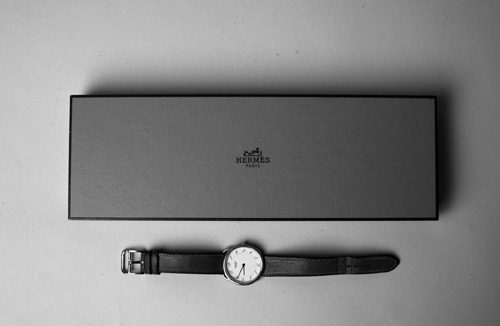 LOT 1307 An Hermès wristwatch An Hermès Arceau women's wristwatch with blue calfskin watchband. Some wear to band, otherwise good condition. Included is original box. $500-900 Included is a handwritten note from Morris to Doolan reading: "I did not handle that at all well, and the circumstances were terrible. This is for you, and in apology, and though it wasn't meant to be this time, perhaps next? Love, Hal."
Plus Doolan, a cake columnist for the New York Times, and Morris, a photographer, are so artful, tucking notes into vintage books and homemade cards, making each Playbill from things they see together the backdrop for poignant epistles in the dark.
Self-help books [Lot 1258] always tell you to get rid of everything after you've broken up. No more saved emails or music or photos. Shapton reverses this homily. Besides suggesting we all have interesting lives (its not just St Laurent and Jackie O who had good stuff) she posits we can actually take the sting out of the breakup by making a little scratch off it. Part of the charm of this book is that it confers on all of our collected junk a certain weightiness that is very appealing. Life truly = art.
It made me stress about my file drawer and cardboard boxes haphazardly stuffed with years of memories of ex-bf's -- none of which is cataloged. (My sis-in-law is the scrapbooker-cum-historian in our family) When I venture to open them (usually in an annual fit of nostalgia brought on at tax time), I am always surprised by the contents. While that element of surprise is refreshing it can also be horrifying: what if the earthquake slash mudslide slash fire comes and wipes it all away?
We've all had our own sad experiences with the break up: the gradually lengthening separations, the tortured emails and phone calls, the repressed anger, the notes left on the fridge that bespeak misery more than milk.
Shapton is not alone in mining the breakup biz. Sophie Calle is a one-woman cottage industry of breakup. (Her new show Take Care of Yourself opens April 9th -- it's about the shock and pain of the breakup email, and her subsequent revenge that enlisted scores of friends and colleagues.)
And Rachael Yamagata's recent album of love songs is about the breakup. The last lines of Elephants says everything you need to know about arming yourself against the vagaries of amour gone south: So for those of you falling in love/Keep it kind, keep it good, keep it right/Throw yourself in the midst of danger/But keep one eye open at night.
Leanne Shapton takes a minute at the end of a long day art directing the NY Times Op-Ed Page to go Off the C(H)uff with the Culture Zohn, who was extremely nosy about the truth behind this marvelous book.
CZ: Lenore works at the NYT. So do you. Is Lenore you?

LS: I was offered the NYT job a couple of months before I finished the book, so no, I am not Lenore, but it was a funny coincidence. I do have some Lenore tendencies -- I obsessively make cakes, and lists... but I am actually a little more like Hal, though Hal is also a composite of a few close friends and ex-boyfriends.

CZ: Adam (Gilders) gets the dedication, but James Truman the love. Hmmmm.

LS: Adam was a very dear friend who died in March 2007. For Christmas in 2006 I gave him a couple of Truman Capote's scarves I got post-auction, and a copy of the catalog. The book was in part inspired by that catalog and obvious feelings of loss-- and thinking hard about the histories you share with people.

CZ: It's a cliched question, in other words, but is this your story?

LS: Yes and no, obviously a lot of that crap is mine, and many of the feelings of romance and frustration are drawn from my experience, but their particular love story is totally invented. In a way, having to prop their 4 years together and invent their scraps of paper and write their postcards put distance between me and them, and filled them out as their own characters.

CZ: Are details culled from friends you acknowledge in back? Your own life? Combo?

LS: Many details were culled from my own life yes, I have a problem with throwing things with any sentimental value away. I would talk to my friends about what they held onto from past relationships, what they burned, flushed or threw away. There are not very many incidents in the book that are taken from friends anecdotes, but those conversations helped me figure out what wound up in drawers and stuffed into paperbacks. They are variations on relationship experiences that I found a lot of people share.

CZ: Who were your models?

LS: Lenore Doolan was played by my friend Sheila Heti, a great fiction writer who lives in my old apartment in Toronto. I knew she'd done some acting and she was living in New York the summer of 2008 so I asked her if she would be my Lenore. Hal Morris was played by Paul Sahre, a very talented graphic designer with whom I've collaborated on all sorts of projects. I offered to pay them in wooden books I make and paint, and luckily for me they agreed.

CZ: What is it about breaking up with someone that is so universal?

LS: I suppose everyone is looking for love, and we live in a culture where we have opportunities to fall in love far more than once. (I also think there are also more varieties of love out there, like crazy hybrid tomatoes.) A person might go through the dissolution of a major love or a minor love, but the frictions and feelings are very primal -- heartbreak, longing, jealousy, anger-- etc. People often say love is universal -- which it is -- so the loss of love naturally is too.
Like all good fiction, Important Artifacts takes us on a highly original journey with unique characters. I will certainly give this book to anyone I know who has had trouble with love.
REAL LIFE. REAL NEWS. REAL VOICES.
Help us tell more of the stories that matter from voices that too often remain unheard.