Everyone talks about Tosca, a thriller, an edge-of-your-seat, over the top classic, with glorious Puccini music as its underpinning. All true.
The story, which had its origins in a play with Sarah Bernhardt tells of a passionate singer involved in a populist rebellion against Italian royals who is unable to save her lover.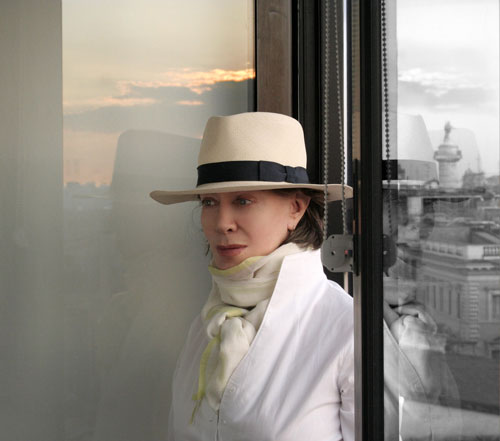 Costume Designer Milena Canonero. Photos Metropolitan Opera
But in this new production which is this year's opening night at the Metropolitan Opera, there is one very special element that fans can be especially excited about: the costume designer is the multi-Oscared Milena Canonero. The production boasts lots of star wattage: Karita Mattila, the Finnish diva as Tosca and Luc Bondy, one of Europe's most innovative directors with James Levine at the podium. But Canonero alone would be reason enough for those who aren't familiar with the opera to try to catch her splendid confections.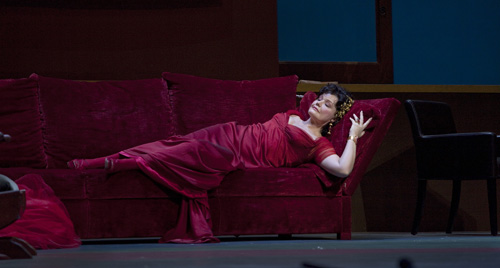 Karita Mattila as Tosca. Photos by Ken Howard/Metropolitan Opera
Recognized internationallly for her work in film (Chariots of Fire, Out of Africa, Godfather 3, Marie Antoinette) Canonero is petite and elegant, but has her own underpinning of thrilling resolve. Opera directors, too, routinely ask for her talented hand as she is an enormously hard worker who thrives on stimulating collaboration. She has designed costumes for Yvonne, Princesse de Bourgogne at the Paris Opera, Il Trittico and Die Fledermaus for the Vienna State Opera, and As You Like It at the Salzburg Festival.
Whether seeking out a special vintage bauble or taking the emotional measure of a singer, Canonero brings a depth of knowledge of many periods and a passion for having costume be more than just clothes. She describes her work in this opera as an "expressionistic interpretation" rather than precisely faithful to the Napoleonic era. Just take a look at the red dress designed for Karita Mattila who plays Tosca--a masterpiece of sexual tension all on its own.
But she also feels connected to the audience reminding me that the they are the biggest fans of costume design.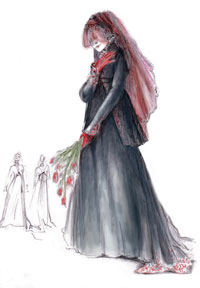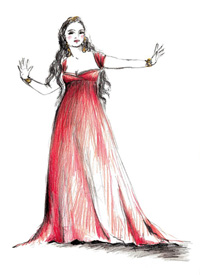 Costume Designs for Tosca by Milena Canonero
We caught up with Canonero by phone as she was in the midst of last minute preparations for opening night.
CZ: We don't know much about costume design, it's a behind the scenes kind of thing. Yet when we go see a film or go to the opera, it's one of the first things we remark on: the look of the characters.


MC: It's certainly the visual aspect in a movie or in a theatrical work that people remember more easily. It is also the one that an audience relates to more than any others as it gives the characters their look.

CZ: Did growing up in Italy--especially in the north, where everyone is so chic--have an impact on you?

MC: Yes, the people are chic, in Genoa, everybody was very elegant especially my mother, one of the most elegant women in Genoa. In Italy people are rather conservative, or let's call it classical, to this day. It was London and the British way that had the most impact on me.

I was sent by my parents to London to go on with my studies. That was a different way of life. It was a good combination between chic elegance and very trendy, hip avant garde fashion. It was wonderful to see such a different way of approaching not so much fashion but also art: art has always had a great impact on my approach to my work.

CZ:: Any art in particular?

MC: All art: I'm interested in everything: painting, photography, graphics, visual arts and movies. Movies have always made a great impression on me.

CZ: Do directors also make a real difference in how you approach things?

MC: Of course! We have to work for a director's view, not just for our own view. It is the concept of the director that gives his collaborators the direction to follow. From cinematography to the designing of the sets to the design of the costumes and all the other visual elements that make the whole visual experience we offer to the audience. Each time one sees a work by Shakespeare it can be a different experience if it is done by different directors with different views.

CZ: I remember when you were in Paris this year you were having a terrible time of it.

MC: Sometimes one has a bad experience with an actual production because of certain aspects of that specific production. When I was in Paris working on Yvonne, Princesse de Bourgogne, a new opera, there wasn't enough time and enough people. And they weren't sure I could deliver on time and on budget but I did it. In the end everybody rallied around, but it was very difficult at first. The director, Luc Bondy, was in the hospital having had three critical back operations. He was quite wonderful and excited every time I would visit him there to show him my ideas. During the rehearsal he had a hospital bed placed in the theatre where he could rehearse the singers on stage!

But in the actual workshop early on it was a bit bumpy. It was a whole new team. In the end all was well and people were great. They all tried to bring their best to this rather unusual and original production. When you work with a new group of people, they don't know you. Then, if they see you roll up your sleeves in addition to giving your artistic input, how serious and passionate you are, in the end you gain their respect. You have to show appreciation to the team if their work is good but firm and fearless if it is not. Otherwise the work gets misrepresented. But we are artisans and not really ARTISTS with a big A and we have to compromise and absorb other input and ideas as well as our own--and deal with budgetary limitations at the same time.

CZ: You are working with Luc Bondy again on Tosca so it must have been a good collaboration.

MC: He has an enormous strength and is almost always patient and good humored; he gives me great support. He's extremely inventive, approaches opera as in a play; he does theatre not opera when he directs operas. He transforms opera singers into actors, and he has a very interesting and deep feeling for the human condition of the characters. He is not inventive for the sake of invention, but his approach is new and original. He goes deep into the human soul and I like that; I like working with him tremendously, very, very much indeed. And as he is one of the most important and talented stage directors in the world I am honored he has asked me to work for him again here for his Tosca.


CZ: If a director has a very particular conception, how do you do the delicate dance of making suggestions? Tosca is a such a classic yet this production is brand new.

MC: I just listen to what he has to say about his production and what he is trying to get at; I am there to bring the visual aspect of the costumes for his characters and work within his concept. In opera there is hardly any interference from the singers provided they can move and are not handicapped by their costumes; in the movies, especially modern movies, actors are apt to be more involved. Mainly though, it is the director's concept that is the primary drive on any specific project. Sometimes there are only small signals and you have to capture them. Sometimes his ideas and his concept are very clear. So each collaboration is different. Some directors leave you total freedom and back you. Others want to be very involved. With Luc it was great. He gives you direction, you work and you make suggestions and he gives you the signal. He leaves you extremely free, doesn't conflict you but likes to discuss certain ideas and also implements certain suggestions that give the characters certain actions or attitudes. He expects us to have a point of view. He involves all of the designers in something deep and visceral for the production. Of course he has certain specific requests, but mainly from a practical point of making his staging work. One also has to be in harmony with the Production Designer, in this case Richard Peduzzi. We work as a team. I design the costumes so that we compliment each other. Production designers always start first and then when you see the models or sketches one can clarify one's own input with the costumes.


CZ: Are the singers or actors inspirational too?

MC: I don't like to design anything without knowing who the artists are going to be. It's a question of the overall look, not just frocks, from the hair down to the feet. I try before we start to see them, I work on who they are as well as on the concept; for example, the costumes I've designed for Mattila (Tosca) may not be right for another singer. Sometimes in opera you have to adjust for a change of cast, it can be a detail or a hairstyle, or a whole different costume. But you don't always know this in advance; sometimes a singer gets sick and needs a replacement and then you can only hope that it works.

In movies, the actors are not only cast for their performances but also for their physical look. In operas, the music is the most important aspect. I am lucky that on this Tosca we have wonderful singers that are also strong in their roles. Karita Mattila is fantastic and she is transformed into this passionate Italian actress Tosca, almost an Anna Magnani character.

But in opera after the first night you don't know what will happen; it's a moveable feast. New singers can come in at last moment, then the production can go into repertory and revivals. Sometimes you have a chance to revise; I try as much as possible to keep an eye on the productions.

Of course one has always to take input from the artist--in movies especially. We are their second skin. We give reality to their roles. We must be in harmony with them. But again each actor works in different ways: some like to be molded, others bring ideas. It is always a challenge.

CZ: Do you prefer working on period things--whether future or past?

MC: Yes, I do. It allows you to work on a purer design level. But in the theatre we have more control over the overall look. Especially with the make up and hair team who are very important and are at the disposal of the costume designer's concept. It works beautifully when we can integrate the various elements to come up with a total look.

CZ: How does Tosca present any special challenges?

MC: It's an intimate piece, in comparison with other operas. It relies so much on the character of Tosca, this passionate actress who because of jealousy ruins everything. Then there's the greed and sensuality of Scarpia and the romanticism of Cavaradossi. They are types that are even recognizable today.

The Te deum is the main opportunity for design in Tosca; this is not an opera with many characters and many changes. In this production you can't quite see the whole procession but I still enjoyed working on the costumes which appear behind the ecclesiastical elements.

CZ: What is it like working in opera compared to movies?

MC: Well, if you're happy on a movie, that's the best of the best, because if you do really good work, have a great director and everything comes together, the movies are there forever, there is no interference, once the movie is finished it's a done deal. In the theater or opera, things keep moving, nothing is set forever. Even if it works on the first night, you don't know what's happening on the second night or, if the company keeps the production, sometimes for the next 20 years. On the other hand, it's so alive, and the people here at the Met are very nice, always at your disposal.

CZ: What about the technical level of your staff? Is there one key person?

MC: At the Met I have been lucky with Borham Ahmed who has guided us through the production in the most excellent, efficient and generous way. He was just great. I had prepared Tosca's costumes in Italy with the great help of Bojana Nikitovic, who is more than an assistant, she is a great collaborator and a good designer herself, very talented and strong and fierce in defending and making happen what I like to achieve. She is also very loyal as well. That is so vital in our work and in our world! And we can laugh a lot. And you have to laugh! There are serious things in the world around us and we must not take things too seriously in show business!

CZ: It sounds as if it's a completely team effort, yet without your particular vision, the look becomes generic. Do you miss having the spotlight on you?

MC: I do not like to have the spotlight on me. But I also have strong opinions about our role as costume designers. I think most people underestimate it. Often, more weight is given to the production designers. I have done both, so I know.

Then we have the challenge of fashion designers. They get a lot of publicity when they contribute to a production. But they have teams of people around them!

Often in modern production a costume designer does not have the budget and the time to create modern costumes from scratch as it was done up till the late fifties or sixties. So you select or buy from modern costumes available in the shops or from the salons of fashion designers. It's like when production designers on films make do when they use real locations and do not build sets. To select or buy or choose from existing materials is designing a look no matter whether it is created from scratch or put together. Even if one goes into one's own closet, one can create a look for a character: it is the idea that counts most.

Performances of Tosca continue throughout the season at the Metropolitan Opera.


REAL LIFE. REAL NEWS. REAL VOICES.

Help us tell more of the stories that matter from voices that too often remain unheard.