An early, little performed Verdi work, Attila, will premiere next week at the Met Opera, which continues its commendable outreach into the design and fashion communities for new perspectives on old works. This time, the team of director Pierre Audi, who founded the Alameida Theater in London and now is head of the Netherlands Opera; Riccardo Muti, making his Met conducting debut; Miuccia Prada, debuting also in opera costume design; and acclaimed architects Jacques Herzog and Pierre de Meuron, in their second operatic effort, are collaborating. Let's just hope the Verdi can live up to a creative team top heavy with so much talent.
As part of our series of Off the C(h)uffs going behind the scenes at the Met this year, I had the chance to engage Herzog & deMeuron, a favorite design team, with some email questions about their experience at the Met, and beyond. I had once spoken briefly with Pritzker winner de Meuron at the Pritzker ceremony for Richard Rogers in London some years ago--and surrounded by other starchitects, he was the model of modesty. The Tate Modern was one of the first large industrial buildings repurposed as a museum; their Bird's Nest stadium in Beijing is already ready for its own repurposing. Herzog & de Meuron are used to being on the hot seat, and I wondered how opera might fit into a practice which often puts clients and the public to their own tests.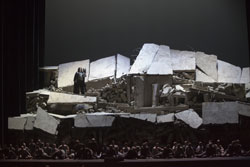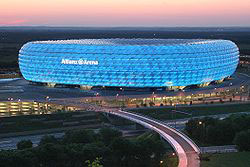 Left: A scene from Verdi's Attila. (Photo: Ken Howard/Metropolitan Opera)
Right: The HdeM-designed Allianz Arena in Munich.
CZ: Besides the Bird's Nest stadium, perhaps your most well known public work, you are known for your work rethinking conventional museums. The de Young Museum in San Francisco, for example, has always struck me as a place which is highly theatrical. You enter and there is this grand central space which spills out into a series of galleries that are almost like an amphitheater, with allees of water to separate the sections. There is even a bell tower overlooking the land. Is there something in the Verdi Attila that also combined the notion of the theatrical and the natural which made you agree to the commission?

Herzog & de Meuron: We never saw our work as something theatrical, but certainly it evokes strong pictures. It evokes pictures that can differ depending on the individual viewer and user, depending on the changes of the seasons, of the light and weather conditions. Architecture is real and affects all our lives. It is very different from an opera, which is much more about illusion and affects the mood for one evening.

Ildar Abdrazakov in the title role of Verdi's Attila. Photo: Ken Howard/Metropolitan Opera.

CZ: You have recently redesigned a museum in Southampton, Long Island, the Parrish, in response to economic challenges they've had in raising money. How do large, multi-national practices such as yours face the new realities? Is designing for Opera one way of reaching out?

Herzog & de Meuron: It is very much part of the working conditions of architects that economic realities are being mirrored in their designs. We have had to change and to adapt our designs many times. If you are not able to do this you missed the job! Are the resulting buildings less good? Sometimes perhaps, often they are as good or even better - they are just different and should not been judged in direct comparisons. Designing for an opera is not a way of reaching out - also because opera houses are as much as museums and other cultural institutions depending on fundraising.

CZ: Please describe how your collaboration with Pierre Audi, the director, worked? You've also designed a showroom for Miucca Prada. You've done one other opera in Berlin. How is working at the Met any different?

Herzog & de Meuron: The collaboration with Pierre Audi was very good and close and he was very generous in letting us do things that were strongly impacting his work as the director. With Miuccia Prada we have now been thinking and working together for about 10 years and it has been increasingly interesting and daring for both sides. She is a great artist and we have always liked to collaborate with people from other fields. The Met is very professionally organized, the workshop can produce sets which have a kind of hollywoodian perfection which we didn't get in Berlin. On the other hand we must say that Wagner's Tristan und Isolde is a more interesting opera than Attila and has an intellectual dimension that we miss in Verdi's piece.

A scene from Verdi's Attila with Violeta Urmana as Odabella and Ildar Abdrazakov in the title role. Photo: Ken Howard/Metropolitan Opera.

CZ: You mention fairy tales and Apocalypse Now as two sets of images you summoned for Attila. Walt Disney always said he wasn't making his films based on fairy tales--which were admittedly often quite frightening--for children. And Francis Coppola was known to have had enormously threatening issues during the making of his film. Are you concerned that works of architecture can also bring out the heart of darkness?

Herzog & de Meuron: It certainly does... but that is a very complex subject, which also involves questions around ideology and power. Dimensions, proportions, materials, iconography are powerful tools to inspire architectures in one way or another. Architects must learn to be aware of this - architecture is never "innocent." Cities are a kind of petrified psychogram of our societies.

PZ: How do you feel now that the Bird's Nest is being referred to as an empty shell? Don't you feel that architecture, especially expensive architecture such as yours, has an obligation, somehow, to address the needs for its future life? A wonderful film by Louise Lemoine, Koolhaas Life, about the aftermath of living in the house Rem Koolhaas designed for her paraplegic father in Bordeaux, France addresses this concern. Rem was interviewed after seeing the film and seemed somewhat ill at ease with the notion that architects should be made to anticipate the actual maintenance of an iconic structure. The shelf life of buildings seems to be getting shorter and shorter, yet the architectural needs of society ever greater. Why the disconnect, and what, as leading architects, can you do about it?

Herzog & de Meuron: Our architecture is all but expensive. We would otherwise not get the many commissions for public buildings and for corporate companies, which are all very budget-oriented! But yes, we see ourselves in a position where we have a great responsibility to address the needs for the future life of buildings. The Bird's Nest is a very good example: The Bird's Nest is not an Empty Shell. We totally disagree with the journalist who recently wrote this in the New York Times. Okay, the stadium does hold very few performances - but it is visited by more than 30,000 visitors every single day, which is 10 million people in one year! They use the stadium as a kind of an urban park. Since the beginning we said that the real purpose of the stadium should be its role of a new public space for Beijing. We see this a bit like what the Eiffel Tower became for Paris after its original function for the World Exposition. But coming back to the previous question around ideology: our Beijing stadium design is an attempt to create an unexpected and new public space which is attractive and popular enough to attract people from all social layers in a society which has not known this a few years ago.
The Metropolitan Opera performances of Attila contintue through March.
REAL LIFE. REAL NEWS. REAL VOICES.
Help us tell more of the stories that matter from voices that too often remain unheard.