I always knew Jonathan Demme was wonderful with actresses and understood female characters, beginning with Mary Steenburgen's quirky Oscar winning role in Melvin and Howard, continuing certainly with Jodie Foster's Clarissa in his most famous film, The Silence of the Lambs, but even in his later, more commercial and to my mind, less successful work which I could tell was tempered by too many people in LA giving notes.
People use the genre-limiting nomenclature of chick flick usually when they mean to be a little bit derisive and small minded. Rachel Getting Married is a chick flick in the very best sense of the word: it tells about people, not just women, from the inside out, via their relationships with each other and does not depend on car chases.
Yet it is the most suspenseful film I've seen in a long time, more than any thriller could have been. I sat on the edge of my seat holding my breath, my heart in my mouth, my legs, my knees, my head, every damn place except in my chest where it's supposed to be.
On the surface the story of a girl who gets out of rehab only to be thrust into another cauldron of neuroses at her sister's wedding. The film is not unlike Ordinary People which also dealt with the repercussions of a surviving, guilty, sibling. Rachel could have gotten stuck in this soap opera drama. Instead, Jenny Lumet, the writer, opts for a more realistic, if occasionally masochistic, approach:
You know how you pinch yourself to feel a sting to distract you from a bigger hurt? That's what Lumet sets Demme up to do: instead of focusing overtly on the tragedy (except in one scene with a plate that I won't reveal) he follows (with multiple handheld cameras so that the cast became unaware of them) the progressive ouches that characters steel themselves against over a lifetime, which then twist and turn back on themselves and finally come rushing in a veritable waterfall of alternate self loathing or hatred.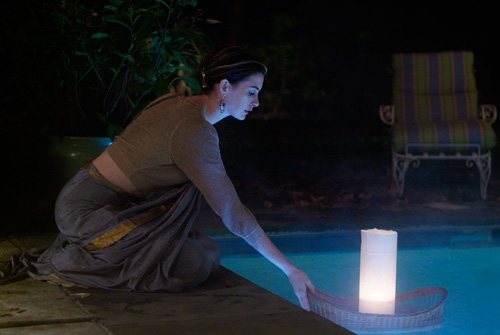 Debra Winger makes a withholding mother the first stone thrown into the pond on which the raw wounds of the family, and especially her daughters Kym (Anne Hathaway) and Rachel(Rosemarie DeWitt), ripple forth. I am so happy to see Winger again, looking beautiful and not surgically enhanced and being so sexy and mature.
And Rosemarie DeWitt is perfect as Rachel, alternately comforting and furious, wanting to be the center of attention on her wedding day but losing ground at every turn to Kym.
Hathaway's role is the juiciest, the bad girl who gets to act out, and her performance lives up to it: her intelligence, her totally predictable yet entirely unexpected reactions in her fierce determination to stay sober and sane.
Demme gets women the way most directors don't (I'll write soon about another woman's director, Max Ophuls, whose relationship to his women characters was wonderful and complicated and whose film Lola Montes about another bad girl, opens today in limited release).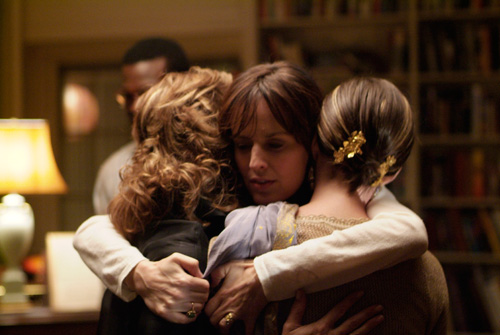 Debra Winger, Anne Hathaway and Rosemarie DeWitt
But he gets men too: Kieran (Mather Zickel) the fellow twelve stepper who watches her back (sometimes literally, in bed) and Paul (Bill Irwin), her father, are the kind of men we want in our lives: sensitive, but very masculine, not afraid to show their feelings.
I was one of the few who seemed to love Margot at the Wedding last year; many found it implausible and even offensive that two sisters would have such a toxic relationship. I always wanted a sister but see now that with the closeness comes a concomitant tetchiness, a competitiveness over turf which is less common with a sib of the opposite sex.
But that's just one of the subjects Lumet and Demme explore. The genius of Rachel is that race is not what the movie is about (as it is in Guess Who's Coming to Dinner) any more than it is about sibling rivalries or addiction. We don't get to know the groom's family as well as Kym's, but what little we do know of them is specific and real. Once you've seen Sidney (Tunde Adebimpe) in his first scene, you are as rock solid in their capacious world as you would be in mine or yours.
With race a stealth subtext of many voters' decision making this year, it's wholly on point to have a movie in which so little is made of it. Demme made Beloved also, but maybe he needed to get the more obvious film out of his system.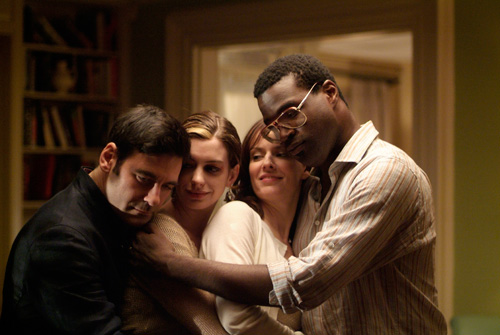 Weddings in general are great fodder for film, stuffed full, as they are, of old hurts. This film, made verite style, a la Robert Altman (says Demme), or the Danish Dogmes (says me), is able to get underneath though everyone's wedding is not as understatedly chic Bollywood as this (the soundtrack is like all Demme musical efforts: fantastic).... and for those of you from divorced families, it may remind you of the perils of negotiating your way through all that.
Despite the acute suffering on display and the wrenching denouement that posits we can never actually undo a wrong, in the end, the movie made me want to speak my heart to the people I love, to tell them right now they mean the world to me, to hold them close and to forgive them.
REAL LIFE. REAL NEWS. REAL VOICES.
Help us tell more of the stories that matter from voices that too often remain unheard.