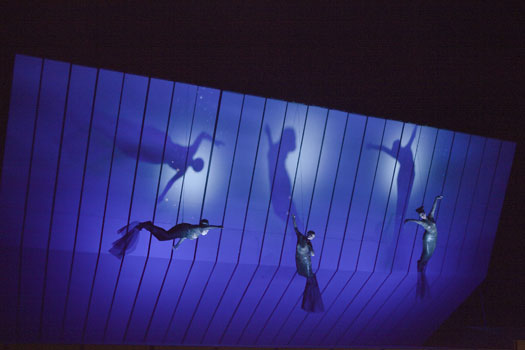 All images by Ken Howard courtesy Metropolitan Opera.
Tonight, the Metropolitan Opera opens its new season. This is not your mother's Met.
The Met Opera broke records for opening day ticket sales this year. Patron Agnes Varis donated 25 million dollars so that anyone who made the tiniest effort could see the opera any weekend for $25 by participating in a drawing (how's that for a one in a million ratio). Then they began a series of free panels with the creative team of each opera, the first of which launched last week on Robert Lepage's--he of Cirque de Soleil-- new production of part one of Wagner's Ring Cycle (the next one is October 1). They also expanded their wildly popular HD transmission series, which will now also be live in Egypt, Portugal and Spain. Vanity Fair did an investigative story on the finances of the Met and on its much-scrutinized leader Peter Gelb, after the New Yorker had already commissioned a portrait a few years back. James Levine, their longtime conductor, was subject to physical infirmities that would have kept a NY Knick on the bench, but he seems to have overcome them.
The Met has definitely gone 21st century.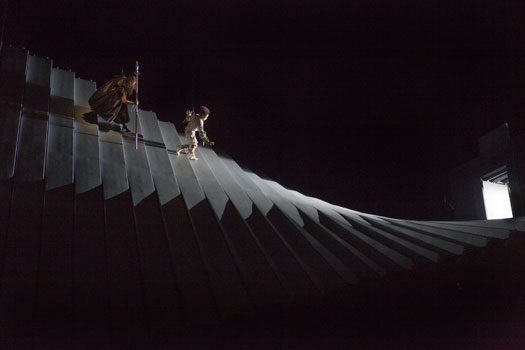 Okay, it's still true--opening night draws a certain crowd of swells that make ogling at Fashion Week just so much light weight. At the Met you can see the couture gowns, the real, not borrowed jewels, the people who you read about every day in the paper (it is rumored the Mayor does come for the first act at least but leaves at intermission to practice his golf swing). It's a glimpse into a world that is far away from the troubles of the middle class--and I don't think Arianna has suggested going to the Opera as a solution to our problems in her latest book, even though she once wrote a biography of Maria Callas.
But yesterday in the New York Times, Alex Ross, the New Yorker's music critic, made the point that,
operagoers are, in fact, a motley middle-class lot. And the Wagner audience is the motliest of all -- emeritus professors sit side by side with Ring-loving schoolteachers, fanatic record collectors, neophyte opera mavens and that woman wearing a Valkyrie helmet.
And Ross added, tickets to the Stones are just as dear.
It's not a contest: the productions have been more thrilling than anything I've seen on Broadway in the last seasons. Plus I am as riveted by the casting news and the gossip as I am about the movies. What has changed? Well, stars with moxie like Anna Netrebko and leaders like Gelb who have taken the opera ball and run with it not only to the Ball but to the streets, gathering up talented cast and crew all over the world.
If you think the drama going on in our government is larger than life, then see an opera--either at the Met, Met HD, or another company nearer to you. The double dealing, backstabbing, and over the top love makes that pale by comparison.
About this Das Rheingold. Stephanie Blythe (who along with Deborah Voigt --in part two, Die Walkure, in the spring--made me forget the whole boring conversation about opera stars and their weight) is starring as Fricka. Wotan, her husband who is the head of the Gods, will be sung by Bryn Terfel, one of the most sought-after opera stars in the world. The new production, which relies on a system of digital and high tech sleights-of-hand-and-body, is still said to be the weighty thing that Ring lovers insist upon.
This past year, the LA Opera tossed its hat in the Ring--a spectacular but fiscally disastrous series that had LA audiences dishing the fiscal troubles almost as much as the McCourt divorce that so threatens the Dodgers.
Met audiences too became quite vocal last year expressing their displeasures with certain liberties in the productions, but I am hoping that Gelb's tutorial in the more contemporary ways opera can reach out will have caught up with them by now.
What makes the Met so exciting is in the very risks they take.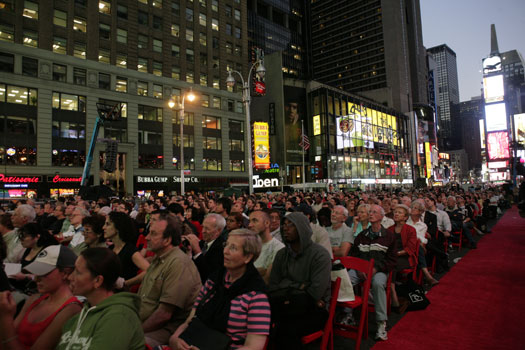 In Times Square, the performance will be transmitted live onto seven giant screens (check their site for updates regarding weather) -- the most ever for a Met event -- with 2,000 seats available on a first come, first served basis. In Lincoln Center's Plaza, one giant screen will be affixed to the façade of the Met and 2,500 reserved seats will be available. Admission to the Times Square transmission does not require tickets.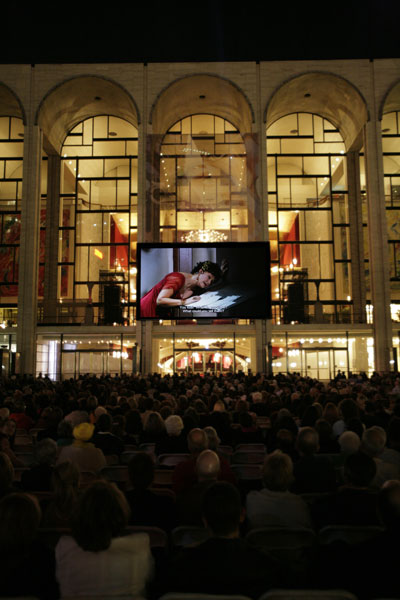 It will be broadcast live on Metropolitan Opera Radio on SIRIUS channel 78 and XM Channel 79. The opening performance will also be streamed live on the Met's website.
Other productions I am looking forward to this season: Boris Godunov, Don Carlo, directed by Nick Hytner with production from London and dreamy Simon Keenlyside, yet another Traviata (cannot get enough of the last act no matter how many times I hit replay), a reborn Nixon in China and finally a new effort from Bart Sher (who goes back and forth from opera to Broadway like some in LA do between TV and film), Le Comte Ory, a Rossini with Juan Diego Florez who hit all of the C's when I was at a performance where he was allowed to take an encore, a practice normally discouraged at the Met. If none of these titles appeal, there are standby Met classics that you can find comfort in. If the rain holds off, you should get dressed up, head to Times Square (performance begins at 6:45pm) and check out the Singing in the Streets.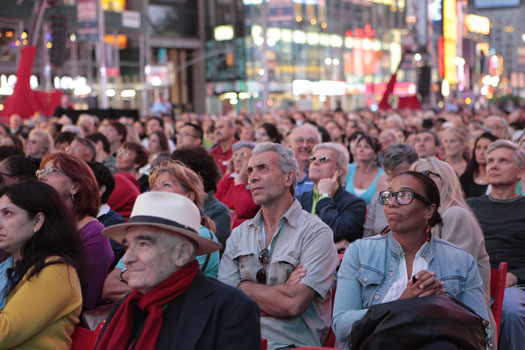 For details on Times Square, performances of the Ring cycle, where and how to get seats for the free simulcasts, the HD transmissions and for important background information on the operas and cast that will make it all that much more enjoyable, go to www.metopera.org.
Calling all HuffPost superfans!
Sign up for membership to become a founding member and help shape HuffPost's next chapter